National Policy On Biofuels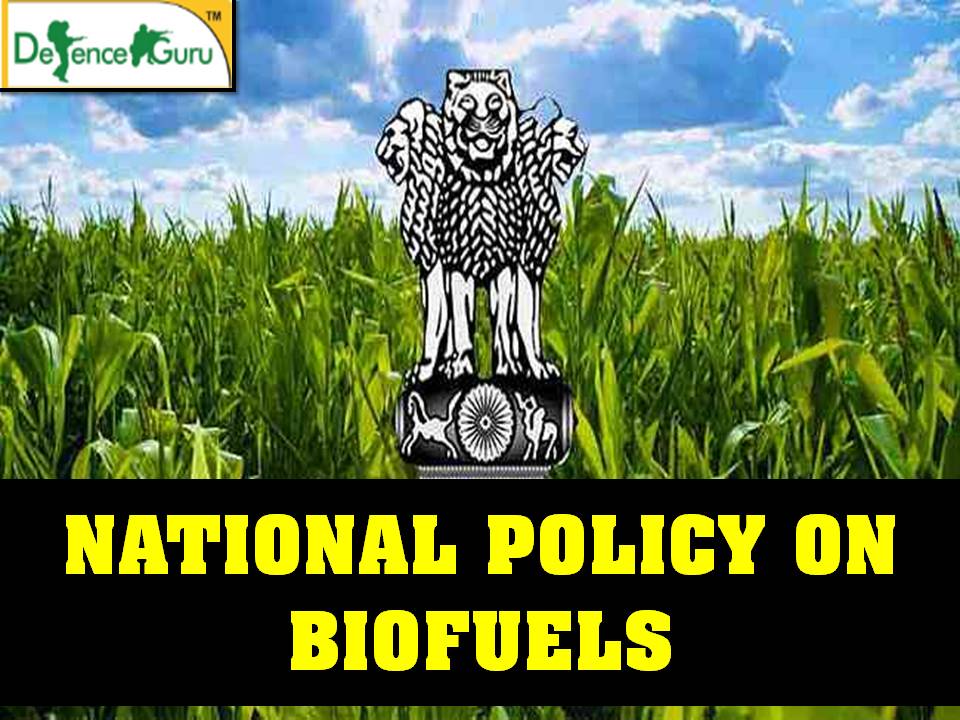 National Policies are basically a course or principle of action adopted or proposed by the state to achieve its point of view towards a national issue. The constant growth in all the sectors has led to the framing of policies for the places which were being ignored in the earlier times.
National Policy on Bio-fuels
Being one of the fastest growing economy, India's energy and fuel requirements for each and every field are increasing each day. The non-renewable fossil resources are getting exhausted with the passage of time and at the same time they are posing a serious threat to the environment by polluting it. India, bestowed with an arsenal of renewable resources, should use those resources to alleviate the detrimental effects of the fossil fuels.
Bio-Fuels are derived from the renewable bio-mass and the promotion of its usage must be done. Sticking with this idea, India adopted National Policy for Bio-fuels in order to promote the usage of bio-fuels instead of fossil fuels.
The Features of this policy are:
Defines biofuels as a liquid or gaseous fuels produced from biomass resources and used in place of or in addition to diesel, petrol or other fossil fuels for transport, stationary, portable and other applications.
Government wastelands, degraded or fallow lands in the forest and non-forest areas will be used for plantation of trees bearing non-edible oilseeds.
Employment in such plantations will be brought under the coverage of National Rural Employment Guarantee Programme (NREGP).
100% foreign equity through automatic approval route would be allowed in biofuel technologies and projects.
Research and Development in the field of biofuels would be given a major thrust.
Establishing international scientific and technical cooperation in the field of biofuel production.
National Biofuel Coordination Committee would be responsible for deciding the extent of import of biofuels.
Export of biofuels will be permitted only after meeting the domestic requirement.
Creation of awareness about the role of biofuels in the energy sector.
Prime Minister will act as the chairman of the National Bio-fuel Coordination Committee.
The replacement of fossil fuels will help in making India a better place to live and will eventually lead to promote sustainable development in India. This is the need of the hour and such a policy is a boon to the people of the republic of India.
JAI HIND

Leave a Reply
Defence Guru Team feels pleasure to appreciate from you ! Required fields are marked *.