Special Fast track Courts for Leaders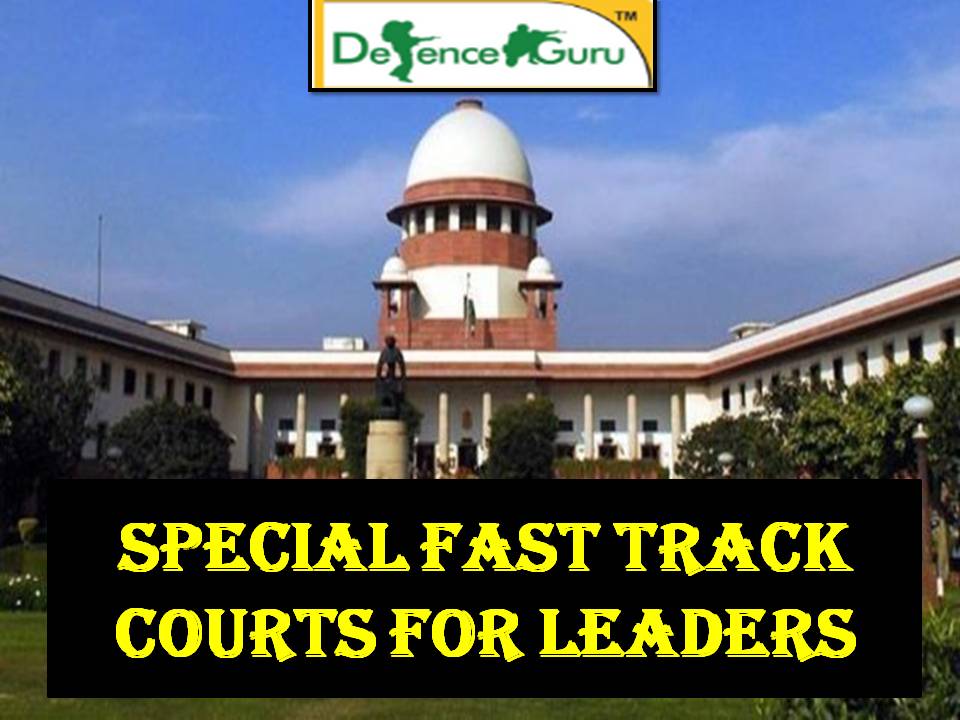 Special Fast track Courts for Leaders
Our system's inability to solve the cases on powerful faces, politicians and Members of the House has always been a controversial and a hot topic in the national debates. Till recent years when national faces like J Jayalalitha, Kanimozhi, A Raja, Lalu Yadav have been put behind bars, the leaders never got convicted. Although not convicted,many leaders of India who have been in the news for wrongdoings. Being accused of heinous crimes which include the cases for corruption, extortion, rackets, money laundering, government fund scams, employment scams, harassment and murder, its public's right to know whether the people who are running the country have their hands clean and backgrounds clear. This issue was raised multiple times in assemblies, election campaigns, national debates and even in movies but there was no substantial action on this.
Finally, in 2017, the issue saw a ray of light when The Honorable Supreme Court of India cleared a decision for the solution of pending cases against the leaders. This was a much needed in the time when the people all over the world have decided to have a clear stand against corruption and crime being committed through delinquent use of power.
The Central Government of India proposed a plan according to which 12 Special Fast track courts were to exclusively arraign and dispose off 1,581 criminal cases pending against Members of Parliament and State Legislative Assemblies within the time period of an year. This scheme was shown green signal by The Honorable Supreme Court of India on December 13th, 2017. A Bench of Justices Ranjan Gogoi and Navin Sinha ushered the government to allocate funds worth ₹7.8 crore to the States for setting up such courts.
A Public Interest Litigation was later filed in the Supreme Court that 12 courts were too few and funds of 7.8 crore was too little to execute the whole plan successfully in time. The Supreme Court in return replied that it was just a start and if the whole setup goes as planned, the number of courts will increased and more funds will be allocated as per requirement. Under the guidance of their respective High Courts, these courts will start working from March 1st, 2018 and have been directed to solve the cases in a strict time window of an year.
This is a cause for a celebration as the criminal cases against our own representatives was a matter of concern for the voters. This step will bring a transparency to the system, unmask the hidden monsters within the ruling sect and will clear out the names of the leaders, in the name of whom false cases have been registered.
JAI HIND

Leave a Reply
Defence Guru Team feels pleasure to appreciate from you ! Required fields are marked *.