World record by "AIR WARRIOR" Sgt Shahzar Rizvi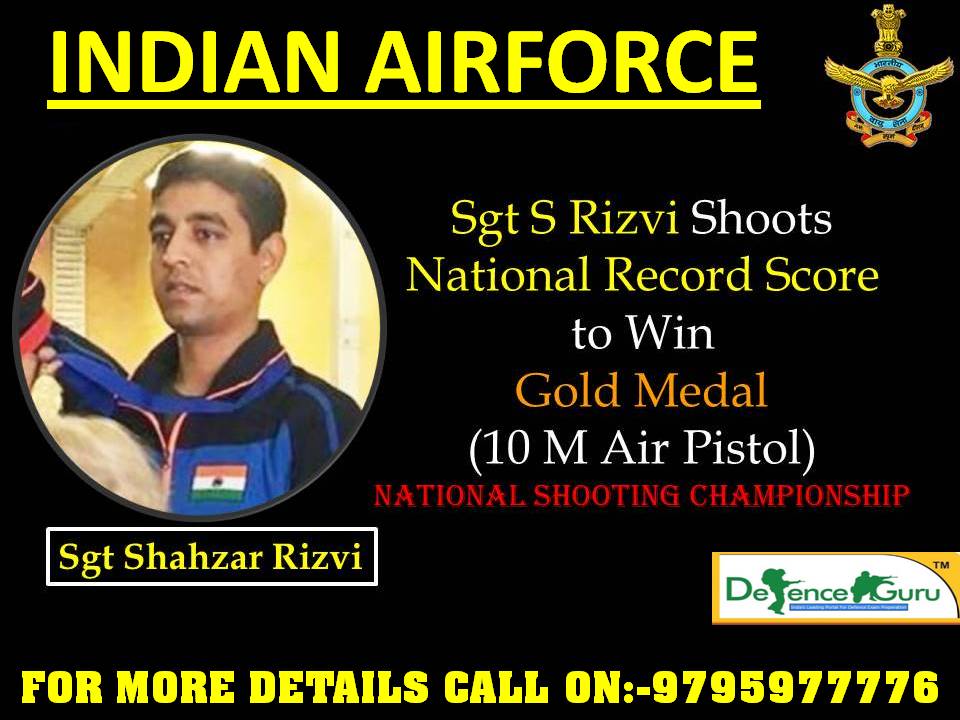 World record by "AIR WARRIOR" Sgt Shahzar Rizvi
World record gold for Rizvi, 3 medals for India on day 1 of Shooting World Cup-:
In a great day for Indian shooters at the 2018 ISSF World Cup Series in Guadalajara, Mexico, India won three medals – a gold and two bronze – as well as set a new record in 10m Air Pistol Men. Out of the six Indian shooters participating on the first day of the World Cup, Shahzar Rizvi and 17-year-old Mehuli Ghosh won gold and bronze respectively in their maiden World Cup appearances. This is the first senior world event for both Rizvi and Ghosh.
Rizvi, from Meerut, hails from a family of shooters, with three of his cousins being shotgun shooters. A sergeant with Indian Air Force, Rizvi trains under Ronak Panditand is supported by Olympic Gold Quest. Shooting in his first ISSF World Cup, young Shahzar Rizvi showed nerves of steel to clinch gold with a world record score in the men's 10m air pistol in Guadalajara, Mexico, on Saturday
(3 March,2018). He broke Japanese legend Tomoyuki Matsuda's record of 241.8, created in October last year.
On his World Cup debut, Rizvi claimed the 10m Air Pistol Men gold after a consistent performance throughout the contest, grabbing the lead after the 14th shot and maintaining it until the very end. The 23-year-old, who participated at the 2014 ISSF World Championship as a junior placed ninth, also created a new World Record at the event, finishing with 242.3 points.
Meanwhile, 17-year old Mehuli clinched bronze in the Women's 10m Air Rifle final with a score of 228.4. Her bronze-medal performance comes a year after she took the junior continental title in Asian Championship.
Rai shot 219 to win the bronze with Germany's Christian Reitz, the reigning Olympic champion in men's 25M Rapid Fire Pistol, came in second with 239.7. India's Om Prakash Mitharval finished fourth behind Jitu Rai with a score of 1984.
This is probably the first time that three Indians had entered the medal round of a World Cup. With a score of 579, Rizvi was the top-scorer among Indians and second overall in the qualifiers, while Rai was third with a score of 578.
JAI HIND....

Leave a Reply
Defence Guru Team feels pleasure to appreciate from you ! Required fields are marked *.