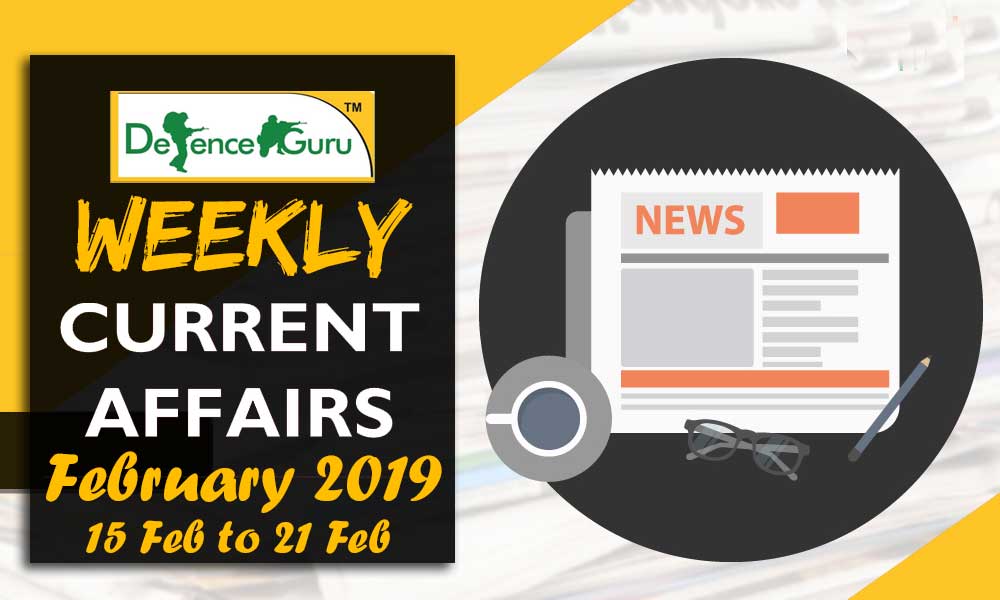 Weekly Current Affairs February 2019
Current Affairs is an important and scoring part of Defence and other popular government exams. Here in our online portal we regularly update the weekly current affairs of the current month and covers important news, events which are important to your examinations.
Current Affairs February 2019 - Week 3rd
Professor Faizel Ismail
An Indian-origin global negotiator has been appointed as the director of a renowned academic institution in South Africa. Professor Faizel Ismail will take charge as the director of the University of Cape Town's (UCT) Nelson Mandela School of Public Governance.. Ismail is known for his role in negotiating major agreements for South Africa., including with the Southern African Customs Union as well as the Trade and Development Agreement with the European Union. He is a professor at the UCT's School of Economics. He has served as an ambassador to the World Trade Organisation and a senior advisor to the Minister of Trade and Industry.
2. Chandramouli Ramanathan
The UN has appointed an Indian official in one of the top most positions in its Department of Management Strategy, Policy and Compliance. Chandramouli Ramanathan has been appointed as Controller, Assistant Secretary-General for Programme Planning, Budget and Finance in the management strategy, policy and compliance department. He succeeds Bettina Tucci Bartsiotas of Uruguay. Ramanathan brings to the position nearly 40 years of executive international experience in diverse organisational settings in finance and budget, management and information technology.
3. Flight Lieutenant Hina Jaiswal
Flight Lieutenant Hina Jaiswal has created history by becoming the first Indian Woman Flight Engineer. She achieved the feat after completing the prestigious Flight Engineers' course 112 Helicopter Unit, Air Force Station, Yelahanka. Commissioned in January 2015 in the engineering branch of the IAF, she has served as Chief of firing team and battery commander in a frontline Surface to Air Missile squadron. Jaiswal, hails from Chandigarh and has completed her Bachelor of Engineering degree from Punjab University.
4. William Barr
William Barr was sworn for second time as the Attorney General of US. He will take the helm of the Justice Department as special counsel Robert Mueller investigates Russian interference in the 2016 presidential election. Mr. Barr also served as the Attorney General from 1991 to 1993 during President George H.W. Bush's administration. The United States Senate is the upper chamber of the United States Congress.
5. Sushil Chandra
Chairman of the Central Board of Direct Taxes, Sushil Chandra, has been appointed as the new Election Commissioner. Mr Chandra is a 1980 batch Indian Revenue Service officer. The Election Commission now has Sunil Arora as the Chief Election Commissioner and Ashok Lavasa and Sushil Chandra as fellow commissioners.
6. Ashwani Lohani
Former Railway Board chairman Ashwani Lohani has been appointed chairman and managing director (CMD) of Air India. He is a 1980-batch IRSME (Indian Railway Service Mechanical Engineering) officer hailing from Madhya Pradesh. Lohani succeeds the 1985-batch Karnataka cadre IAS Pradeep Singh Kharola, who earlier this month was appointed as the civil aviation secretary. Lohani was appointed as the Railway Board chairman in August 2017 and retired in December 2018.
7. B P Sharma
B P Sharma has been re-employed as the chief of the state-run helicopter manufacturer Pawan Hans. The Appointments Committee of has approved re-employment of Sharma for a period of five months. Sharma took over as the CMD of Pawan Hans in March 2015.
About Pawan Hans
Founded : 1985
Fleet size : 50(approximately)
Slogan: We Fly For You
Headquarters: Noida
8. 7th National Photography Awards
Information and Broadcasting Minister Rajyavardhan Rathore gave away the 7th National Photography Awards. These awards were presented to 13 persons in different categories at a function in New Delhi. The theme for the Professional category was Women led Development, while the theme for Amateur category was Fairs and Festivals of India. Renowned landscape photographer Ashok Dilwali was conferred with lifetime achievement award. Photojournalist S.L. Shanth Kumar was awarded in the professional category. Photographer Gurdeep Dhiman was awarded in Amateur category.
9. Tagore Award
The President of India presented the Tagore Award for Cultural Harmony at Pravasi Bhartiya Kendra, New Delhi. The awards were presented to Shri Rajkumar Singhajit Singh; Chhayanaut (a cultural organization of Bangladesh); and Shri Ram Sutar Vanji for the years 2014, 2015 & 2016 respectively. This annual award is given to individuals, associations, institutions or organizations for their outstanding contribution towards promoting values of Cultural Harmony.
Tagore Award for Cultural Harmony was instituted by the Government of India from 2012 recognising the contributions made by Gurudev Rabindranath Tagore to humanity. It is awarded annually and carries an amount of Rs. One Crore, a citation in a Scroll, a Plaque as well as an exquisite traditional handicraft/handloom item.
10. People for the Ethical Treatment of Animals (PETA)- 'Oscat award
Actor-director Bradley Cooper has won the 'Oscat award from animal rights organisation People for the Ethical Treatment of Animals (PETA) for directing his dog in A Star Is Born. PETA's Film and Television Division awarded Cooper the Oscat award.
11.EY Entrepreneur of the Year 2018
Siddhartha Lal, Managing Director and Chief Executive Officer, Eicher Motors, was named the EY Entrepreneur of the Year 2018 at the 20th edition of the EOY Awards in India. Lal will now represent India at the EY World Entrepreneur of the Year Award (WEOY) in Monte Carlo from 6 – 8 June 2019. Azim Premji, Chairman of Wipro was honoured with the Lifetime Achievement Award. Kishore Biyani, popularly known as the king of retail was conferred the Business Transformation award. Byju Raveendran of Think & Learn (BYJU'S) was conferred the Start-up category award.
12. Wallace Smith Broecker
Climate scientist Wallace Smith Broecker, who popularised the term "global warming" has passed away in New York. Broecker brought "global warming" into common use with a 1975 paper that correctly predicted rising carbon dioxide levels in the atmosphere would lead to pronounced warming. Broecker was also first to recognize what he called the Ocean Conveyor Belt, a global system of ocean currents circulating water and nutrients. He was known in science circles as the "Grandfather of Climate Science"
13. Nikhat, Meena win gold medals at Strandja Memorial Boxing
Nikhat Zareen and Meena Kumari Devi became the first Indian women boxers to win gold medals at the Strandja Memorial Tournament in Sofia, Bulgaria. Zareen claimed a 5-0 win in the 51kg category finals against Filipino Irish Magno. Devi defeated Filipino Aira Villegas 3-2, in the 54kg summit clash. However, Manju Rani (48kg) settled for a silver after a defeat from Filipine's Josie Gabuco in a split 2-3 verdict.
14. Jitendra Singh wins National Race Walking Championship
Jitendra Singh Rathore claimed the top honours in the men's 50km race walk competition at the 6th National Open Race Walking Championships that concluded in Chennai.The Rajasthan athlete clocked a time of 4:23.23. and beat out Gujarat's Joshi Sagar who registered 4:24.21 to take the silver medal.The National Open Race Walking Championships were meant to serve as an opportunity to qualify for the Athletics World Championships to be held in Doha in September this year. Suraj Panwar of Uttarakhand won the boys 10km race. The gold medal in the girls 10km race was clinched by Roji Patel of Uttarakhand.
15. Chris Gayle announces retirement from One-day Internationals
West Indian batsman Chris Gayle has announced that he will retire from One-day Internationals after the forthcoming World Cup. The 39-year old left-hander has scored 9,727 ODI runs, second only to the legendary Brian Lara among West Indians in 284 matches. He needs 677 more runs to surpass Lara, he will be hoping to achieve at his fifth World Cup. The World Cup will be held in England and Wales from 30th May till 14th July.
16. Elise Mertens wins Qatar Open title beating Simona Halep
Belgium's Elise Mertens claimed the biggest win of her career after beating world number three Simona Halep to clinch the Qatar Open. She won the match by 3-6, 6-4, 6-3, despite being outclassed in the first set. She overcame after an eight-minute medical timeout for back pain in the second set, and losing 18 consecutive points at one stage in the match. This is world number 21 Mertens' first-ever WTA Premier-level crown, and the fifth title of her career overall.
17. ICC Test rankings: Kohli remains on top; Pujara holds on to his 3rd spot
Captain Virat Kohli remained on top while teammate Chesteshwar Pujara managed to hold on to his third position in the latest ICC Test Cricket rankings. Kohli is leading the chart with 992 rating points ahead of New Zealand skipper Kane Williamson with 897 points and Pujara with 881.
Besides Kohli and Pujara, no other Indian feature in the top 10 list. In the bowlers' list, Australia fast bowler Pat Cummins has overtaken Kagiso Rabada to grab the top spot. India's Ravindra Jadeja is placed at the fifth spot with 794 points.
18. Vidarbha beat Rest of India to retain Irani Cup
Ranji champions Vidarbha beat Rest of India in Nagpur to retain the Irani Cup. Vidarbha has now become the third team after Mumbai and Karnataka to clinch two Irani Cup titles in a row. Vidarbha captain Faiz Fazal announced that the entire prize money will be donated to the families of the CRPF personnel martyred in Pulwama terror attack.
19. Saina Nehwal won her women's title at the Yonex-Sunrise Senior Nationals
Saina Nehwal won her fourth title at the Yonex-Sunrise 83rd Senior Nationals. She defeated P.V.Sindhu. Sourabh Verma completed a hat-trick of titles, claiming the men's singles crown after defeating young Lakshya Sen. The pair of Pranaav Jerry Chopra and Chirag Shetty outclassed top seed duo Arjun M.R and Shlok Ramachandran to clinch the Men's Doubles title.
. International Mother Language Day : 21 February
International Mother Language Day is celebrated every year on 21st February. The main purpose of celebrating this day is to promote the awareness of language and cultural diversity all across the world. It was first announced by UNESCO on November 17, 1999. Since then it is being celebrated every year. The idea to celebrate International Mother Language Day was the initiative of Bangladesh. In Bangladesh the 21 February is the anniversary of the day when Bangladeshis fought for recognition for the Bangla language.
21. Saudi Arabia joins International Solar Alliance
Saudi Arabia signed an agreement to become the 73rd member of the International Solar Alliance (ISA). The organisation now has a total of 122 member countries. The signing of the agreement took place after a bilateral meeting between Prime Minister Narendra Modi and Saudi Arabian Crown Prince Mohammed bin Salman, who arrived on a state visit to India.
International Solar Alliance (ISA) is an initiative of India. It is headquartered at Gurugram, Haryana.
22. 'International Annual Desert Festival' begins in Jaisalmer
The 40th International Annual Desert Festival kicked-off in Jaisalmer with thousands of tourists participating in the colourful event. The three-day festival, which exhibits rich cultural heritage of the desert state, commenced with a colourful procession from Gadsisar lake fort. It will have interesting events like Mr Desert and Ms Moomal competitions, moustache competitions, turban tying, tug of war, musical and cultural performances, among others. The Border Security Force presented a camel tattoo show on the opening day of the festival.
23. Indian Oil signs first annual deal to buy up to 3 million tonnes US oil
Indian Oil Corp, the country's top refiner, has signed its first annual deal to buy up to 3 million tonnes or 60,000 barrels per day of US oil. State-run IOC had previously purchased US oil from spot markets and signed a mini-term deal in August to buy 6 million barrels of U.S. oil between November to January. IOCL chairman Sanjiv Singh said the annual contract will begin from April. He declined to give the name of the seller and pricing details citing confidentiality.
Headquarters: New Delhi
Chairperson: Sanjiv Singh
24. India withdraws Most Favoured Nation status granted to Pakistan
India has withdrawn the Most Favoured Nation status granted to Pakistan following the Pulwama terror attack in Jammu and Kashmir. A decision in this regard was taken during the meeting of the Cabinet Committee on Security, CCS in New Delhi. Union Minister Arun Jaitley said that Ministry of External Affairs will initiate all possible diplomatic steps which are to be taken to ensure the complete isolation Pakistan from the international community.
25. Operation Digital Board launched to provide better digital education
Government has launched Operation Digital Board on the lines of Operation Blackboard to provide better digital education in schools. Under the initiative seven lakh classrooms of 9th, 10th and 11th standards and two lakh classrooms of colleges and Universities will be equipped with digital boards in the next three years. Human Resource Development Minister Prakash Javadekar said that it will convert the monologue classrooms into interactive ones. It will also improve the quality of education and offer new opportunities and new ways of teaching and learning.
26. OFB gets clearance for producing 114 long-range artillery gun 'Dhanush'
The Ordnance Factory Board (OFB) has received a bulk production clearance from the Indian Army and the Defence Ministry for production of 114 'Dhanush' artillery guns. 'Dhanush' is the first long-range artillery gun to be produced in India. It is a major success story of the 'Make in India' initiative. It is the product of efforts by the OFB and the Army with various contributions.
27. 4TH India-Asean Expo Summit inaugurated in New Delhi
Union Minister of Commerce & Industry and Civil Aviation, Suresh Prabhu inaugurated the 4th India-ASEAN Expo and Summit in New Delhi. The 3 day long event is scheduled to take place from 21-23 February, 2019. This is a flagship event of Department of Commerce, being organised with FICCI to carry forward the momentum and to further strengthen India-ASEAN relations under the Act-East Policy.The Association of South-East Asian Nations (ASEAN) comprises of Vietnam, Thailand, Singapore, Philippines, Myanmar, Malaysia, Laos, Indonesia, Cambodia and Brunei.
28. Union Minister inaugurated the1st Mega Food Park of Tripura
Union Minister of State for Food Processing Industries Sadhvi Niranjan Jyoti inaugurated Sikaria Mega Food Park Pvt Ltd at Village Tulakona in Agartala. This is the first Mega Food Park in the state of Tripura. The Mega Food Park has been set up in 50 acre of land at the cost of Rs. 87.45 crore.
To give a major boost to the food processing sector, Ministry of Food Processing Industries is implementing Mega Food Park Scheme in the country. Mega Food Parks create modern infrastructure facilities for food processing.
30. Government relaxes Angel Tax Norms for Start-ups
The Union government has liberalised angel tax rules, exempting registered start-ups of a specified size from the tax. Investments of up to Rs. 25 crore in an eligible company will be exempt from the angel tax. In addition, investments made by a listed company with a networth of at least Rs. 100 crore or a turnover of at least Rs. 250 crore will also be exempt. Also an entity shall be considered a startup upto 10 years from its date of incorporation / registration instead of the existing period of 7 years.
31. Hindi writer and critic Namvar Singh pass away
Namvar Singh, one of contemporary Hindi literature's greatest writers and critics, has died after prolonged illness. His notable writings include "Chhayavaad", "Itihas Aur Alochana", "Kahaani Nayi Kahaani", "Kavita Ke Naye Pratimaan", "Dusri Parampara Ki Khoj". He also worked as a professor in his alma mater BHU as well as Jodhpur university and Jawaharlal Nehru University (JNU). Singh served as the editor of two Hindi magazines, Janyug and Alochana.
32. World Day of Social Justice: 20 February
Every year 20 February has been declared by the UN as "World Day of Social Justice". The purpose of the day is to focus on the plight of social injustice throughout the world and to press for improvements and solutions. 2019 theme: If You Want Peace & Development, Work for Social Justice. The ILO estimates that currently about 2 billion people live in conflict-affected situations, of whom more than 400 million are aged 15 to 29.
33. India's first fulldome 3D Digital theatre inaugurated
India's first 'fulldome 3D Digital Theatre' at the Science City Kolkata was inaugurated by Union Culture Minister Mahesh Sharma. The 'fulldome 3D Digital Theatre' at the Science city is the first of its kind in India having a 23 metre titled dome to offer a fully immersive experience. It is the first in the Indian subcontinent where one can feel like touching the water waves or the leaves of a tree during screening. The Science City is operated by the National Council of Science Museums under the Ministry of Culture.
34. Patnaik launches Kalia scholarship for farmers' children
Odisha Chief Minister Naveen Patnaik unveiled a scholarship programme for the children of the beneficiaries of the Krushak Assistance for Livelihood and Income Augmentation (Kalia) scheme. Eligible children of Kalia scheme beneficiaries can avail assistance to study in more than 13 professional/ technical subjects like MBBS, BDS etc. The state government will bear all expenditure including course fees, hostel fees and mess fees under Kalia scholarship. Kalia scholarship will ensure that not a single eligible child of Kalia beneficiaries aspiring for technical and professional education, be deprived of his/her dream.
35. 'Aero India 2019' show takes off
The 12th edition of Asia's premier Air show 'Aero India-2019' begins at Yelahanka air force station in Bengaluru. The five-day long biennial event, which will showcase India's air defence prowess, will also act as a platform for aviation companies. After the tragic death of a pilot from IAF's aerobatic team Surya Kiran during a rehearsal it will not participate in the show. The Sukhoi SU-30, Rafale, F-16 Fighting Falcon, F/A-18 Super Hornet and the mighty B-52 Stratofortress bomber will be part of the air show.
36. AntBot, the first walking robot that navigates without GPS
Scientists claim to have developed the first walking robot that can explore its environment and find its way home without GPS or mapping. It is equipped with an optical compass used to determine its heading by means of polarised light. With the help of an optical movement sensor directed to the Sun, it measure the distance covered. Researchers from the French National Center for Scientific Research (CNRS) took inspiration from desert ants to design the AntBot. Ants use polarised light and ultraviolet radiation to locate themselves in space.
37. Rajnath Singh launched pan-India number 112 for women safety
Home Minister Rajnath Singh launched Emergency Response Support System (ERSS) in 16 states and Union territories for women safety. Persons in distress can dial a pan-India number: 112. Under this system, all the states have to set up a dedicated Emergency Response Centre (ERC). A citizen may Press the power button on a smartphone thrice quickly to activate a panic call to ERC.In case of a feature phone, long press on number 5 or 9 on the phone keypad will activate the panic call.
38. 10-day long Taj Mahotsav began
The 10-day long Taj Mahotsav started on the theme of "Parampara". The Mahotsav is inaugurated on February 18 at Shilpgram, near the Eastern gate of "Taj Mahal" by UP governor Ram Naik and the closing ceremony will be held on February 27. Handicraft fair, food stalls and cultural programmes will be organised during the Mahotsav. About 325 legendary artisans will participate from different of the country and show their exquisite work of art.
39. Bhopal to host 'Indian History Congress'
The Congress government in Madhya Pradesh has decided to host the 79th Indian History Congress (IHC) in Bhopal. The 79th session was earlier supposed to be held at Savitribai Phule Pune University (SPPU) from December 28. The three day convention will begin in the city on February 26. The IHC is the largest professional and academic body of Indian historians with over 10,000 members. It was established in the year 1935.
40. PM Modi flags off 1st ever diesel to electric conversion locomotive
Indian Railways has created history by converting a diesel locomotive into electric locomotive for the first time in the world. This all new converted energy-efficient electric locomotive has been flagged off by PM Narendra Modi in Varanasi. It has been converted to electric locomotive by the Diesel Locomotive Works (DLW) in Varanasi. Diesel Locomotive Works has converted two WDG3A Diesel Locos into a Twin Electric WAGC3 loco of 10,000 HP. It is a complete 'Make in India' initiative, the conversion is an Indian R&D innovation for the entire world.
41. Textiles Minister lays Foundation Stone of Hastshilp Complex
Union Minister of Textiles, Smriti Zubin Irani, laid the foundation stone of a Hastshilp Complex in New Delhi. The Bhawan will be named Deen Dayal Antarashtriya Hastshilp Bhawan. The awardee artisans will be allocated space for marketing their products, on rotation basis, and preference will be given to Divyang artisans. Hastshilp Bhawan will have dormitory facilities for handicrafts artisans who will come from all across the country. There will be a separate research wing and research will be carried out on endangered crafts and new and emerging handicrafts products and markets.
42. Infosys launches InfyTQ app for engineering students
The country's second-largest IT services firm Infosys launched the 'InfyTQ' app. It is a digital platform to offer learning and engagement experiences to engineering students in the country. InfyTQ is a free platform open to all engineering students in their third and fourth years across India. The platform encourages holistic development by imparting technical as well as professional skills, helping them become industry-ready.
43. Andhra Pradesh farmers with less than 5 acres land will get benefit under 'Annadata Sukhibhava scheme'
Andhra Pradesh Chief Minister N Chandrababu Naidu announced Rs 9000 each to the farmers under Annadata Sukhibhava scheme 2019. Under Annadata Sukhibhava scheme 2019, an amount of Rs 9,000 will be given to the farmers having land less than 5 acres. This will be in addition to the Rs 6,000 announced by the Central government. Effectively, each farmer will get Rs 15,000 per annum. Farmers having land more than 5 acres, will be given Rs 10,000. This will be solely by the state government, as the Centre is not giving any aid to farmers having land more than 5 acres
44. IBBI organises two day Workshop on "Committee of Creditors: An Institution of Public Faith"
The Insolvency and Bankruptcy Board of India (IBBI) organised a two-day workshop on "Committee of Creditors: An Institution of Public Faith" in Mumbai. The workshop was jointly organised with the State Bank of India (SBI) and the Indian Institute of Corporate Affairs (IICA). The Workshop was unique and the First of its kind for the benefit of Financial Creditors who comprise Committee of Creditors (CoC) under the Insolvency and Bankruptcy Code, 2016. 28 Senior Officers (General Managers and Executive Directors) of the major Scheduled Commercial Banks participated in the Workshop.
45. Drones, Balloons Banned In Bengaluru Ahead Of Aero India 2019
Unmanned aerial vehicles (UAVs) or drones, aircraft systems and balloons have been banned in Bengaluru for security reasons during the five-day Aero India 2019 show. Defence Research and Development Organisation (DRDO) will be participating in show and will be showcase around 250 systems. Also, Aircraft manufacturer Boeing will showcase its range of platforms with "advanced capabilities" at the event. Boeing would showcase the F/A-18 Super Hornet aircraft, KC-46A Pegasus tanker, AH-64E Apache helicopter, CH-47F Chinook helicopter, and the P-8 aircraft.
The 12th edition of Aero India 2019, an international aerospace and defence exhibition will be held from 20-24 February at Yelahanka in Bengaluru. It is organised once in every two years by the Department of Defence Production, the Ministry of Defence.
46. Indian Air Force carries out exercise in Pokhran
Indian Air Force demonstrated its full combat and fire capabilities during 'Exercise Vayu Shakti-2019' in the Pokharan firing range. The exercise involves around 140 fighter jets and attack helicopters. In the exercise, the IAF showcased firepower capability of indigenously-developed platforms like Light Combat Aircraft, Tejas, Advanced Light Helicopter and efficacy of Akash surface-to-air missile and Astra air-to-air missile. Cricketer Sachin Tendulkar, who is an honorary Group Captain of the IAF, was also present on the occasion.
47. Telangana gets two new districts
The State government announced the creation of two more districts, Narayanpet and Mulugu. Now the the number of districts in the State is 33. Narayanpet has been carved out of Mahbubnagar district and Mulugu from Jayashankar Bhupalpally.
Telangana
Capital: Hyderabad
Governor: E.S.L. Narasimhan
Chief minister: K. Chandrashekar Rao
48. Himachal Assembly passes Bill to make Sanskrit the 2nd official language
Himachal Pradesh Assembly passed Official Language (Amendment) Bill 2019 to make Sanskrit as the second official language of the state. The first official language of Himachal is Hindi. The Assembly also passed the Himachal Pradesh University of Health Sciences (Amendment) Bill, 2019 to rename as 'Atal Medical and Research University, Himachal Pradesh'.
Himachal Pradesh
Capitals: Shimla, Dharamshala (Second Capital in Winter)
Governor: Acharya Dev Vrat
Chief Minister: Jai Ram Thakur
49. Inland Waterways Authority of India launches LADIS portal
The Inland Waterways Authority of India (IWAI) launched a new portal LADIS - Least Available Depth Information System. The portal being hosted on IWAI's website www.iwai.nic.in has been developed in-house. Initially LAD information will be available for NW-1, NW-2, Indo-Bagladesh Protocol route and NW-3, along with the date of survey. The facility will be expanded to other NWs also.
50. PM Narendra Modi flags off India's fastest train Vande Bharat Express
India's first semi-high speed train, the Vande Bharat Express, was flagged off by Prime Minister Narendra Modi from the New Delhi Railway Station. The train will travel from Delhi to Varanasi in nine hours and forty-five minutes. This includes stoppage time of 40 minutes each at Kanpur and Allahabad. The train had been produced indigenously at the Integral Coach Factory, Chennai. The bookings for the train have begun and it will run commercially from February 17 from Delhi to Varanasi.
51. PM Modi lays foundation for Rs 20,000 crore defence corridor in UP
Prime Minister Narendra Modi laid the foundation of the flagship Bundelkhand Defence Industrial Corridor in Jhansi district of Uttar Pradesh. The project is expected to cost around Rs 20,000 crore. The defence corridor from Jhansi to Agra will strengthen the defence production in the country and stop migration. The mega project would have span 6 nodes at Aligarh, Agra, Jhansi, Kanpur, Lucknow and Chitrakoot. India had taken the decision to establish two defence corridors in the country, one at Tamil Nadu and the other in Uttar Pradesh.
52. National Conference on "Sustainable and Environment-friendly Industrial Production"
Ministry of Environment, Forest and Climate Change (MoEFCC) organised a conference on Sustainable and Environment-friendly Industrial Production (SEIP) Project in New Delhi. Ministry organized this conference for dissemination of results, successful models and experiences so as to enable replication and plan further actions with state agencies on Pan-India basis. The project worked directly with companies and advised them on environment friendly production and wastewater management in 5 industrial areas in three states (Delhi, Uttarakhand and Gujarat). Amongst 70 participants included representatives from 18 State Pollution Control Boards and 8 State Industrial Departments.
52. Sushma Swaraj on four-day visit to Bulgaria, Morocco & Spain
External Affairs Minister Sushma Swaraj is on a four-day visit to Bulgaria, Morocco and Spain. She start her tour with a visit to Bulgaria where she will meet with the Deputy Prime Minister and Foreign Minister of the country. In Morocco, the External Affairs Minister will interact with her counterpart Nasser Bourit. In Spain, Mrs Swaraj will hold a bilateral meeting with her counterpart Josep Borrell Fontelles to discuss bilateral, regional and global issues of mutual concern.
Points to Remember
Capital and currency of the above mentioned nations are as follow:
Bulgaria: Sofia, Bulgarian lev
Morocco: Rabat, Moroccan dirham
Spain: Madrid, Euro
53. Union Minister Arun Jaitley assumes charge as Finance Minister
Union Minister Arun Jaitley has assumed the charge of Ministry of Finance and Ministry of Corporate Affairs. The charge of the Ministries was given to Union Minister Piyush Goyal on a temporary basis on the 23rd of January. Jaitley, who left for New York last month, returned home last week after undergoing medical treatment.
54. IRS officer PC Mody takes charge as new CBDT chairman
IRS officer Pramod Chandra Mody took over as the new chairman of the Central Board of Direct Taxes (CBDT). Mody is a 1982-batch Indian Revenue Service officer. He has been appointed in place of Sushil Chandra, who was named as Election Commissioner. Mody has worked in various capacities in the I-T Department and has been working as the Member in the CBDT. The CBDT is headed by a chairman and can have a maximum of six members.
55. The Pradhan Mantri Shram Yogi Maan-Dhan scheme implemented from 15 February
The Pradhan Mantri Shram Yogi Maan-Dhan scheme implemented from 15 February. Under the scheme, workers of the unorganised sector will receive a minimum assured pension of 3,000 rupees per month after attaining the age of 60 years. The workers whose monthly income is 15 thousand rupees per month or less and belong to the entry age group of 18 to 40 years are eligible for the scheme. This scheme was announced in the interim Budget 2019.