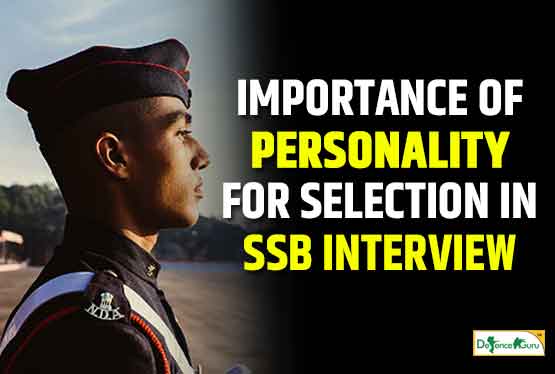 The personality plays a very important role in selection procedure of Officer Cadre and other ranks second phase examination. All defence aspirants to focus on working on their day today mannerisms and overall personality. The mind plays a very important role in changing our thinking process and its impact on our personality. There are certain important areas where aspirants can focus on, which are as follows:
First, First and foremost step is to take decision to get ready and work in order to bring desired changes in your personality.
Second, Understanding the assessment criteria for the selection in Defence forces. The assessment is made on personality, certain personality traits, abilities and potential capability in Phase II Examination.
Third, Communication plays a very important role in Indian Armed Forces. Both written as well as verbal communication. Therefore content, clarity and how to present the ideas ,thoughts plays a very important role in selection procedure.
Fourth, Learning English language can be challenging and time-consuming. This language is also very valuable and can give you edge over others and create many opportunities. In today's modern world the english language has become part and parcel of every existing field. You can attain proficiency by practicing on daily basis both verbal and non verbal part. The understanding of English grammar is extremely important and its daily study will help in bringing the desired change.
Fifth, Being organised and organising ability. This starts with organizing ones thought process and any activity undertaken or assigned. The specialty of an armed force officer is that they have plans and they know how to execute it ,utilize the resources and means to its maximum to achieve the set target. As an defence aspirant you can start with organizing any activity assigned or volunteer for it.
Sixth, Socializing is very important in Indian Armed Forces. This is cross checked in SSB selection procedure as how well you are connected with family, friends and society and your management ability in different situation so as to keep your surroundings stable. The individual should work on their ability to adapt to their surroundings and social environment. In defence forces you will be working with people of different background and this is possible and effective if you are socially adaptable by nature. The key to acquire social skills lies in becoming socially interested in others.
Seventh, Self Confidence is considered one of the most influential motivators and regulators of behavior in people's everyday lives. It is a positive feeling about oneself and the world that leads to courageous actions born out of a sense of self-respect and also the ability of an individual to have faith in one owns abilities to meet and face unfamiliar conditions. It is crucial for defence aspirants to be positive about their confidence level.
Eigth, Being lively, it is the ability of a individual to remain calm / pleasant and maintain cheerful atmosphere when faced with challenges and to bring about a happy atmosphere in the team. We all want to see a happy face and as an defence aspirant whenever any problem is given to you, you must take it with both hands and solve it with pleasant look on your face. The liveliness will help your team to solve may big challenges.
Nineth, Being dynamic, the dynamic person is one who is charismatic . The person who gels and connects with everyone, have commitment to self –improvement . The one who is liked and admired by many, who does something that changes things or people, setting a good example and who really makes a difference in the world. As an defence aspirant you can become dynamic by self improvement ,expanding your knowledge base, communicating effectively with clarity and by instilling the right attitude.
Read More: 20 Expert Tips To Prepare For Defence Exams
Tenth, Developing productive hobbies and interest – This tells about our personality and how we utilize our time. The hobbies and interests should be productive rather than casual and time wasting like playing mobile games or chatting on Whatsapp.etc or watching TV unless you are watching knowledge shows on TV.
Eleventh, Taking intiative is the ability to take first step in a untested situation in right direction and to continue till the task is achieved. For example- Taking initiative in tasks influences the entire group/ unit and their moral and you can become socially very effective. This also shows the leadership ability and courage of the individual.
Twelfth, Developing sense of responsibility it means doing your best regardless of the situation or condition taking responsibility rather than running away from the assigned task/appointment. This one can imbibe by understanding what is expected from individual.
Thus, the points mentioned above will provide direction to the candidates to work on their personality and further one can introspect oneself and bring the change as required.
All the best!
By,
Maj Nasreen Fatima
(Sqn Ldr Retd.) Ex. NDA Instructor, IO
Academic Head CEPL