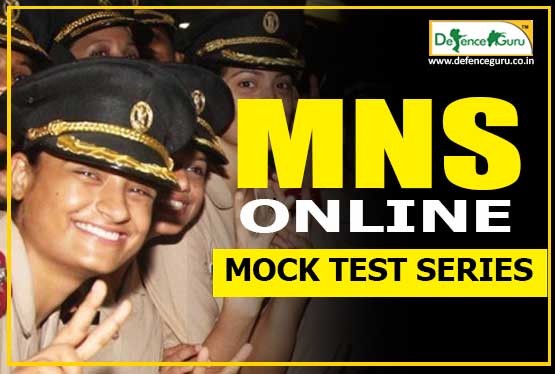 Best MNS Mock Test Series
Have you got enough tips? Is your study pattern comfortable? Is your syllabus out of sight? The answers to all your distracted minds are here to make sure you feel as comfortable and able to focus as possible for your upcoming exams.
To crack MNS 2021 exam, give more time in practicing mock test series based on latest syllabus and exam pattern. The Online Test Series for MNS 2021 exam preparation with defenceguru.co.in portal is now available where you can get all the latest updates, study material, syllabus, exam pattern of the upcoming MNS 2021 exam. The following MNS Mock Test Series article is manifested with complete understanding of the MNS exam syllabus, paper pattern, preparation tips for better results from the most reliable coaching of MNS exam.
CDA APP Download Now For MNS Test Series
Let's take an overview on Indian Army Military Nursing Service (MNS) 2021 Exam essential information:
| | |
| --- | --- |
| Exam Name | Indian Army Military Nursing Service (MNS) Exam |
| Conducting Body | Directorate General of Medical Services (Army) |
| Official Website | |
| Exam Type | National Level |
| Eligibility Criteria | Unmarried/Divorced/Widow Female Candidates can apply |
| Mode of Application | Online |
| Exam Mode | Online |
| Frequency | Once a year |
| Total Vacancies | 220 |
| Language | English |
| Educational Qualification | 10+2 with Physics, Biology (Botany & Zoology), Chemistry and English |
Appearing candidates can view the Indian Army Military Nursing Service (MNS) 2021 Exam Pattern before going to the exam with this article.
- Eligible applicants need to appear in the Written Test (CBT- objective-type).
- The test is of 90 minutes and covers topics from Physics, Chemistry, Biology, General Intelligence, and General English.
- The conducting authority will then organize an Interview for the written test qualified candidates.
- Based on the outcome of the Interview and Written Test, the final selection will be carried out, which is further subject to medical fitness tests and vacancies in the army nursing colleges.
MNS 2021 Written Exam syllabus based on subject-wise is covered in details. As a result, this process of preparation will help the candidates in scoring more marks.
Mode of examination

Computer Based Test (CBT)

Duration

90 minutes

Question types

MCQs

Subjects

General English

Chemistry

Physics

Biology

General Intelligence
Candidates have to be well-versed with the above-mentioned subjects. Check out the MNS subject-wise topics for the Indian Army MNS 2020 Exam:
| | | | | |
| --- | --- | --- | --- | --- |
| General English | Biology | Physics | Chemistry | General Intelligence |
| Detecting Misspelt words | Human health and diseases | Properties of Matter | p,d, and f – Block Elements | Space Visualization |
| Synonyms/ Homonyms | Cell and Molecular Biology | Magnetic Effects of Electric Current | Thermodynamics, Chemical Equilibrium, and Chemical Kinetics | Visual Memory |
| Idioms and phrases | Biotechnology and its applications | Laws of Motion & Work, Energy, and Power | Coordination Chemistry and Solid State Chemistry | Decision Making |
| Antonyms | Human physiology | Semiconductor Devices and their Applications | Atomic Structure | Figure Classification |
| One word substitutions | Genetics and evolution | Current Electricity | Alcohols and Ethers | Number Series |
| Shuffling of Sentences in a passage | Biodiversity, ecology, and environment | Electromagnetic Induction and Alternating Current | Isomerism in Organic Compounds | Non-Verbal Series |
| Spot the error | Plant physiology | Nuclear Physics | Carbonyl Compounds | Problem Solving |
| Shuffling of sentence parts | | Dual Nature of Radiation and Atomic Physics | Organic Nitrogen Compounds and Biomolecules | Arithmetical Computation |
| Fill in the blanks | | | Carboxylic Acids and their derivatives | Similarities and Differences |
| Comprehension passage | | | | Relationship Concepts |
| Cloze passage | | | | Analytical Functions |
The complete syllabus designed for MNS 2021 upcoming exam are above provided, below given a perfect way that can help you to accomplish your MNS 2021 result. An online guidance surpassing all communication barriers in both Hindi and English language in the form of Defence Guru Online Test Series is now available in just one click. MNS Online Course is specialized and uniquely designed by experts and R&D team of defence guru make us a unique, reliable and superior from other test series and course.
Our mock tests provide students with an authentic experience of the level of MNS Exam. MNS Online Test Series to practice and solve latest mock test for MNS exams. A multitude of mock tests will help you prepare for MNS entrance exam knowing the current level of your preparation and improve upon the same to achieve success.
Why Defence Guru Online Test Series is best for MNS 2021 exam preparation?
- Latest examination pattern test series updated time to time.
- Exactly same levels of questions are available.
- One and the same kind of Mock Test Dashboard appears on PC, Laptop & Mobile.
- Available both in English and Hindi language.
- Performance Report card received instantly after each mock test.
- Check your All India Rank (AIR).
- Download Answer Key in PDF format of each mock test.
- Easy to use
- Portable
- Cost Free
- Practice anytime, anywhere
What we learn with practice we never forget and to foster that spark within you unlock defence guru online test series extensive collection of MNS mock tests and gear up your preparation.
'Safal Defence Exams Ka Parikshan' with Defence Guru Online Test Series visit us at: defenceguru.co.in or just call: +91 9695077775.
Order Now MNS Online Test Series
Read More
NDA Online Mock Test Series
Online Test Series for Defence Exam