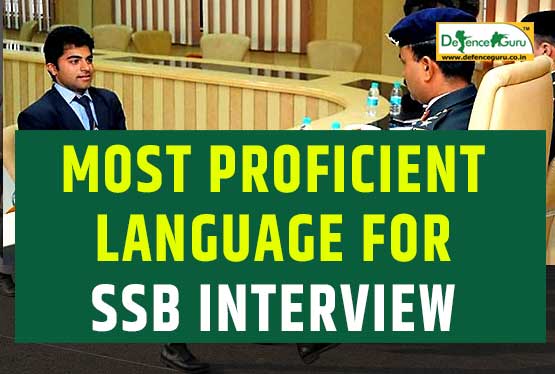 India is a democratic country where people from different religion, culture and tradition live but although in professional terms India is also a place that follows western traditions many fold. Thus keeping this in mind it is obvious to understand that Indians considers English as a professional, working language.
Defence is a high-grade respected profession, which acquires officer like qualities. Candidates coming from different backgrounds are often fussed with language barriers in SSB performance, hence this article is specifically drafted considering the importance of most proficient language for SSB Interview.
Suitable Language for SSB Interview
SSB Interview is manifest with candidates from all over the nation for 4 to 5 days tuff selection procedure. At SSB centre you come across with two categories of people i.e. group mates and board members. A candidate usually starts with hesitation whether to use native language or Hindi or English at the centre.
Tips when you are with Group Mates
Group mates are candidates competing & surviving with you for 5 days at SSB centre. Be calm, composed and relaxed with them and behave normally with them. There is no hard and fast instruction at SSB centre about internal language, they are your friends thus you are allowed to become quiet informal (in context of spoken language) with them and hence using any particular language specially English is not a barrier with them.
Tips when you are with Board Members
Board Members are the one who are going to select you as an officer in Indian Armed Forces. Your aim & goal will be determined under their judgment so required to use an official language in doing so. English is a universal language and an official language of India which most of Indians understand in comparison to Hindi or other native language.
Tips when you are at SSB Tasks
Time of action has arrived as this the time where most of your skills are required.
On the Screening day - In PPDT you have to write a story in English
In narration there is an option i.e. if you get stuck while narration you can use Hindi but you are asked to revert back to English as soon as possible.
In Discussion you have to speak only in English
In Psychological Tests with SRT, WAT, TAT, SD you are expected to write responses in English.
In GTO during indoor and outdoor tasks you might have an informal talk in Hindi that will be considered but while doing tasks or giving lecturette you should stick to English.
Most important tips when your GTO asks you something in English you must answer in English only.
In interview and conference while responding to IO or other officer you have to talk in English only
Several candidates still face numerous rejections due to language barrier in SSB but there is no point of disappointment as information filled during PIQ form are always considered keeping in mind your native place and medium of education. The result are announced under proper scrutiny of candidates, candidates are advised to focus primarily on good communication skills and Spoken English.
Centurion's Spoken English special batch online are running for candidates keen to learn and improve their communication skills for SSB Interview.
Individual Attention is Our Strength, SSB 21 Days Online Batch + Spoken English Batch is Goal. Join the batch and avail unlimited benefits. SSB 2020 ONLINE CLASSES PLAN जयादा जानकारी के लिए निचे दिए गए LINK पर CLICK करे |
SSB is a place where people from different places participate and they usually cover the entire country, whichever centre you visit for SSB. English being the common language which is understood by all is promoted and hence should be used.
Be an Efficient Learner! Save Time and Effort! Get Centurion Defence Academy Student App.
Visit www.centuriondefenceacademy.com Just Call or Whatsapp 9795977779 | 9795977776