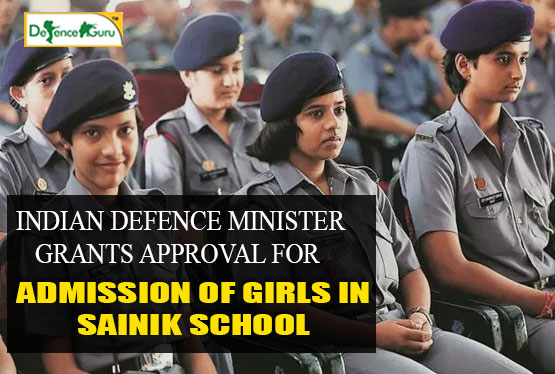 Indian Defence Minister Grants Approval For Admission Of Girls In Sainik School
Sainik schools- 31 in count all over India and yet running solely for boys. Shameful isn't it? But no more the shame.
To bring an end to this disparity and gender difference a massive decision has been taken by Indian Government under the headship of Mr. Rajnath Singh as the current Defence Minister. The decision is about approving admission of girls in Sainik Schools across India beginning from the year 2021- 2022.
Sainik Schools carry out entrance for class 6th and 9th each year exclusively for boys. It is a gateway to not only good education but to Indian Armed Forces as much of the students from Sainik School get admitted into NDA later on.
While these benefits were only available for boys, from now on the talented girls of India could also avail them.
The decision came after the Pilot project, launched by Defence Ministry 2 years ago in Mizoram so as to request permission of admitting girls in Sainik Schools.
On Friday, 18th October, 2019 with the approval of the decision, Sainik Schools immediately started working upon the layout of necessary infrastructure and provision of necessary female staff.
From a different perspective it also carries forward the motto of P.M Modi's 'Beti Bachao Beti Padhao' Abhiyan.
Women employment in Army as soldiers, jawans and military police also began this year. All in all there is a rise in women recruitment in Indian Defence and with the recent plan of admitting girls in Sainik School the expectations for women upliftment have been raised high.
Read More: Defence News