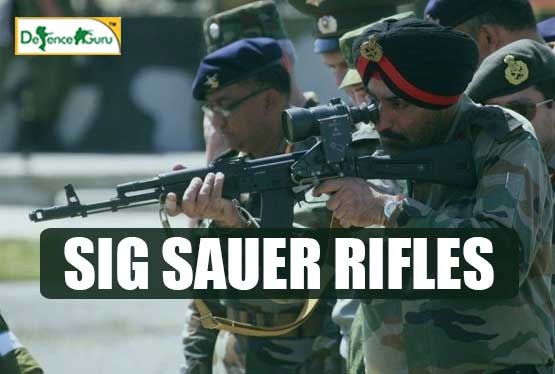 Indian Army is recently climbing up ladders of development with introduction and acceptance of new equipments.
Being the major part of Indian Armed Forces, Indian Army is always under spotlight and today's cause of attention is Sig- Sauer rifle. Unique name, isn't it? The more unique the name is the more especial it turns out to be.
Prior to the occasion of Diwali, Army Chief, General Bipin Rawat came up with good news on 25th October that India will receive Sig- Sauer rifle by the very end of this year. They are manufactured by firearm major Sig Sauer and hence the name. A manufacturing unit by the name AK- 203 rifle, a joint venture of India and Russia will work upon the production.
The objective behind inception of these rifles is to empower Indian infantry forces with the best rifles.
In order to ensure there is no slippage or mistake in the production, Army Chief General will himself head the manufacture at the ordnance factory Amethi.
General Bipin Rawat also commented in his speech at the Field Marshal KM Cariappa memorial lecture that Infantry is an integral part of Indian Army and its volunteers are ever- ready to work, even on short notice. Hence they certainly deserve to receive the best war engaging material for successfully carrying their mission.
Not only is Sig- Sauer the best rifle but it will also equip the soldiers with the best operational tools and capabilities.
General Bipin Rawat also said that a hundred soldiers, mainly from the infantry division will be sent to Young Soldiers Training Wing, established at the Officers Training Academy (OTA), Chennai and trained for six months.
Without doubt Indian Army has elevated its status and the development seems unstoppable. Sig- Sauer rifles puts hope in further increment of its development graph.