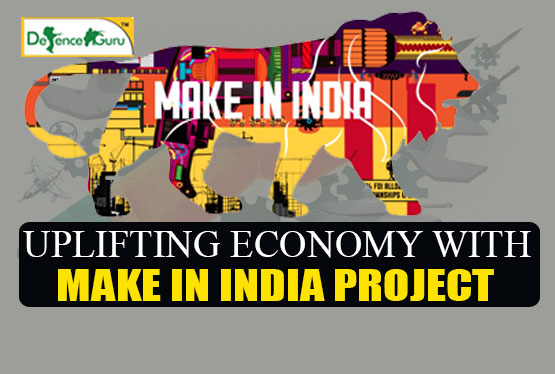 Charity begins at home and so does development!
Making home the chief stage to commence with rapid economic growth India launched a mega mega project known famously as 'Make in India'. Ever since its inception, the project is making rounds all over the news which in turn makes it crucial for SSB Lecturette. So here is an in- depth overview of the project:
'Make –in- India'
The date of launch of this eminent scheme dates back to 25th September, 2014.
The Government of India initiated 'Make- in- India' with an aim of increasing manufacturing in Indian companies so as to generate more employment, services, output and finance. The crux of the objectives is to heighten manufacture in India.
No plan emerges without a cause. What triggered the BJP- NDA government to take this move was a depreciating economy. 2013 witnessed a really sluggish Indian economy so much so that it was tagged as 'Fragile Five' in context to 5 BRICS nations. Unemployment was on rage and the citizens held enough complaint and contempt for the government.
Reflecting upon the crisis Prime Minister Narendra Modi injected the 'make- in India' plan for strong nation building. The timeline initiated by Prime Minister was 'Minimum Government Maximum Governance'. To promote the plan various businessmen across the nation were approached along with inviting tenders from various investors and partners around the globe. The Department for Promotion of Industry and Internal Trade (DPIIT) especially worked for promotional strategies.
Elaborating the process of 'Make- in- India' let me tell you it rests upon 4 pillars:
New processes- To raise the graph of entrepreneurship India has recognized 'ease of doing business.' It aims to make the business environment easy as well as regulate the business life cycle, terms and policies to the utmost benefit.
New infrastructure- Smart cities, advanced commute, industrial corridor and modern- art structures are essential to make a nation look glorious and welcome foreign investors. Hence focus is also laid on building up more and better infrastructure.
New Sectors: 25 sectors have been recognized by India for manufacturing purpose. From automobiles, chemicals, Defence exports to railway, oil and thermal industry nearly all prime fields have been covered.
New mindset: Outward growth without internal development is next to impossible. To bring an increase in output there has to develop an open- minded crowd. Faith in India, welfare of each other, promoting brotherhood and most importantly government cum industrial partnership are some of the new notions that needs to be injected in Indian minds so as to make the whole nation progress together.
Summarizing it together, the core objectives of 'Make – in- India' can be listed as:
Rise in manufacturing sector growth to 12-14% per annum.
Uplift the manufacturing share in the country's Gross Domestic Product from 16% to 25% by 2022.
Produce 100 million additional jobs by 2022 in manufacturing sector.
Endowing more modern skills among rural as well as urban citizens.
Making manufacture technology friendly.
Bringing in global competitiveness in manufacture sector
CURRENT SITUATION
The plan portrayed, time to highlight the achievements. It's been 5 years since 'Make- in- India' came into vogue and there has been a recognizable progress in Indian economy due to this great scheme.
More investment, innovation, developing skills, intellectual property, and best-in- class manufacture have been fostered at a rapid rate.
Certain key sectors such as Railways, Defence, insurance and medical devices are now open to Foreign Direct Investment (FDI).
Indian ministry has also joined hands with World Bank for working out business methodologies. The DPIIT and World Bank have conducted various workshops with State government and other Ministers.
An Investor Facilitation Cell (IFC) was also formed in 2014 especially for the handling of 'Make- in- India' project. It handles regulation of approval, hand holding service, investment and execution.
Add to that, 6 industrial corridors have been opened with numerous smart city projects in line.
6 metro coaches manufactured in Baroda were exported to Australia marking a historical achievement.
Prime Minister Narendra Modi and South Korean President Moon Jae-in inaugurated world's biggest mobile factory in Noida.
As per the ICA the production of mobiles in India increased from 3 million units in 2014 to 11 million units in 2017.
Most importantly a 14% rise in manufacturing sectors has been registered.
All in all with a noble approach and a kind objective of national development, 'Make- in- India' has been a game changer. It had turned India's fortune and requires our continuous support and effort to bring far more beneficial outcome.