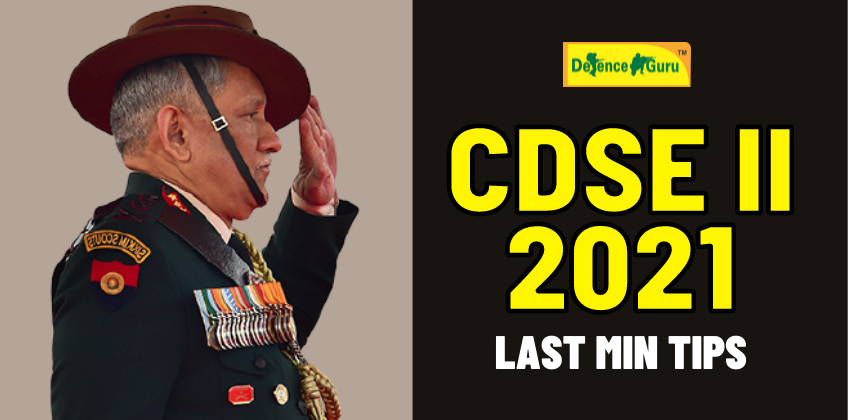 CDS 2 2021 Examination Last Minute Preparation Tips
The CDS 2 2021 exam will be held on November 14, 2021 by the Union Public Service Commission. Defence aspirants can join the IMA, AFA, INA, and OTA by qualifying for the Combined Defence Services (CDS) exam. Candidates should concentrate solely on revision and developing exam tactics in the days leading to the exam, as learning new topics will not yield positive outcomes. It is crucial to obtain higher marks in each question paper in order to pass the CDS exam's sectional cut-off which is around 20%. Candidates should focus on analyzing previously learned topics and devising exam-cracking strategies rather than worrying about their exam performance and consequences. Candidates should examine previous year's question papers and attempt mock tests to get a glimpse of the actual exam atmosphere and prepare accordingly. They should concentrate more on revision and analysis of the number of questions to be attempted in each paper.
English, General Knowledge, and Elementary Mathematics are the three sections of the CDS written exam for IMA, INA, and AFA.

There are only two sections to the OTA entrance exam: English and General Knowledge. There will be 100 questions on the Mathematics examination, and the exam will last two hours.

Each of the two papers, English and General Knowledge, will contain 120 questions and a two-hour time restriction.

Candidates who want to enter the Officers Training Academy (OTA), Chennai do not have to take the Mathematics paper.
There are a few things that the candidate should keep in mind in order to pass the CDS exam with flying colours. Here are some useful last-minute CDS 2 2021 exam preparation tips.
Focus on revision
It is imperative for CDS aspirants to go through the topics they have already covered in order to master them thoroughly. Candidates should review the important formulae and develop techniques to refresh mathematical concepts in a brief period to attempt a significant number of questions. Candidates should brush up on their vocabulary and read synonyms, antonyms, and idioms for the General Knowledge and English papers, as well as go through current events and review previously learned topics.
Analyze previous year's question papers
Candidates should analyze the previous years' CDS exam question papers to see where they fall short, then concentrate on the topics they know thoroughly. Solving previous years' CDS question papers is an excellent idea because it prepares candidates for the exam and helps them improve their accuracy and ability to solve questions. Candidates should review the exam pattern thoroughly to determine the number of questions they should attempt.
Attempt mock tests
The greatest option for an aspirant to acquire a comprehensive self-evaluation and understanding of their progress and performance level for the exam is to take a mock test. Mock tests assist students in understanding the exam's question pattern and topic-by-topic question importance, as well as guiding them in designing and devising a clever approach to employ in the real exam to solve questions within a set time limit.
Don't spend time on difficult questions
Candidates should avoid wasting too much time on difficult questions and instead they should attempt the next ones. This strategy will aid them in effective time management during the exam and eliminate negative marking. Read the questions twice and make sure you don't make any dumb mistakes while marking the answer. All instructions should be read, understood, and listened to carefully, and any doubts should be cleared up right away.
Follow exam day guidelines
Candidates must adhere to the exam day instruction given on their admit cards. Candidates should remember to carry all of the necessary items to the examination centre. At the given time, candidates must bring one of their ID cards together with their admit card, as no candidate will be granted entry into the exam venue after the entry gate has closed. To mark their responses on the OMR answer sheet, candidates should bring a black ball-point pen to the examination venue. Candidates must adhere to COVID-19 social distance and basic hygiene norms.
Keep calm and take adequate sleep
Candidates should get enough sleep and be physically and psychologically refreshed on the day of the exam to re-energize their strength and keep themselves energetic and active. Approach the exam site with a positive mindset, as this will help you build confidence. Follow the directions on your admit card and get rest so you may show up to the exam revitalized and motivated.