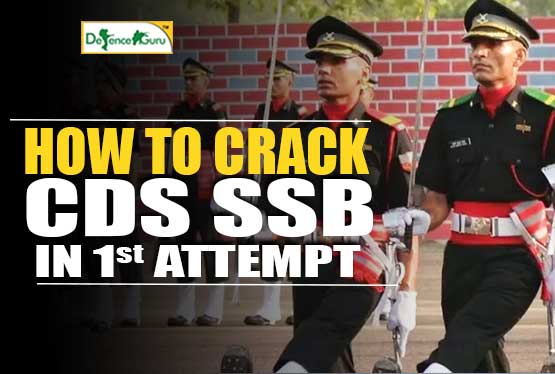 CRACK CDS SSB IN FIRST ATTEMPT
Combined Defence Services (CDS) is a highly opted gateway to mark your step in Indian Defence System.
The much renowned and looked forward to exam by Defence aspirants, the CDS exam is held twice a year. It recruits candidates for joining Indian Military Academy, Officers Training Academy, Indian Naval Academy and Indian Air Force Academy. The exam notification is released in the month of October and June while the written exam is held in February and November.
Often students get at peace once they successfully crack CDS written but following up the written part is the next level of CDS entry known as SSB interview. It is my primary motive today to list a few tips to clear CDS SSB interview.
SSB is an ad-mixture of various Psychological, written, oral, outdoor, group tasks and Personal interview.
SSB is scheduled for 5 days wherein candidates are enriched with a rich and versatile experience.
Here are a handful of tips for the same:
Commence with a positive approach.
The very first task is related to verbal and non- verbal questions followed by PPDT (picture perception and description test). Basically all the tests are written in nature and you have to gain an upper hand from the beginning itself.
An essential tip for the above is to answer logically. Be reasonable, be spontaneous and show a sense of responsibility, especially social responsibility through your answers.
Next follows up the Psychological tasks.
As the name suggests they dig in deep into your psychology and mental thought process. Need not worry, The best you can do here is to be yourself!
Reveal your true personality but in a smart way. For instance choose well when answering about your strengths and weaknesses. Add how you can turn your weak point into your strong point.
Depict how capable you are to live, to adjust in a military lifestyle.
Take advantage of any and every opportunity to showcase your Officer like Qualities.
Do answer in a way that shows you are a socially responsible person.
After Psychological tasks next in line are Group tasks.
Ranging from Group Discussion to Outdoor group tasks, there is a multitude of team tasks.
Your tip here is to be the best team player!
Scan and memorize the word 'team' because that is your golden key. Give your group mates equal chance to speak and perform. Do not be aggressive to them and neither over friendly. Work as a team.
Give your contribution to the maximum, be it through supporting the group in outdoor task or giving suggestions at any point of time.
Add to the group task, you have to remember that you are participating in Group Discussion and Physical Tasks as well.
For the above two processes note the following tips:
Increase your general knowledge so as to support your arguments in G.D round with recent facts and news.
Read newspaper daily.
Engage in discussions with friends and family to get a practice of it.
Be clear and audible; improve your communication skills.
Avoid fish market- like situation and if it occurs try to resolve it.
For the Outdoor Tasks:
Listen to the instructions very carefully.
Be mindful of not breaking any rule.
Try to be the first candidate to take initiative in any task.
Be just to your group mates and give them equal chance in the tasks.
Get into habit of some exercise and physical activity on a daily basis to keep yourself physically fit.
Last but not the least is the Personal interview (PI), that is, a face- to- face interaction with the Interview Officer.
All you need to do is be confident and not panic.
Remember the questions and their order.
Do not get over friendly with interview Officer.
Be honest in your responses.
A few add- on tips include:
Be confident
Be honest
Dress decently and look smart
Polish your behavior and personality in general
Brush up your general knowledge along with technical and academic knowledge
Know everything about the branch of Indian Armed Forces that you are applying in, that is, Indian Army or Indian Air Force or Indian Navy.
Be physically fit.
Know the SSB interview schedule beforehand.
Do not be rude to your group mates or anyone in general.
Improve your communication and speaking skills.
Above all, follow an optimistic approach and keep a constant mil- little smile on your face. With this I hope the above notions help you to crack SSB interview with quality and glory.