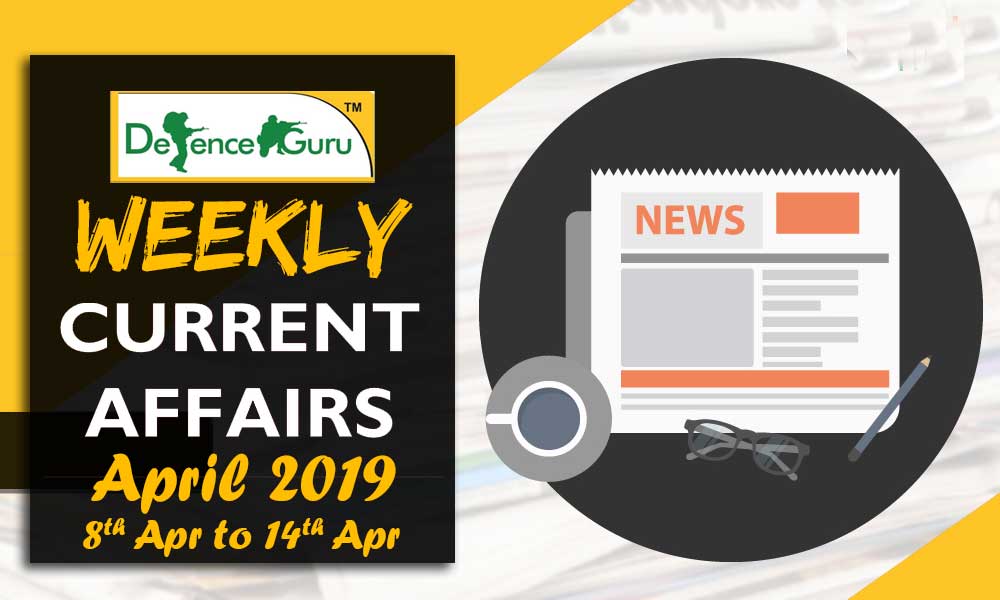 1. Vikram Nath
Justice Vikram Nath, the senior most judge of Allahabad High Court, was appointed on as the first Chief Justice of the newly-constituted Andhra Pradesh High Court. The Collegium of Supreme Court comprising of Chief Justice of India Ranjan Gogoi besides Judges S A Bobde and N V Ramana recommended the name of Justice Vikram Nath. The new Andhra Pradesh High court was established on 1 January 2019 this year following the division of a combined high court of Telangana and Andhra Pradesh.
2. Vikramjit Sahney
SUN Group Chairman Vikramjit Singh Sahney elected as the new president of International Chamber of Commerce (ICC) - India. He will succeed in Jawahar Vadivelu.
The International Chamber of Commerce is the largest, most representative business organization in the world.
Points to Remember-- International Chamber of Commerce (ICC)
Founded: 1919
Headquarters: Paris, France
3. Graham Reid
Australian Graham Reid's appointment as the men's national team chief coach till the end of 2020 was ratified after Hockey India received necessary clearance from the Sports Authority of India (SAI). Reid's tenure will be till the end of next year. As per industry standards, every international coach's contract is supposed to be for an Olympic cycle. But his contract will have a provision of extension till 2022. Everything will depend on India's performances leading upto the Tokyo Olympics.
4. Justice Pradeep Nandrajog
Justice Pradeep Nandrajog took oath as the new Chief Justice of the Bombay High Court. He was by the oath by Maharashtra Governor C Vidyasagar Rao at the Raj Bhavan. Justice Nandrajog was serving as the Chief Justice of the Rajasthan High Court since March 2017, following his transfer from the Delhi High Court.
Points to Remember: Maharashtra
Maharashtra Capital: Mumbai
Governor: C. Vidyasagar Rao
Chief minister: Devendra Fadnavis
5. Saraswati Samman 2018
Telugu poet K Siva Reddy has been selected for the prestigious Saraswati Samman, 2018 for his collection of poetry titled 'Pakkaki Ottigilite'. The award carries a cash prize of 15 lakh rupees, a citation and a plaque. The award, instituted by the KK Birla Foundation in 1991. It is given annually for an outstanding literary work written in any Indian language and published during the last 10 years.
6. Paralympian Deepa Malik named for New Zealand Sir Edmund Hillary Fellowship
Rio Paralympics silver medallist Deepa Malik has been named as the recipient of the New Zealand Prime Minister's Sir Edmund Hillary Fellowship for 2019. She is the first Indian woman to earn a medal at the Paralympic Games. The Fellowship Program has been running since 2008, which aims to strengthen the relationship between India and New Zealand by showcasing the different aspects of the warm friendship between the two countries. NITI Aayog CEO Amitabh Kant was the recipient of this prestigious fellowship in 2017.
7. Prasar Bharati Chairman releases booklet of 'Selected speeches of Dr Bhimrao Ambedkar in the Constituent Assembly'
Prasar Bharati Chairman, A Surya Prakash released a booklet of the 'Selected speeches of Dr Bhimrao Ambedkar in the Constituent Assembly', in New Delhi. The event was organized to commemorate the contributions of Baba Saheb in the upliftment of underprivileged in the country. Mr Surya Prakash also called upon students to read the speeches of Baba Saheb to have a sense of respect towards his contribution in Nation building.
Points to Remember: Prasar Bharati Chairman
Prasar Bharati CEO: Shashi Shekhar Vempati
Headquarters: New Delhi
Founded: 23 November 1997
8. Jagan Prasad Garg
BJP MLA Jagan Prasad Garg passed away. He was 65. He suddenly fell ill and was admitted to a hospital in Agra where he breathed his last. Jagan Prasad was elected MLA for the fifth time from North Assembly constituency in Agra. Chief Minister Yogi Adityanath has condoled his death.
9. Virat Kohli and Smriti Mandhana named as Wisden's Leading Cricketers in the World
Indian captain Virat Kohli was named the 'Leading Cricketer in the World' for the third time in a row in this year's edition of the Wisden Cricketers'. This is the third time in a row that the Indian captain gained this title. Smriti Mandhana was the Leading Cricketer in the women's game. Kohli also won the ICC's cricketer, test and one-day international player of the year awards in January 2019.
10. India bow out of 2020 Olympic Qualifying tournament
In Football, Indian women's team bowed out of the 2020 Olympic Qualifying tournament in Mandalay on goal difference despite a 3-3 draw against Myanmar. Both India and Myanmar were on six points from two games but Myanmar enjoyed a better goal difference of (8) compared to (4) of India. India had begun their campaign with a victory against Indonesia 2-0 and thrashed Nepal 3-1 in the second game.
11. Dream11 becomes the first Indian gaming company to be a unicorn
Dream11, India's biggest sports game announced the completion of a secondary investment by Steadview Capital, an Asia-focused alternative asset manager. This investment marks Dream11's entry into the 'Unicorn Club' as the first Indian gaming company to achieve this milestone. Dream11 is the market leader with over 50 million users.
12. Virat Kohli becomes all-time leading IPL scorer
Virat Kohli overtook Suresh Raina to become the leading run-scorer in the Indian Premier League. Up against Kolkata Knight Riders, Kohli also became the 2nd fastest after Chris Gayle to reach 8000 T20 runs. Till date, Virat Kohli and Suresh Raina are the only two players to score 5000 runs in the IPL. Both men got to the landmark this year. Rohit Sharma (Mumbai Indians) is 3rd in the list of most runs in the IPL with 4600 runs. David Warner (Sunrisers Hyderabad) is 4th with 4278 runs.
13. Lin Dan clinches Malaysia Open
Chinese badminton ace Lin Dan clinched the Malaysia Open in Kuala Lumpur. After an electric performance, he beat countryman Chen Long 9-21, 21-7, 21-11. The title is Lin's first win this year, and also his first major success since taking the Malaysia Open in 2017.
14. PM Modi awarded with Russia's highest state honour
Prime Minister Narendra Modi has been conferred on the Order of St Andrew the Apostle highest state decoration of Russia. He was decorated with the award for his exceptional services in promoting a special and privileged strategic partnership between Russian and India. In 2017, Chinese president Xi Jinping was awarded the Order of St Andrew the Apostle. Recently, PM Modi has been awarded the United Arab Emirates's top honour as well as of countries including South Korea, Saudi Arabia, Palestine and Afghanistan.
15. SpaceX carries out first commercial launch with Falcon Heavy rocket
SpaceX has carried out its first commercial launch with its Falcon Heavy rocket. It completed the task with placing a Saudi satellite in orbit. The rocket carried a Saudi Arabian satellite operated by Arabsat, a year after sending founder Elon Musk's red Tesla roadster into orbit as a test.
Points to remember: SpaceX carries
CEO: Elon Musk
Founded: 6 May 2002
Headquarters: California, United States
16. Sudan's army ousts president Omar al-Bashir
Sudan Defence Minister Awad Ibnouf announced that the President has been removed from power and detained by the army. A three-month state of emergency is being put in place. He said, Sudan's constitution is being suspended, border crossings are being closed until further notice and airspace is being closed for 24 hours. Mr Bashir is the subject of an international arrest warrant issued by the International Criminal Court (ICC), which accuses him of organising war crimes and crimes against humanity in Sudan's western Darfur region.
Points to Remember: Sudan
Capital: Khartoum
Currency: Sudanese pound
17. India to be Guest of Honour country at ADIBF 2019
UAE has announced that India will be the Guest of Honour country at the Abu Dhabi International Book Fair, ADIBF 2019. It will be held from 24th to 30th April 2019. The fair aims to highlight the UAE's rich heritage, showcasing its authenticity and modernity, as well as its cultural and literary output. The Indian Pavilion will host Indian authors and literary scholars who will serve as ambassadors for the literature and art of their country.
18. Astronomers take 1st ever image of a black hole
Astronomers have taken the first-ever image of a black hole, which is located in a distant galaxy. The image which has been captured by a network of eight telescopes across the world shows an intensely bright 'ring of fire' surrounding a perfectly circular dark hole. According to some scientists, the black hole is located 500 million trillion kilometres away.
19. Google Wing launches first home delivery drone service
Wing, owned by Google's parent company Alphabet, will deliver takeaway food, coffee and medicines by drone to about 100 homes in Canberra. It has been testing its drones in Australia since 2014 but many residents had complained about the noise. Australia's aviation authority gave Wing permission to launch a commercial service after examining its safety record and operational plans.
20. London becomes the first city to implement 24x7 pollution charge zone
London became the first city in the world to implement a special Ultra Low Emission Zone (ULEZ). The ULEZ would charge an entry fee for older vehicles if they do not meet the emission standards. In an attempt to reduce air pollution and protect public health, the ULEZ will be operational for 24 hours and seven days a week. Motorists who drive into the zone in a vehicle that does not meet the new emission standard will have to pay a daily charge.
21. US declares Iran force as foreign terrorist organisation
The US designated Iran's Revolutionary Guard Corps a foreign terrorist organisation, an unprecedented declaration against a foreign government that may prompt retaliation and make it harder for American diplomats and military officers to work with allies in the region. It is the first time that the US has designated an entity of another government as a terrorist organization. The IRGC is a paramilitary organization formed in the wake of Iran's 1979 Islamic Revolution to defend the government. The force answers only to Iran's supreme leader, operates independently of the regular military and has vast economic interests across the country.
22. Israel: Voting begins to elect new parliament
Israelis began voting to elect a new parliament. Fourteen main parties are competing for 120 seats in the Knesset or parliament. Incumbent Prime Minister Benjamin Netanyahu is running for his fifth term in office. His main challenger is Benny Gantz, a former chief of staff of the Israeli military. Voters will cast their ballots for a party, not a candidate. The more votes a party gets, the more seats it obtains in the Knesset as the government is based on a nationwide proportional representation system. Political parties must pass an electoral threshold of 3.25 percent to gain a Knesset seat.
23. UAE announces long-term visas for best 100 Arab start-ups
The UAE government has announced granting long-term visas for the top 100 start-ups shaping the fourth industrial revolution. The 100 Arab start-ups were selected at the World Economic Forum on the Middle East and North Africa, held in Jordan between 6-7th April. According to the World Economic Forum's latest report, 20% of the Arab world's 100 most promising startups are based in the UAE. The initiative aims to further integrate the Arab world's most promising start-up entrepreneurs into a national and regional dialogue on pressing challenges.
Points to Remember: UAE
UAE Capital: Abu Dhabi
Currency: United Arab Emirates Dirham
It is formed by seven emirates: Ajman, Dubai, Fujairah, Ras Al Khaimah, Sharjah and Umm Al Quwain.
24. Japan space probe drops explosive on an asteroid to make a crater
Japan's space agency JAXA,has said its Hayabusa2 spacecraft released an explosive onto an asteroid. The explosive was used to make a crater on its surface and collect underground samples to find possible clues to the origin of the solar system. Hayabusa2 successfully touched down on a tiny flat surface on the boulder-rich asteroid in February 2019. The Japan Aerospace Exploration Agency (JAXA) is a Japanese national aerospace and space agency.
25. Google launches a new cloud platform, Anthos
Google launched Anthos, a new open platform from Google Cloud, that lets users run applications from anywhere. Anthos allows users to run applications, unmodified, on existing on-premise hardware or on the public cloud. It is based on the Cloud Services Platform that Google announced last year. Anthos is a completely software-based solution. Users can set it up on existing hardware, claimed Google.
26. NGT forms the Central Monitoring Committee to prepare a national plan for polluted rivers
A bench headed by NGT (National Green Tribunal) Chairperson Justice Adarsh Kumar Goel has formed a Central Monitoring Committee to enforce a national plan to reduce the river pollution. It will make over 350 river stretches across the country pollution free as it has caused a serious threat to the safety of water and environment. The Central Monitoring Committee will also coordinate with the River Rejuvenation Committees of the states and oversee the execution of the action plans.
27. Namami Gange gets approved with Global recognition at Global Water Summit
The National Mission for Clean Ganga (NMCG) was awarded the distinction of "Public Water Agency of the Year" at the Global Water Summit in London. The Global Water Awards are presented at the Global Water Summit, the major business conference for the water industry worldwide. The awards recognise excellence across the international water industry and reward those initiatives in the water, wastewater, and desalination sectors, which bring remarkable improvements in the lives of people.
28. Retail inflation inches up to 2.86% in March
Retail inflation saw a marginal rise of 2.86 per cent in March this year on account of increase in prices of food articles and fuel. According to the data released by the Ministry of Statistics and Programme Implementation, the inflation based on the Consumer Price Index was 2.57 per cent in February this year. On a yearly basis, it was 4.28 per cent in March 2018.
29. Navy gets virtual reality centre for designing warships
Admiral Sunil Lanba, the Chief of the Naval Staff, inaugurated the maiden 'state-of-the-art' Virtual Reality Centre (VRC) at the Directorate of Naval Design, New Delhi. This centre would provide a major boost to the Indigenous warship design capabilities of the Indian Navy. It will provide impetus to self-reliance and greater fillip to warship construction under "Make in India" initiative of the Indian government. This project will facilitate collaborative design reviews for continuous interaction between the designers and the end users to improve design and ergonomics onboard warships.
30. Ambedkar Jayanti: 14 April
Ambedkar Jayanti or Bhim Jayanti marks the birth anniversary of Bhimrao Ambedkar or BR Ambedkar - the "Father of The Indian Constitution". Celebrated on April 14, Ambedkar Jayanti honours the Dalit icon who dedicated his life working for the upliftment of untouchables, women and labourers. Dr BR Ambedkar not just gave India its Constitution, but also played a key role in the formation of Reserve Bank of India - the country's central banking institution. The government has declared a public holiday on 14 April for all Central government offices, including industrial establishments, throughout India.
31. India, Sweden ink pact to collaborate on solutions for smart cities, clean tech
India and Sweden launched a joint programme that will work towards addressing a range of challenges around smart cities and clean technologies among others. The programme was co-founded by the Indian Department of Science and Technology (DST) and Swedish agency Vinnova. Vinnova will provide funding to Swedish participants up to 2,500,000 Swedish Krona (around Rs 1.87 crore) as a grant. On the Indian side, a conditional grant of up to 50 per cent (with a limit of Rs 1.5 crore) per project will be provided to the Indian partners.
32. Govt retains interest rate for General Provident Fund at 8%
The government has retained the interest rate for General Provident Fund (GPF), Contributory Provident Fund and other related schemes at 8 per cent for the first quarter of the current financial year. The interest rate on these funds was at 8 per cent in the January-March quarter of 2018-19 and government kept it unchanged for April to June for 2019-20. The interest rate will be applicable on provident funds of central government employees, railways and defence forces.
33. TCS, Google partner to build industry-specific cloud solutions
India's largest software services firm Tata Consultancy Services (TCS) has collaborated with tech giant Google to build industry-specific cloud solutions. These solutions will help organisations accelerate their digital transformation and leverage data-driven insights that power superior customer experiences. TCS' solutions on the Google cloud platform will help enterprises build secure, cloud-native analytics platforms, and are cost-effective, easy to maintain, and future ready.
34. Israeli PM Benjamin Netanyahu get the fifth term
Prime Minister Benjamin Netanyahu's Likud party has won 36 seats and surpassed the main rival, the Blue and White party in the 2019 Israel election. The results were released by the committee after two days of counting ballots and delays caused by computer malfunctions. The results mean Netanyahu is heading for a record fifth term in office and would become Israel's longest-serving Prime Minister.
Points to Remember: Israel
Capital: Jerusalem
Currency: Israeli new shekel
35. India builds a maternity hospital in Nepal
India has built a 25-bed maternity hospital in Nepal. The hospital has been built under the Government of India's Small Development Projects Scheme. Indian Ambassador to Nepal Manjeev Singh Puri inaugurated the Chandra Narayan Yadav Memorial Maternity Hospital in Siraha district. The Hospital will provide quality maternity and health care services to the people of 50 Village Development Committees in and around Siraha district. It will also help in reducing maternal and child mortality rate.
36. India's population grew at a 1.2 % average annual rate between 2010 and 2019: UN report
India's population grew at an average annual rate of 1.2 per cent between 2010 and 2019, according to a report by the United Nations Population Fund. It is more than double the annual growth rate of China. India's population in 2019 stood at 1.36 billion. In comparison, China's population stood at 1.42 billion in 2019. China's population grew at an average annual rate of 0.5 per cent between 2010 and 2019.
37. Bold Kurukshetra 2019: Singapore, India joint military exercise kicks off
Military forces of India and Singapore got together to participate in a joint exercise in Babina Cantonment in Jhansi. The three-day exercise, 'Bold Kurukshetra–2019', is being conducted to develop military technology, boost maritime security and bolster the nations' fight against terrorism. The two countries had signed a cooperation agreement to strengthen the defence ties between the Indian Military and Singapore Armed Forces in November 2017.
38. IMF scales down India's growth projection for current fiscal to 7.3%
The International Monetary Fund (IMF) has moderately scaled down India's economic growth projection to 7.3 per cent for the current financial year from its earlier forecast of 7.4 per cent. Despite this, the country will remain the fastest-growing large economy as the nearest competitor China's growth is pegged at 6.6 per cent, 6.3 per cent and 6.1 per cent for 2018, 2019 and 2020, respectively.
39. Online Harms White Paper
The UK Department of Digital, Culture, Media and Sport in association with Home Office have released the Online Harms White Paper. The White paper sets out a programme of action to tackle content or activity that harms individual users, particularly children, or threatens our way of life in the UK, either by undermining national security or by undermining our shared rights, responsibilities and opportunities to foster integration.
40. 'Desi Bofors' Dhanush inducted in Army in bid to modernise artillery
In an important step towards upgrading the combat power of the artillery, the Ordnance Factory Board (OFB) handed over the first six Dhanush 155 millimetre (mm) artillery guns to the army. This is part of an order for 114 guns being delivered by the OFB's Gun Carriage Factory, Jabalpur. The Dhanush is also called the "Desi Bofors", having been developed from blueprints supplied by Bofors in the 1980s, when India bought 400 Swedish FH-77B howitzers.
41. Decolourisation of River Periyar
The River Periyar in Kerala is again witnessing the decolourisation. The decolourisation of River Periyar which provides drinking water to Kochi city. The pollution control Board (PCB) has attributed the change in colour to the poor quality of water as a result of eutrophication. River Periyar flows in the state of Kerala. It originates in the Western Ghats and flows north for a short distance to Periyar Lake. Periyar Lake is an artificial reservoir created by Mullaperiyar Dam across the river. From the Periyar Lake, tunnel carries water through mountains to the Vaigai River in Tamil Nadu, where it is used for irrigation.
42. CRPF celebrated its 54th Valour Day
President Ram Nath Kovind paid homage to the martyrs of police at National Police Memorial in New Delhi on the occasion of 54th Valour Day of Central Reserve Police Force. 9th April is celebrated as Valour Day in the Force. The President also launched the App - Veer Parivar for assistance to next of kin of Martyrs of CRPF personnel. The Central Reserve Police Force is India's largest Central Armed Police Forces. It functions under the authority of the Ministry of Home Affairs of the Government of India.
43. IIT-Madras tops HRD's national ranking of institutes
President Ram Nath Kovind released the national ranking of higher institutes by the Ministry of Human Resources Development in New Delhi. Indian Institute of Technology Madras topped the rankings while the Indian Institute of Science, Bangalore bagged the second rank followed by IIT Delhi. Delhi University's Miranda House was ranked the best among colleges across the country. AIIMS has been ranked first among medical sciences institutes and National Law School, Bangalore has topped law colleges.
44. International Convention on World Homoeopathy Day
A two day convention is being organised on 9-10th April 2019 by the Central Council for Research in Homoeopathy (CCRH) on the occasion of the World Homoeopathy Day. It is an autonomous research organization under Ministry of AYUSH. The World Homoeopathy Day is observed to commemorate the birth anniversary of the founder of Homoeopathy, Dr. Christian Fredrich Samuel Hahnemann.
45. NGT imposes Rs 100 crore penalty on Andhra Pradesh government
The National Green Tribunal has slapped an interim penalty of Rs 100 crore on the Andhra Pradesh government for inaction to prevent illegal sand mining in the state. A bench, headed by NGT Chairperson Justice Adarsh Kumar Goel, directed the chief secretary of Andhra Pradesh to forthwith prohibit all unregulated sand mining. The tribunal directed the state government to deposit Rs 100 crore 'environment compensation' with the Central Pollution Control Board within a month. The tribunal's direction came on a plea filed by Andhra Pradesh resident Anumolu Gandhi, alleging illegal sand mining was causing damage to Krishna, Godavari rivers and their tributaries in the state.
46. Dhanush Artillery Gun inducted into Indian Army
Dhanush, the first indigenous long-range artillery gun has been inducted into the Indian Army. The 155 mm calibre artillery gun was manufactured by the Jabalpur-based Gun Carriage Factory. After the induction of M-777 ultra-light howitzers in November 2018, the country's first indigenously designed and developed Dhanush gun has been inducted in the Indian army. This is expected to add more firepower to the armed forces. Dhanush Gun system can be employed in all types of terrain and is one of the new generations towed artillery gun system better-upgraded features over the existing Bofors.
47. Revolt Intellicorp announces India's first AI-enabled e-motorcycle
Micromax co-founder Rahul Sharma has announced his new venture Revolt Intellicorp Pvt Ltd that will be making smart electric two-wheelers and connected devices. The e-motorcycle is supposed to be launched in June this year. For now, the company has only let out some crucial specifications of the bike. As per it, the bike will be able to cover over 150 km on a single charge. The company is headquartered in Gurgram with a manufacturing facility in Manesar, Haryana.
48. Government sells Rs 1,150 crore worth enemy shares in Wipro
The government has sold enemy shares worth around Rs 1,150 crore in information technology firm Wipro Ltd. Apart from Life Insurance Corporation, General Insurance Corporation and The New India Assurance Corporation have bought the shares. The Custodian of Enemy Property for India is an entity of the central government which looks after enemy property and shares. As per the Enemy Property Act, 1968, 'enemy property' refers to any property that was belonging to a person who migrated from India to an enemy country when war broke out.
49. RBI issued norms for banks to set up currency chests
The Reserve Bank of India came out with guidelines for banks to set up new currency chests, which include minimum area of 1,500 square feet for strong room. Besides, the new chests should have a processing capacity of 6.6 lakh pieces of banknotes per day. For those situated in the hilly/ inaccessible places, the capacity of 2.1 lakh pieces of banknotes per day. Earlier, a RBI appointed committee had recommended that the apex bank should encourage banks to open large currency chests with modern facilities and Chest Balance Limit (CBL) of at least Rs 1,000 crore.
50. Tata Trusts, Microsoft join hands to support handloom weaving community
Tata Trusts and Microsoft India inked a pact to jointly rejuvenate handloom clusters in the eastern and north-eastern parts of the country. Both the entities have signed a Memorandum of Understanding (MoU) in this regard. Tata Trusts and Microsoft will leverage each other's strengths to provide business and communication skills, design education and digital literacy to handloom weavers so that they may build a sustainable future.
Points to Remember
Google CEO: Sundar Pichai
51. DoT approved the merger of TTSL and Bharti Airtel
The Department of Telecom has given approval for the merger of Tata Teleservices (TTSL) with Bharti Airtel. The merger is subject to the condition that the Sunil Bharti Mittal-led firm furnishes Rs 7,200 crore worth bank guarantee. The merger will be taken on record after Airtel submits a bank guarantee of about Rs 6,000 crore for one-time spectrum charges and another Rs 1,200 crore for the spectrum that would be acquired from TTSL. As part of the proposed agreement, Airtel will absorb Tata consumer mobile business (CMB) operations in 19 telecom circles.
Points to Remember: Bharti Airtel
Bharti Airtel CEO: Gopal Vittal
Headquarters: New Delhi
52. Banks close FY19 with 13.24% credit growth and deposits up to 10.03%
According to the Reserve Bank data released, bank credit rose 13.24 per cent to Rs 97.67 lakh crore for the fortnight to March 29. The deposits grew by 10.03 per cent to Rs 125.72 lakh crore during the same period. This is the second consecutive double-digits credit growth after the same had declined to 4.54 per cent in FY17 at Rs 78.41 lakh crore, which was the lowest since 1963. Personal loans rose 16.7 per cent in February 2019, down from 20.4 per cent in February 2018.
53. RBL Bank ties up with CreditVidya for improving the customer experience
RBL Bank has partnered with credit profiler CreditVidya to improve the lender's customer experience. Through this partnership, the private sector lender will be able to gain significant insights into its customer base. The bank had first partnered with CreditVidya in 2018 for instant and automated verification of employment details of salaried card applicants. CreditVidya helps lenders and wallets assess risk of customers.
54. PAISALO, SBI sign first co-origination loan agreement to empower MSMEs
PAISALO Digital Limited signed the first co-origination loan agreement with State Bank of India. It is the first agreement of its kind in the country that State Bank of India has signed. Introducing a platform for the last mile customer, the loan ticket is designed at Rs 10,000 to 2 lakh. PAISALO Digital Limited is a leading systemically important non-deposit taking NBFC registered with the Reserve Bank of India, in operations since 1992. The agreement was signed with a vision of empowering the AGRI, MSME segment and small businesses.
55. HDFC AMC ranks first, ICICI AMC second in terms of assets
HDFC Asset Management Co. Ltd has claimed the top spot with an average AUM of ₹3.42 trillion. It overtook ICICI Prudential Asset Management Co. Ltd with an average AUM of at ₹3.20 trillion. India's asset management companies (AMCs) own assets under management (AUM) worth ₹24.46 trillion, according to data released by the Association of Mutual Funds in India (Amfi).
56. SBI cuts interest rates on home loans
The State Bank of India has re-priced home loans up to Rs 30 lakh by 10 basis points. The interest rate on housing loans of such size will now be in the range of 8.6 to 8.9 per cent. The bank has also lowered its lending rates by a nominal five basis points across all tenors. This is the first reduction by SBI in over 17 months.