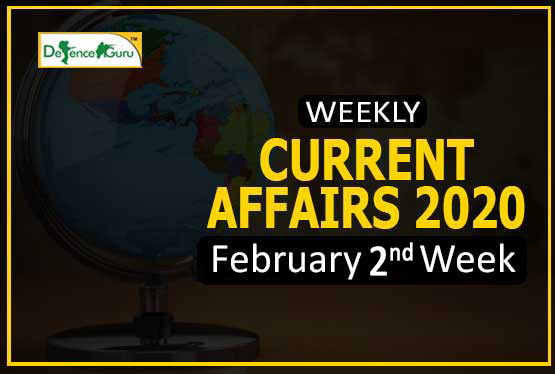 APPOINTMENTS
1.Rishi Sunak
Infosys co-founder Narayana Murthy's son-in-law, Rishi Sunak has been appointed as UK's Finance Minister. He replaced Pakistani Chancellor Sajid Javid. After the reshuffle, three Indian origin Members of Parliament are now a part of Britain's most diverse cabinet led by UK Prime Minister Boris Johnson. The 47-year-old Priti Patel has been appointed as the Home Minister. The 51-year-old Alok Sharma has been appointed as the Business Secretary in the British Cabinet. Along with these three, 15 Indian-origin MPs are among 65 non-whites elected to the new 650-member House of Commons, reflecting 10 percent of its strength.
2.Rajiv Bansal
The government appointed the 1988 batch IAS officer of Nagaland Cadre Rajiv Bansal as the Chairman and Managing Director of Air India. Mr Bansal is presently serving as the Additional Secretary in the Ministry of Petroleum and Natural Gas. 1987 batch IAS officer of Uttar Pradesh Cadre Debashis Panda has been appointed as the Secretary, Department of Financial Services. Rajkumar, 1987 batch IAS officer of Gujarat cadre has been appointed Secretary Defence Production. Director-General of Archaeological Survey of India, Usha Sharma has been appointed Youth Affairs Secretary.
3.Atul Kumar Gupta
Atul Kumar Gupta will be the new President of the Institute of Chartered Accountants (ICAI) for the year 2020-21.Nihar Niranjan Jambusaria has been elected as the Vice President of the ICAI for 2020-21.Atul Gupta, who has served the chartered accountancy profession for about two decades, was the Vice President of ICAI for the term 2019-20.
4.Pinelopi Koujianou Goldberg
World Bank chief economist Pinelopi Koujianou Goldberg on announced she will be leaving the institution.She will step down from her post on March 1 to return to teaching at Yale University. Research director Aart Kraay would take over for Goldberg until a new permanent chief economist is hired. A Greek-American national, Goldberg took up her post at the end of April 2018, after the resignation of Paul Romer following a controversy over the World Bank's statistical methods.
DEATHS
5.Nandu Kulkarni
Veteran journalist Nandu R Kulkarni died of a heart attack. The Mumbai bureau chief of "The Statesman" was 70. Having started his career as an intern with 'The Indian Express' in 1976, Nandu as he was known in journalistic circles used to report on economic offences. Nandu joined "The Statesman" in 1992 and as the bureau chief, he would report on a wide range of subjects including politics and business.
6.Giriraj Kishore
Well-known Hindi novelist and Padma Shri awardee Giriraj Kishore passed away. Giriraj Kishore was best known for his novel ''Pehla Girmitiya'' that was based on Mahatma Gandhi''s stay in South Africa. He was awarded the Padma Shri by the President of India and was the recipient of the Sahitya Akademi award. He was also conferred the Vyas Samman in 2000, and an honorary Ph.D. by Chhatrapati Shahuji Maharaj University in 2002.
7.P Parameswaran
Parameswaran, one of the senior-most 'pracharaks' (Promoter) of the Rashtriya Swayamsevak Sangh (RSS) and former leader of the erstwhile Bharatiya Jana Sangh, passed away. He was the founder-director of the Bharatheeya Vichara Kendram. Parameswaran, who had worked with leaders like Deendayal Upadhyaya, Atal Bihari Vajpayee and L K Advani during the Jana Sangh days, was honoured with Padma Vibhushan, the country's second-highest civilian award in 2018 and Padma Shri in 2004. He was the Bharatiya Jana Sangh's secretary (1967-1971) and vice president (1971-1977).
BOOKS
8.Dharmendra Rai launches his book titled The Thin Mind Map Book
Dharmendra Rai, a Mind Map & Brain Literacy pioneer just launched his book THE THIN MIND MAP BOOK. The book is designed to make anyone an expert in mind mapping by devoting two full days to reading and doing all the experiential exercises mentioned in the book. Dharmendra Rai has trained over 1,900 startups in Mind Mapping. He has over 25 Years work experience in training, sales & marketing with companies like Xerox, Morgan Stanley, Alliance Capital & Karvy. Dharmendra Rai is the first person in the world to talk on TEDx on Creativity & Mind Mapping. He was recently nominated for an award by Forbes. He recently received an UN Award for Mind Mapping & Brain Literacy! Previous winners include Dr A. P. J. Abdul Kalam, Former President of India & Amul's Verghese Kurien.
SPORTS
9.Indian hockey captain Manpreet Singh named Player of the Year 2019 by IHF
The Indian men's hockey team captain Manpreet Singh was named Player of the Year for 2019 by the International Hockey Federation. Manpreet, a midfielder, became the first Indian to win the accolade since the awards were introduced in 1999. He beat competition from Belgium's Arthur van Dorren and Lucas Villa of Argentina, who came second and third.
10.Amit Panghal ranked No 1 by IOC's Boxing Task Force rankings for Olympic Qualifiers
World silver-medallist Amit Panghal has been ranked number one in the 52 kilogram category for Olympic Qualifiers. This made him the first Indian pugilist in over a decade to achieve the global top position in the category. The list was released by the International Olympic Committee's Boxing Task Force ahead of next month's Olympic Qualifiers. The rankings took into account the last two world championships for both men and women and the continental championships and Games in 2019. Last year, he became the first Indian to claim a silver medal at the world championships after notching up a gold at the Asian meet.
11.India's Lalremsiami named as 2019 FIH Women's Rising Star of Year
India forward Lalremsiami has been named as the 2019 FIH Women's Rising Star of the Year by the International Hockey Federation. 19-year-old Lalremsiami took the prize ahead of Argentina's Julieta Jankunas and Frederique Matla of the Netherlands. The player from Mizoram got 40 per cent of all the votes cast. Lalremsiami first came into the wider hockey consciousness at the Hockey Women's World Cup in 2018 when she was one of the stand-out players of the tournament.
12.Gulmarg all set to host five day National Winter Games from March 7
World-famous Ski destination Gulmarg is all set to host a five-day national winter games event from 7th March under the banner of Khelo India. Khelo India is an initiative of the Government of India to strengthen the sports ecosystem by encouraging mass participation and promotion of excellence. There will be 30 events under five major activities- snowboarding, snow skiing, cross country, snow show in which 800 players from across India would participate. While on the side-lines, snow cycling and other games will be held for the local children.
13.Armand Duplantis breaks the Pole Vault World Record
Armand Duplantis broke the world record in the pole vault with a jump of 20 feet 2 ¾ inches, or 6.17 meters. At an indoor meet in Torun, Poland, Duplantis edged by a centimeter the previous record set in 2014 by Renaud Lavillenie of France, the 2012 Olympic champion. Duplantis, known widely as Mondo, has already been selected to compete at the Tokyo Games. He will represent Sweden, his mother's home country, instead of the United States at the Olympics.
14.Haryana thrashes SAI 6-0 to win 10th Hockey Senior Women National Championship
Haryana thrashed Sports Authority of India (SAI) 6-0 to win the 10th Hockey India Senior Women National Championship 2020 (A Division) title at Kollam. Manisha was the first to get on the score sheet for Haryana in the 19th minute. Meanwhile, Madhya Pradesh Hockey Academy beat Hockey Maharashtra 2-1 in the third-fourth place play-off match.
15.Bangladesh beat India to win maiden U19 Cricket World Cup title
Bangladesh beat India by three wickets to win maiden ICC U-19 World Cup title in Potchefstroom, South Africa by the Duckworth-Lewis method. Batting first, India was all out for 177 in 47.2 overs. India is unbeaten in the tournament so far, winning all five matches. In the semifinal, India defeated arch-rivals Pakistan by 10 wickets. First time finalists Bangladesh, beat South Africa and New Zealand in their journey to the finals.
16.Ladakh Scouts Regimental Centre Red wins first Khelo India Ice Hockey tournament
The Ladakh Scouts Regimental Centre (LSRC) Red won the first Men's section Khelo India Ice Hockey tournament 2020 by defeating Indo Tibetan Border Police (ITBP) team. 13 teams participated in the Khelo India Ice Hockey Championship. The third edition of the Khelo India Youth Games was successfully concluded in Assam last month. Around 6,800 athletes across 37 (states and union territories) teams competed in a total of 20 sports events. Khelo India is an initiative taken by the Ministry of Youth Affairs and Sports to aware people about the importance of sports and fitness. The ultimate goal of the program is to develop India as a sporting nation and to promote sports in the country.
17.India finish campaign with five medals at 64th Bocskai Memorial Boxing tournament
India finished their campaign with five medals at the 64th Bocskai Memorial Boxing tournament at Debrecen in Hungary. President's Cup silver medallist Gaurav Chauhan in 91kg and former youth world champion Jyoti Gulia in 51kg category claimed a silver each. Two other Indian pugilists, Manisha in 57kg and PL Prasad in 52kg also clinched silver medals at the championships. Sachin settled for a bronze medal in the 57kg category at the championships.
18.Mizoram win Junior National Football Championship for Dr BC Roy Trophy
In Football, Mizoram has won the final of the Junior National Football Championship for Dr BC Roy Trophy at the Jawaharlal Nehru Stadium in Shillong. Mizoram beat Punjab 5-4 on penalties as both teams finished 1-1 in regulation and extra time. It was the fourth time in five years that the two teams met in the final of the Under -17 tournament with Punjab winning the trophy in 2015-16 and 2016-17. Last year Mizoram reversed the tide and defeated Punjab in the final 2-1.
INTERNATIONAL
19.World Radio Day: 13 February
World Radio Day is observed every year on 13 February. The day is observed every year on this date to raise greater awareness among the public and the media of the importance of radio and to encourage decision makers to establish and provide access to information through radio. Radio is a low-cost medium specifically suited to reach remote communities and vulnerable people. It also plays a crucial role in emergency communication and disaster relief. Theme: "Radio and diversity"
20.Covid-2019 is official name for disease caused by new coronavirus says WHO
The World Health Organization (WHO) says the official name for the disease caused by the new coronavirus is Covid-2019. It comes after the death toll from the virus passed one thousand. Tens of thousands of people have been infected. The word coronavirus refers to the group of viruses it belongs to. Researchers have been calling for an official name to avoid confusion and stigmatisation of any group or country.
21.Storm Ciara kills at least seven people in Europe
At least seven people have died across Europe as storm Ciara moved east after first sweeping across Ireland and the UK. Transport shut down and schools were forced to close across Belgium, Germany, Luxembourg and the Netherlands. Dutch authorities reported traffic jams of more than 720km across the country. France's Mediterranean island of Corsica recorded winds of more than 220km/hour, as heavy rains, powerful winds and flooding spread across the continent. Wind speeds of up to 200 km per hour were also recorded in northern Italy, Poland and Sweden.
22.International Day of Women and Girls in Science: 11 February
International Day of Women and Girls in Science is celebrated on 11 February every year to promote the participation of women and girls in science. According to the United Nations, less than 30% of the world's researchers are women. The day's purpose is to promote full and equal access to participation in science for women and girls.
23.African Union summit held in Addis Ababa
The 33rd African Union (AU) summit was held in Addis Ababa, Ethiopia. The theme of the summit was "Silencing the Guns: Creating conducive conditions for Africa's development". The summit highlighted three challenges namely eradicating poverty, tackling the climate crisis and silencing guns in Africa. The Democratic Republic of the Congo will replace South Africa as AU chair in 2021.
The African Union is a continental union consisting of 55 member states located on the continent of Africa. Headquarters: Addis Ababa, Ethiopia
24.Nepal inks financial closure of its largest hydropower project with India
India and Nepal inked financial closure of Nepal's largest hydropower project, the Arun-III being built with India's assistance. India has pledged an investment of NPR 100 Billion for the 900 MW mega hydropower project being built in Nepal's Sankhuwasabha District. The project has set the record for the largest Foreign direct investment (FDI) to the Himalayan nation. Two Nepali banks and five Indian banks have committed to lend debts for construction of the mega power project. The estimated cost of the project to be completed within five years stands at USD 1.04 which would produce 4,018.87 million units of electricity a year.
25.Nepal to count LGBT population in census for first time
Nepal's upcoming national census will for the first time count the LGBT population in the Himalayan nation in order to better allocate government jobs and education set aside for minority groups. The LGBT community in Nepal has long demanded that the census taken every 10 years include a count of sexual minorities. The exact population of LGBT would help determine how much of the quota in these jobs and education will go to them. Citizens will be able to identify themselves as male, female or other sexual gender. A new constitution adopted in 2015 forbids all discrimination based on sexual orientation, reaffirming a 2008 Supreme Court ruling.
26.US forces kill al-Qaeda leader Qasim al-Rimi
United States President Donald Trump has confirmed that in a major counter terrorism operation in Yemen the US forces have killed al-Qaeda leader Qasim al-Rimi. He was the founder of al-Qaeda in the Arabian Peninsula, AQAP. The AQAP has long been considered al-Qaeda's most dangerous branch for its attempts to carry out attacks on the US mainland. This is the third major strike by the US under Trump Administration in recent months. In October, the US killed ISIS leader Abu Bakr al-Baghdadi. In January, it killed top Iranian General Qassem Soleimani.
27.Prince Charles unveils children's protection fund for India
Britain's Prince Charles has unveiled a new children's protection fund for India as part of British Asian Trust, the charity founded by him in 2007 to fight poverty in South Asia. Popular American singer Katy Perry will be the ambassador of the new fund, which will be focussed on reducing the exploitation of children by 50 per cent in India over 10 years. Indian philanthropist Natasha Poonawalla has made a multimillion-pound pledge in support of the fund. The main areas of focus for the British Asian Trust's Children's Protection Fund will cover child sexual abuse, child labour and trafficking, and its aim would be to develop school safety nets through child-friendly village models.
NATI ONAL
28.IRCTC starts booking of ticket for third corporate train Kashi Mahakal Express
Indian Railway's PSU IRCTC has started booking tickets for the third corporate train Kashi Mahakal Express. This train will run between Varanasi and Indore. Prime Minister Narendra Modi will inaugurate the train from Varanasi on 17 February. Routine continuous commercial runs will start from the 20th of this month.
29.President Kovind presents President's Colour to Indian Navy's INS Shivaji
President Ram Nath Kovind presented President's Colour to Indian Navy's INS Shivaji at Lonavala on the occasion of Platinum Jubilee of this premier training establishment. The President's Colour is the highest honour that can be bestowed upon any military unit. INS Shivaji is commemorating 75 years of its glorious service to the Indian Navy this month. The Platinum Jubilee year celebrations started from 15th February last year. The establishment has trained more than two lakh officers and sailors, both Indian and International, since inception. All courses conducted at INS Shivaji are recognized by the All India Council for Technical Education (AICTE).
30.Pravasi Bhartiya Kendra in New Delhi renamed as Sushma Swaraj Bhawan
Government has decided to rename Pravasi Bhartiya Kendra in New Delhi as Sushma Swaraj Bhawan and Foreign Service Institute in the national capital as Sushma Swaraj Institute of Foreign Service. The announcement was made by the Ministry of External Affairs on the eve of the birth anniversary of Mrs Swaraj. During her four decade long career, Sushma Swaraj was elected to the Lok Sabha four times and thrice to Rajya Sabha. She served as Minister for External Affairs, Information and Broadcasting, Parliamentary Affairs, Health and Family Welfare. She also served as Leader of Opposition in the Lower House.
31.India bans e-cigarettes on flights and airports
India has announced the ban on e-cigarettes in both domestic and international flights and at airports. Aviation security regulator the Bureau of Civil Aviation Security (BCAS) in a circular said that e-cigarettes will not be allowed in both domestic and international flights as well as at airports. It also proposed a jail term for offenders up to one year and a fine of Rs 1 lakh.
32.Ladakh, Tamil Nadu paired under Ek Bharath Shrestha Bharath programme
Union Territory of Ladakh and Tamil Nadu have been paired under the Ek Bharath Shrestha Bharath programme. UT administration of Art, Culture and Languages Academy has organized a cultural exchange programme with the pair State Tamil Nadu. To showcase the rich and composite culture aspect of Ladakh, Culture and Language Academy Leh under the Ek Bhart Shrestha Bhart programme have organized a culture trip to Tamil Nadu.
33.Manipur CM launches 'Anganphou Hunba' programme in Imphal East
Manipur Chief Minister N Biren Singh launched 'Anganphou Hunba' (Early Paddy Crop) programme at Arapti Mayai Leikai in Imphal. The state government has prepared a 260-crore rupee project to provide irrigation facilities by pumping groundwater and is awaiting the Centre's approval. Mr Biren Singh said, the government has also taken up steps to produce sufficient quantities of fishes by providing loans to 800 selected fish farmers.
34.Amit Shah inaugurates Conference on Combating Drug Trafficking for BIMSTEC partner nations
Union Home Minister Amit Shah inaugurated a two-day Conference on Combating Drug Trafficking for BIMSTEC Partner Nations in New Delhi. The conference is being organized by the Narcotics Control Bureau. This platform will provide an opportunity to all the member nations to deliberate on the increased threats posed by drug trafficking.The BIMSTEC is a regional organization comprising seven Member States lying in the littoral and adjacent areas of the Bay of Bengal - Bangladesh, Bhutan, Myanmar, Nepal, Sri Lanka and Thailand besides India.
35.President of Portugal Marcelo Rebelo de Sousa to arrive in New Delhi on a 4-day visit to India
President of Portugal Marcelo Rebelo de Sousa will arrive in New Delhi on a four day visit to India. This will be President Marcelo's first visit to India.The last visit by a President of Portugal to India was in 2007. During the visit, President Marcelo Rebelo de Sousa will be accorded a ceremonial welcome at Rashtrapati Bhavan followed by a visit to Rajghat. President Marcelo Rebelo de Sousa will also travel to the states of Maharashtra and Goa during his visit.
36.Odisha CM Naveen Patnaik inaugurates the 2nd BIMSTEC Disaster Management Exercise-2020
Chief Minister Naveen Patnaik inaugurated the 2nd BIMSTEC Disaster Management Exercise hosted by the National Disaster Response Force (NDRF) in Bhubaneswar. The theme of this year's exercise is "A cultural heritage site that suffers severe damage in the earthquake and flooding or storm." Five-member countries namely, India, Bangladesh, Myanmar, Sri Lanka, Myanmar and Nepal are participating in this three-day-long exercise. Two other member countries Bhutan and Thailand are not participating in the exercise this year.
37.UP Govt launches toll free helpline numbers for students
Taking a unique initiative to solve the queries of students ahead of the Board Examinations starting next week, the Uttar Pradesh Government has launched toll-free helpline numbers. The helpline numbers will remain active from 8 am to 8 pm. In case students have any queries regarding the board exams they can connect at the helpline numbers, 1800-180-5310 and 18001805312. Experts of different subjects including English, life sciences, geography, general science, Hindi, Sanskrit, chemistry will be available on call on these numbers.
38.Mobile World Congress cancelled due to fear of coronavirus
The Mobile World Congress, the annual telecoms industry gathering that draws more than one lakh visitors to Barcelona, was cancelled after a mass exodus by exhibitors due to fears over the coronavirus outbreak. The GSMA telecoms association that hosts the get-together said it had cancelled the Feb 24-27 event despite assurances from local and national health officials. The decision comes after dozens of tech companies and wireless carriers dropped out, with the latest cancellations by Nokia, Vodafone, Deutsche Telekom and Britain's BT.
39.World Unani Day: 11 February
World Unani Day is observed every year on 11 February. This day is celebrated every year to mark the birth anniversary of great Unani scholar and social reformer Hakim Ajmal Khan. He was an eminent Indian Unani physician who was a versatile genius, a great scholar, a social reformer, a noted freedom fighter, a Unani medical educationist and founder of scientific research in Unani System of Medicine. He was one of the founders of the Jamia Millia Islamia in New Delhi.The main objective of World Unani Day is to spread awareness about health care delivery through the Unani system of medicine through its preventive and curative philosophy. The Unani system of medicine originated in Greece. Its foundation was laid by Hippocrates.
40.National Productivity Day: 12 February
National Productivity Day is observed on 12 February annually to increase the productivity culture in India. It is celebrated by the National Productivity Council (NPC). National Productivity Council (NPC) under the Ministry of Commerce and Industry Government of India is a premier institution for propagating productivity movement in India. NPC works for providing solutions towards accelerating productivity, enhancing competitiveness, increasing productivity. The seven days period from 12th February to 18th February 2020 as "Productivity Week" throughout the country.
41.Aam Aadmi Party returns to power for 3rd consecutive term in Delhi
The Aam Aadmi Party has come back to power in Delhi for the third term, winning Assembly elections with a thumping majority of 62 out of 70 assembly seats. This is for the second time that the party has swept the election-winning more than two-third of the seats. In 2015 the party had won 67 seats. The Bharatiya Janata Party has won 8 seats, five more than the last assembly. Delhi Lieutenant Governor Anil Baijal dissolved the Sixth Legislative Assembly of the National Capital Territory of Delhi. A new order will be issued for the formation of the Seventh Legislative Assembly.
42."State of the World's Children Report 2019" of UNICEF
As per UNICEF's State of the World's Children Report 2019, the Under 5 Mortality Rate in India is 37 per 1,000 live births against Global average of 39 per 1,000 live births in 2018, which translates to more than 8 lakhs under 5 deaths in India. As per the Sample Registration System (SRS) 2010-13 report of Registrar General of India, major causes of child mortality in India are: Prematurity & low birth weight (29.8%), Pneumonia (17.1%), Diarrheal diseases (8.6%), Other non-communicable diseases (8.3%), Birth asphyxia & birth trauma (8.2%), Injuries (4.6%), Congenital anomalies (4.4%), Ill-defined or cause unknown (4.4%), Acute bacterial sepsis and severe infections (3.6%), Fever of unknown origin (2.5%), All Other Remaining Causes (8.4%). As per the UNICEF 2019 report, Globalization, urbanization, inequities, humanitarian crises and climate shocks are driving unprecedented negative changes in the nutrition situation of children around the world. The Government of India has launched POSHAN (Prime Minister Overarching Scheme for Holistic Nourishment) Abhiyaan, to address malnutrition challenges in India by engaging all the important stakeholders in a convergent approach. The goals of POSHAN Abhiyaan is to prevent and reduce stunting, underweight and low birth weight by 2% per annum and the reduction of anemia by 3% per annum.
43.India includes elephant, bustard in global conservation list
India will be moving to include the Asian Elephant and the Great Indian Bustard in the list of species that merit heightened conservation measures. The list will be debated at the 13th Conference of Parties (COP) of the Convention on the Conservation of Migratory Species of Wild Animals (CMS), an environment treaty under the United Nations Environment Programme (UNEP). The COP is scheduled to be organised from February 17 to 22 in Gandhinagar, Gujarat. There are 130 parties to the convention and India has been a member since 1983.
44.National Water Conference in Madhya Pradesh
The Madhya Pradesh capital Bhopal hosted the National Water Conference being held. The Conference was inaugurated by Chief Minister Kamal Nath. The importance and revival of traditional water sources, right to water, river rejuvenation campaign in Madhya Pradesh and many other related topics are being discussed during the four sessions of the conference.
45.Solar Orbiter launches on historic mission to study the sun's poles
The European-built Solar Orbiter spacecraft launched towards the sun to take a unique look at their blazing poles. The 1,800 kilograms spacecraft lifted off atop a United Launch Alliance (ULA) Atlas V rocket, from Cape Canaveral Air Force Station, USA. Solar Orbiter is collaboration between the European Space Agency (ESA) and NASA. The mission is expected to return unprecedented data and images, as well as our first views of the sun's polar regions
46.India to host COP13 UN Summit on conservation of migratory birds from Feb 17
The 13th Conference of Parties (COP) of the Convention on the Conservation of Migratory Species of Wild Animals (CMS), is going to be hosted by India during 17 to 22 February at Gandhinagar, Gujarat. As the host, India shall be designated the President for the next three years. The Government of India is Signatory to the Convention on Conservation of Migratory Wild Animals since 1983. The theme of CMS COP13 in India is, "Migratory species connect the planet and we welcome them home". The CMS COP 13 logo is inspired by 'Kolam', a traditional artform from southern India. The mascot for CMS COP13, "Gibi - The Great Indian Bustard" is a critically endangered species which has been accorded the highest protection status under the Wildlife Protection Act, 1972.
47.Exercise AJEYA WARRIOR-2020
Fifth edition of Joint Military Exercise 'Ajeya Warrior-2020' between India and the United Kingdom will be conducted at Salisbury Plains, United Kingdom from 13 to 26 February 2020. The exercise will comprise of 120 soldiers each from Indian and United Kingdom Army. The aim of this exercise is to conduct company level joint training with emphasis on counter terrorists operation in Urban and Semi Urban areas. The exercise is conducted alternatively in the United Kingdom and India.
48.'Parth', world's cheapest gunshot locator
'Parth' gunshot locator device developed by the Army's College of Military Engineering jointly with a private firm costs much cheaper than the imported ones. The device costs around Rs 3 lakhs, and if inducted, would replace a similar imported item which costs around Rs 65 lakhs. The device can locate the exact location of a bullet from a distance of 400m and will help to locate and neutralize terrorists faster.
49.Kaamya Karthikeyan becomes youngest girl to climb Mt Aconcagua
Mumbai-based Kaamya Karthikeyan became the youngest girl in the world to summit Mount Aconcagua. Mount Aconcagua at 6962-meter, is the highest peak in South America. Kaamya had summited Ladakh's 6,260 metres Mt. Mentok Kangri II, under extreme cold weather conditions on August 24, 2019. Kaamya is studying in 7th standard at Navy Children School in Mumbai.
50.Prakash Javadekar releases first look of APJ Abdul Kalam biopic
Information and Broadcasting Minister Prakash Javadekar unveiled the first look of biopic on former president A P J Abdul Kalam. Javadekar revealed that the film, titled APJ Abdul Kalam: The Missile Man, is a joint venture between Hollywood and Telugu film industry and will be released by the end of 2020. The film, which features popular south actor Ali in the title role, is produced by Jagadeesh Daneti, Suvarna Pappu and Martini Films' Johnny Martin.
51.Ministry of Civil Aviation operationalized the first ever helicopter services from Dehradun
Ministry of Civil Aviation (MoCA) operationalized the first ever helicopter services from Dehradun's Sahastradhara helipad to Gauchar, and Chinyalisaur under the Regional Connectivity Scheme – Ude Desh Ka Aam Nagrik (RCS-UDAN) of Government of India. MoCA awarded the Sahastradhara-Gauchar-Chinyalisaur route to Heritage Aviation under the UDAN 2 bidding process. Heritage Aviation will operate helicopter services from Sahastradhara to Gauchar and Chinyalisaur twice daily. The services on this route will boost the tourism sector in the Uttrakhand region and will also assist the Chaar Dhaam Yatra pilgrims as Gauchar is en route to Badrinath and Chinyalisaur is en route to Gangotri in the Uttarkashi district. Heli services under UDAN are currently being operationalised between Chandigarh to Shimla, Shimla to Dharamshala & Shimla to Kullu.
52.Kerala to host global meet on climate change, ocean health
ClimFishCon 2020, a three-day international conference on the impact of climate change on 'hydrological cycle, ecosystem, fisheries and food security' will begin in Kerala on 12 February. More than 300 delegates from 12 countries including scientists, researchers, administrators, policymakers, academicians, and entrepreneurs will participate in the event. Fishers, aqua farmers, students and other stakeholders will also attend. The conference is organised jointly by the CUSAT School of Industrial Fisheries and the Department of Fisheries, Kerala.
52.Mumbai to get India's largest air quality monitoring network
The Brihanmumbai Municipal Corporation (BMC) will develop an air quality monitoring network across 90 locations in Mumbai.This will make it the largest network in India, as per a report in Hindustan Times The project is likely to be finished over the next five years. BMC is planning to invest D9.5 crores to install 80 real-time air monitoring stations. These stations will give location-wise updates on the quality of air. The plan is to lay the largest networking of air quality monitors overtaking Delhi, which has 38 monitors in present.
53.National De-Worming Day: 10 February
National De-Worming Day is conducted on February 10 each year. It is an initiative of the Ministry of Health and Family Welfare, Government of India to make every child in the country worm free. According to the World Health Organization 241 million children between the ages of 1 and 14 years are at risk of parasitic intestinal worms in India, also known as Soil-Transmitted Helminths (STH). Helminths (worms) which are transmitted through soil contaminated with faecal matter are called soil-transmitted helminths (Intestinal parasitic worms).
54.Ek Bharat Shreshtha Bharat campaign starts
An 18 day long focused Ek Bharat Shreshtha Bharat Campaign gets underway from 10 February across the country. The campaign, being organised by the Information and Broadcasting Ministry, will continue till 28th of this month. Prime Minister Narendra Modi had mooted the idea of a cultural connection between different regions during the Rashtriya Ekta Diwas held in 2015. The broad objectives of Ek Bharat Shrestha Bharat include celebrating the Unity in Diversity of our nation and promoting the spirit of national integration through engagement between all states and union territories. Every State and union territory in the country is paired with another state or union territory. During this period, they carry out a structured engagement with one another in the spheres of language, literature, cuisine, festivals, cultural events, and tourism.
55.Mega industrial exhibition 'Engiexpo 2020' in Vadodara
In a bid to promote 'Made in India' products, the Federation of Small Scale Industries (FSSI) will organise a mega industrial exhibition 'Engiexpo 2020' in Vadodara, Gujarat from February 15. Over 10,000 industrial products will be showcased in more than 300 stalls at the sixth edition of the exhibition. The exhibition will showcase various products, including weighing, welding and cutting tools, products related to construction work, electronic and solar items, and packaging material. Several companies from Uzbekistan have also shown their interest in participating in the exhibition.
56.MP Governor Lalji Tandon inaugurates Hunar Haat in Indore
Madhya Pradesh Governor Lalji Tandon inaugurated Hunar Haat in Indore. Hunar Haat is being organised till 16th February. Hunar Haat is an exhibition of handicrafts and traditional products made by artisans from the Minority communities. It is organized by the Ministry of Minority Affairs. Hunar Haat is organized under USTTAD-Upgrading the Skills and Training in Traditional Arts/Crafts for Development scheme.
57.After Nagaland, Tripura holds Hornbill Festival to boost eco-tourism
Tripura Chief Minister Biplab Deb inaugurated the two-day Hornbill Festival at Baramura Eco-Park, 35 kilometres west of Agartala. Organised for the first time in the state, the festival has been organised with twin goals in sight- conservation of Hornbill and to boost the livelihood of the people through tourism. Nagaland celebrates Hornbill Festival in December every year to mark their conservation efforts for the species. While Nagaland's Kisama village is known for conserving hornbill birds, the local community of Tripura's Baramura Hills also has a traditional culture of conserving these birds.
58.Meeting of BBIN Motor Vehicle Act held in New Delhi
A meeting of Bangladesh, Bhutan, India and Nepal on the BBIN MVA (Motor Vehicle Act) was held in New Delhi. The Indian delegation was led by Vikram Doraiswami, Additional Secretary, Ministry of External Affairs. The meeting was held to discuss the passenger and cargo Protocols that are to give effect to the Motor Vehicles Agreement for the Regulation of Passenger, Personal and Cargo Vehicular Traffic between the four countries signed in 2015.
59.Lt Governor of J&K to head reconstituted Science Technology and Innovation Council
Lieutenant Governor G C Murmu will head 24 members reconstituted Jammu and Kashmir Science Technology and Innovation Council (STIC). Members of the council include five representatives from the Jammu and Kashmir government, 10 from universities and research and development institutions and eight from the Science and Technology Department of the Central Government. Chief Secretary J&K B V R Subrahmanyam has been nominated as the chairman of the six-member executive committee of STIC. Through the operation of various schemes, the council conducts science popularization programmes like Children's Science Congress and Science Talent Promotion Tests, confers awards to young scientists, and provides fellowships or assistance to scientists, sponsors research projects for the development of scientific temper and overall development of UT of J&K.
60.Indian Army Major develops world's first bulletproof helmet against AK-47 bullet
An Indian Army Major, Major Anoop Mishra has developed a helmet which is claimed to be first such in the world that can stop an AK-47 bullet round from a distance of 10 meters. He previously had developed a bulletproof jacket for protection against sniper bullets. The ballistic helmet has been developed under project Abhedya by. The officer is part of the Indian Army's College of Military Engineering and had got into the development of bulletproof jackets after he had received gunshots on his vintage bulletproof jacket.
61.Disha Police Station inaugurated in Andhra Pradesh's Rajamahendravaram
Andhra Pradesh Chief Minister Y S Jaganmohan Reddy inaugurated Disha police station in Rajamahendravaram city to address heinous crimes against women and children in Andhra Pradesh. He also launched the Disha app to help women in distress, and demonstrated how women can send SOS through the app which will alert the nearest police vehicle. It is the first of the 18 Disha police station promised under the Disha Act to fast-track the trials of crime against women, providing stringent punishment for rape crimes and others with conclusive evidence. Disha Act is a state law passed by the Jaganmohan Reddy's government. Under the law, the investigation into cases of sexual offences are to be completed within seven working days from the time of record, and the trial must be concluded within 14 working days from the date of filing the charge sheet.
62.National conference on e-governance 2020 concludes in Mumbai
National Conference on e-Governance 2020 concluded in Mumbai. In recognition of excellence in the implementation of e-Governance initiatives, the National e-Governance Awards 2020 were presented at the valedictory session. National Health Authority, Ministry of Health and Family Welfare received Gold for Ayushman Bharat Pradhan Mantri Jan Arogya Yojana, under the category Excellence in Government Process Re-engineering for Digital Transformation. IIT Roorkee's Satellite-Based Agriculture Information System: An Efficient Application of ICT - received the Gold Award for Outstanding Research on Citizen-Centric Services.
63.Army gets indigenous Sharang artillery gun
The Ordnance Factory Board (OFB) handed over Sharang, the first 130mm M-46 artillery gun upgraded to 155mm to the Indian Army. It was formally handed over by OFB Chairman Hari Mohan to Army Chief Gen. Manoj Naravane at the ongoing Defexpo. The Army had issued the Request For Proposal (RFP) in 2013 for both OFB and private industry.
64.Hyderabad Metro Rail becomes second largest metro network in India
With the launch of another 11-km stretch, Hyderabad Metro Rail has become the second largest metro rail network in the country after Delhi. Telangana Chief Minister K. Chandrashekhar Rao flagged off of the metro train on Green Line stretch from Jubliee Bus Station (JBS) to Mahatma Gandhi Bus Station (MGBS), connecting the twin cities of Hyderabad and Secunderabad. The opening of metro service on this stretch will facilitate movement of commuters between two largest and busiest Road Transport Corporation (RTC) bus stations in Telangana. Hyderabad Metro Rail, the world's largest public-private partnership project, is now the second largest operational metro network in the country covering 69.2 kms.
65.IIM-Bengaluru ranks third in MOOC performance among B-Schools globally
Indian Institute of Management Bangalore (IIMB) secured the third rank in the global list of Top Business Schools of 2020 by MOOCLab. This was the maiden ranking for business schools globally who are offering MOOCs (massive online open courses) courses. HEC Paris (France) and Wharton School of the University of Pennsylvania (USA) have secured the first and second rank respectively. 16 business schools across the world offer open online courses on 3 major MOOC platforms: Coursera, edX and Futurelearn.
66.WhatsApp pay gets NPCI nod to expand UPI project to 10 million users
Facebook-owned instant messaging platform WhatsApp has received permission from the National Payments Corporation of India (NPCI) to expand its pilot United Payment Interface (UPI) services to 10 million users. WhatsApp's payment feature, called WhatsApp Pay, is designed to run on UPI allows users to pay others or do business transactions through their bank accounts. WhatsApp has been running a pilot for one million users and has struggled to get a full-fledged licence since the rollout of the project in 2018. WhatsApp Pay will compete with Google Pay, PhonePe and Paytm.
67.Vietnam's Vice President to visit India from 11th February
Vice President of Vietnam Dang Thai Ngoc Thinh would be on an official visit to India from 11th to 13th of this month. She will hold delegation-level talks with Vice President M Venkaiah Naidu and call on President Ram Nath Kovind. During the visit, the direct flight between India and Vietnam would be announced. The visiting dignitary is also scheduled to visit Bodh Gaya.
68.HAL signs MoU with Elbit Systems for digital head-up displays for fighter planes
Hindustan Aeronautics signed an MoU with Israel-based defense electronics company Elbit Systems during the ongoing DefExpo 2020 for promoting and marketing the Digital Head Up Displays (HUD) units. A head-up display (HUD) is a transparent display that gives a pilot a seamless view of critical information. This information is projected directly in the pilot's line of sight on a screen just inside the windshield, allowing them to keep their visual attention focused outside the aircraft. The MoU envisages extending cooperation for new HUD technologies and promoting Digital HUD to the Indian Defence Services and other potential customers. The digital HUD would incorporate new features like Wide Instantaneous and Total Field of View with Minimal Binocular Disparity, Large Eye Motion Box and Digital Image Source for increased pilot's situational awareness. The HUD system is also compatible with Night Vision Imaging Systems having improved maintenance features.
69.MP govt to use drones for mapping villages
In Madhya Pradesh, the state government has decided to use drones for mapping villages. So far, land survey work is being done either manually or with the help of satellite images in Madhya Pradesh. 55 thousand villages of the state have been selected for mapping. The map of the population area will be made on a scale of 1: 500, which will give a clearer picture of the population area.
70.Govt has set target of installation of 100 GigaWatt solar power by Dec 2022
The Government has set a target of installation of 100 GigaWatt solar power and 60 GigaWatt wind power capacity in the country by December 2022 by implementing various schemes. Majority of solar power projects are installed with private investments. Grid connected solar power capacity of over 33 thousand seven hundred megawatt has been installed in the country till 31st December last year. Over 37 thousand five hundred megawatt of wind power was also installed till the end of last year.
71.PM Modi sets target of 5 billion dollars for defence exports in next five years
Prime Minister Narendra Modi has said that his government has set a defence export target of 5 billion dollars in the next five years. The export of defence equipment from India was about 2,000 crore rupees. In the last 2 years, it has gone up to 17,000 crore rupees. The eleventh edition of the mega defence event is being held in Lucknow with the theme "India: The Emerging Defence Manufacturing Hub". The five-day DefExpo is being attended by 38 defence ministers and top executives of 172 foreign defence majors and 856 Indian companies.
BUSINESS
72.IndusInd Bank tops list of 'Highest increase in brand value' among global banks
IndusInd Bank has topped the list of 'Highest increase in brand value' among global banks, according to 'The Banker's Top 500 Banking Brands 2020' report. As per the Report, the brand value of Induslnd Bank has increased by 122% over the past 12 months, making it the highest placed for growth in brand value, across the globe. It's brand value saw an increase of 122% over the past 12 months. The bank reported total assets of Rs 3.1 lakh crore at the end of Q3 FY20.
73.New Rs 1 currency note coming
The Government of India is set to introduce a new Rs 1 currency note soon. The new one rupee notes will be printed by the Ministry of Finance, unlike the other denomination notes which are printed by the Reserve Bank of India (RBI). The new Re 1 note will come with the words 'Bharat Sarkar', above the words 'Government of India'. They will have the bilingual signature of Atanu Chakraborty, Secretary, Ministry of Finance.
74.India out of US' developing nations list for trade benefits
Ahead of President Donald Trump's visit on February 24-25, the US removed India from its list of developing countries that are exempt from investigations into whether they harm American industry with unfairly subsidised exports. The United States Trade Representative (USTR) eliminated a host of countries including Brazil, Indonesia, Hong Kong, South Africa and Argentina. The US removed India from the list on account of it being a G-20 member and having a share of 0.5% or more of world trade. India's share in global exports was 1.67% in 2018. In global imports, it was 2.57%.
75.BSNL, Air India, MTNL highest loss-making PSUs in FY19; ONGC most profitable: Survey
ONGC, Indian Oil Corporation and NTPC were the top three profitable PSUs in 2018-19, whereas BSNL, Air India and MTNL incurred highest losses for a third consecutive year, according to a survey tabled in Parliament. The top three profit making PSUs including Oil and Natural Gas Corporation (ONGC), Indian Oil Corporation and NTPC contributed 15.3 per cent, 9.68 per cent and 6.73 per cent, respectively to the total profit earned by all profitable CPSEs. Total income of all CPSEs during 2018-19 stood at Rs 24,40,748 crore compared to Rs 20,32,001 crore in 2017-18, showing a growth of 20.12 per cent.