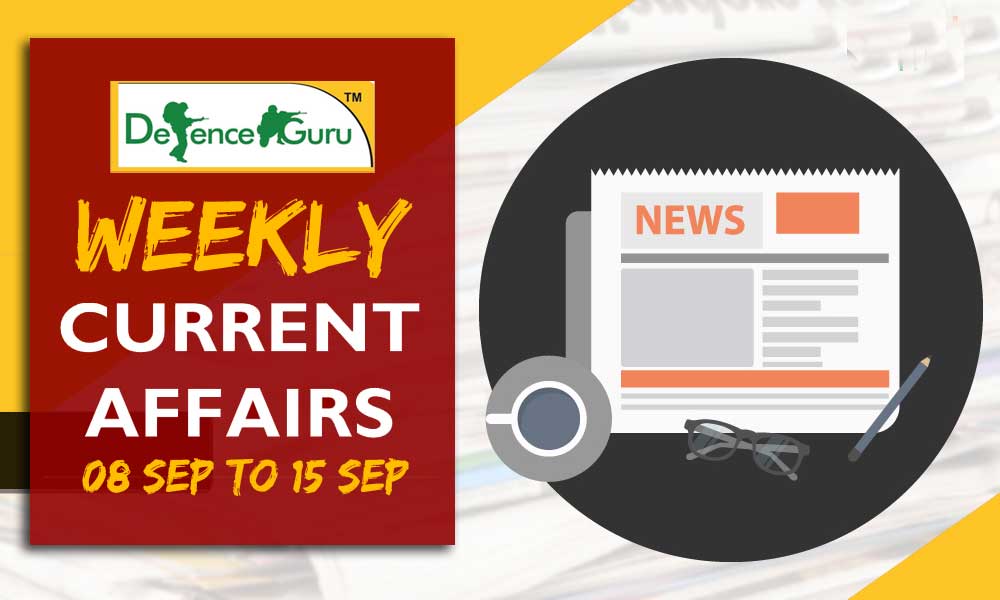 Weekly Current Affairs September 2018 - Week 2
Dear Student, Here Defence Guru given the list of Important Weekly Current Affairs 2nd Week of September 2018. Candidates those who are preparing for NDA, CDS, SSB and other competitive exams can make use of it.
Weekly Current Affairs September 2018 - 8 Sep to 15 Sep
1. SIAM Elects Rajan Wadhera As New President
The Executive Committee of the Society of Indian Automobile Manufacturers (SIAM), the apex body of the Indian automotive industry, elected Rajan Wadhera as its new President.
He is also the President - Automotive Sector, Mahindra & Mahindra.
He succeeds Abhay Firodia, Chairman, Force Motors Ltd.
Wadhera has been SIAM's Vice President till now.
2. Bimal Jalan heads panel to select next CEA
The government has appointed a panel under former Reserve Bank of India governor Bimal Jalan to select the next chief economic adviser in the finance ministry.
Apart from Jalan, secretary of the department of personnel and training C Chandramouli and economic affairs secretary Subhash Chandra Garg will be members of the panel.
Current CEA Arvind Subramanian resigned from his post before his tenure ends in May 2019 citing personal reasons.
3. Amitabh Chaudhry appointed CEO & MD of Axis Bank
Ending the speculation around the appointment of its next head once Shikha Sharma demits office, Axis Bank chose Amitabh Chaudhry, 54, as the next CEO.
He will take over as MD & CEO for 3 years from January 1, 2019 and will remain in office till December 31, 2021.
Chaudhry has been with HDFC Standard Life since January 2010 and is widely credited for the insurance company's sucessful IPO earlier this year.
4. SBI appoints Anshula Kant as Managing Director
State Bank of India has said the Government has appointed Anshula Kant as Managing Director of the Bank.
The appointment is with effect from the date of Kant taking over charge of the post and till the date of her attaining the age of superannuation.
Prior this appointment, Kant was the bank's Deputy Managing Director.
With this appointment SBI now has four MDs - PK Gupta, DK Khara and Arijit Basu.
5. Alibaba's Jack Ma to hand chairman's role to CEO Daniel Zhang next year
Jack Ma will step down as executive chairman of Alibaba Group Holding Ltd. in exactly 12 months time with Chief Executive Officer Daniel Zhang to succeed him at Asia's most valuable company.
Jack will remain on the board until Alibaba's annual meeting of shareholders in 2020
A former English teacher, Jack Ma started Alibaba.com in 1999 as a business-to-business marketplace with 17 co-founders.
6. Justice Ranjan Gogoi appointed as next Chief Justice of India
The President of India has appointed Justice Ranjan Gogoi as the next Chief Justice of India.
He will assume the office of Chief Justice on 3rd October, 2018 after the retirement of the current Chief Justice, Justice Dipak Misra.
He was appointed as Chief Justice of Punjab & Haryana High Court on 12th February, 2011.
He was appointed as a Judge of the Supreme Court of India on 23rd April, 2012.
7. Vibha Padalkar appointed HDFC Life MD and CEO
HDFC Standard Life Insurance has appointed Vibha Padalkar as its new Managing Director and CEO for a period of three years.
Before her elevation, Padalkar was the insurer's Executive Director and Chief Financial Officer.
Her elevation comes after Amitabh Chaudhry resigned as the chief of HDFC Standard Life Insurance to join Axis Bank as Managing Director and CEO.
68. Writer Brij Katyal passes away
Veteran film writer Brij Katyal, who penned the story of Shashi Kapoor-Nanda hit "Jab Jab Phool Khile", passed away at a hospice in suburban Bandra.
One of the most accomplished writers of the film industry, Katyal also has writing credits to his name in many TV serials such as "Dillagi", "Saans" and "Pal Chhin", both directed by Neena Gupta.
His stint in movies also include "Ajooba" and "Yeh Raat Phir Na Aayegi", among others.
8. 'Sarala Puraskar' for poet Satrughna Pandav
Noted Odia poet Satrughna Pandav will be honoured with the prestigious 'Sarala Puraskar' for his poetry collection 'Misra Dhrupad'.
The 'Sarala Puraskar' was instituted by eminent Odia industrialist late Dr Bansidhar Panda and late Ila Panda in 1979 and awarded by the Indian Metals Public Charitable Trust(IMPaCT).
The 39th edition of the award was announced by the Sarala Puraskar Committee at its meeting.
9. India-born student Rajalakshmi Nandakumar to get 2018 'Young Scholar' award
Rajalakshmi Nandakumar, an India-born woman scholar in the US, has been chosen for a prestigious award for her work to help detect potentially life-threatening health issues using smartphones.
She has been selected for the 2018 Marconi Society Paul Baran Young Scholar award.
Nandakumar, studying at the University of Washington, has created a technology that turns an ordinary smartphone into an active sonar system capable of detecting physiological activities, such as movement and respiration, without requiring physical contact with the device.
10. Manoj Jhalani, AS & MD (NHM) selected for UNIATF Award
Shri Manoj Jhalani, Additional Secretary & Mission Director (NHM), Ministry of Health and Family Welfare, has been conferred with the prestigious UN Interagency Task Force (UNIATF) Award for his outstanding contribution towards prevention and control of non-communicable diseases (NCDs) and related Sustainable Development Goals.
It is in recognition of Government of India's efforts made in the field of prevention and control of Non-Communicable Diseases.
National Programme to control NCDs has been scaled up by more than eight times in the past four years and covers all the 36 States/Union Territories now.
11. Poet, writer Sawai Singh Shekhawat to be honoured with Meera Puruskar
Jaipur-based poet and writer Sawai Singh Shekhawat will be honoured with Meera Puruskar by Rajasthan Sahitya Academy for his contribution to Hindi literature.
President of the academy Indushekhar Tatpurush informed that Shekhawat was selected for the Meera award, which is the highest award of the academy.
12. 6 AAI-run airports bag international awards
Â
Six aerodromes of the Airports Authority of India have bagged seven international awards.
The Airport Service Quality (ASQ) Awards 2017 were presented by the Airports Council International (ACI) at the Customer Excellence Global Summit at Halifax, Canada, on September 12.
The winning airports are Lucknow, Indore, Ahmedabad, Chennai, Kolkata and Pune airports.
13. India Blue win Duleep Trophy
Â
India Blue thrashed defending champion India Red by an innings and 187 runs in the final to win the Duleep Trophy.
Spinners Deepak Jagbir Hooda (5 for 56) and Saurabh Kumar (5 for 51) needed just 10.5 overs on the fourth day to bundle out India Red for 172 in the second innings.
The Duleep Trophy is a domestic first-class cricket competition played in India.
It is named after Kumar Shri Duleepsinhji.
14. Assam government makes Hima Das as Sports Ambassador of state
Assam government has made Asian Games medalist Hima Das as the Sports Ambassador of the state.
Chief Minister Sarbanand Sonowal has handed over the letter to Hima at a function in Guwahati.
The Chief Minister also announced to develop 500 village stadiums in the state.
15. US Open 2018: Novak Djokovic beats Juan Martin del Potro to win title
Novak Djokovic produced an impeccable performance to beat Juan Martin del Potro in the US Open final and win his 14th Grand Slam title.
The 31-year-old Serb won 6-3 7-6 (7-4) 6-3 to earn his third triumph in New York and equal American great Pete Sampras' haul of major trophies.
Djokovic, who won Wimbledon in July, will climb to fourth in the world after back-to-back Grand Slam victories.
Only great rivals Roger Federer (20) and Rafael Nadal (17) have won more.
16. Osaka claims US Open title after beating Serena
Naomi Osaka became Japan's first Grand Slam singles champion by thumping Serena Williams 6-2 6-4 in a controversial U.S. Open final.
Williams was given a game penalty for her outburst, which followed racquet smashing and another code violation as Osaka won 6-2 6-4 in New York.
Osaka, 20, kept her focus to become the first Japanese to win a Grand Slam.
17. Sardar Singh announces retirement from international hockey
Former India Hockey captain Sardar Singh has announced his retirement from international hockey after an illustrious career spanning 12 years.
The 32-year-old made over 350 international appearances for India and captained the national team for eight long years from 2008 to 2016.
He received the Arjuna award in 2012 and Padma Shri in 2015.
18. G20 Education Ministers' and Joint Ministerial Meeting
The Minister of State for Human Resource Development, Dr. Satya Pal Singh lead a high level delegation to the G-20 Education Ministers' Meeting as well as Joint Ministerial Meeting held at Mendoza, Argentina on 5th & 6th September, 2018.
It was the first ever meeting of Education Ministers in the history of G-20.
While speaking on the inaugural day in Educational Ministerial meeting, Dr Satya Pal Singh, appreciated and thanked Argentina for hosting an exclusive meeting of Education Ministers for first time in the history of G20 Summit.
He said that Education should be the first and foremost priority area for any society to develop and for any country to flourish. Therefore, it is most appropriate to place education at the center of global agenda.
19. G-20 Labour & Employment Ministers' Meeting
Union Minister of State (Independent Charge) for Labour& Employment Shri Santosh Kumar Gangwar, led a delegation to Mendoza, Argentina for the G-20 Labour& Employment Ministers' Meeting, held on 6-7, September, 2018.
Labour& Employment Minister highlighted India's initiatives for promoting skill development like Pradhan Mantri Kaushal Vikas Yojana and setting up of Sector Skill Councils and for employment creation like the Start Up India and the MUDRA scheme.
He added that the process of simplifying and rationalizing nearly 40 labour laws into 4 labour codes has been started which would not only lead to effective enforcement, better compliance but also ensure universal applicability of various welfare measures.
20. India and Czech republic sign five agreements
The President of India, Shri Ram Nath Kovind, reached the Czech Republic on September 6, 2018 on the final leg of his state visit to three European nations – Cyprus, Bulgaria and the Czech Republic.
He was received by Mr Milos Zeman, the President of the Czech Republic.
India and the Czech Republic are signing five agreements as part of President Kovind's visit.
These are:
Cooperation between the Council for Scientific and Industrial Research, India, and the Czech Academy of Sciences
A work plan to support Indo-Czech projects in diverse areas of science and technology, with the Department of Science and Technology taking the lead from the Indian side
A visa waiver agreement for diplomatic passport holders
Cooperation in laser technology between ELI Beamlines and the Tata Institute of Fundamental Research
Cooperation between the Haryana Agricultural University and the Czech University of Life Sciences
21. International Literacy Day 2018
International Literacy Day is celebrated annually on September 8 across the world.
The day was declared by UNESCO on October 26, 1966.
According to UNESCO's statistics, India's literacy rate is 72.1 per cent.
This year International Literacy Day theme is "Literacy and skill development."
22. UN postal agency to issue special Diwali stamp next month
The UN postal agency will issue special stamps here next month to commemorate the festival of Diwali.
The United Nations Postal Administration will issue a New York special event sheet on October 19 to commemorate the Indian festival.
The background of the sheet features the United Nations Headquarters building illuminated with the message of "Happy Diwali" to celebrate the spirit of the festival.
23. Opening ceremony: INDO-MONGOLIA joint exercise Nomadic Elephant-2018
Â
Indo-Mongolia joint exercise Nomadic Elephant-2018, commenced at Mongolian Armed Forces (MAF) Five Hills Training Area, Ullanbaatar, Mongolia with a brief but impressive opening ceremony.
The 12 days long joint exercise will be conducted from 10 Sep to 21 Sep 2018.
Exercise Nomadic Elephant is an annual, bilateral exercise since 2006 which is designed to strengthen the partnership between Indian Army and Mongolian Armed Forces.
24. Opening Ceremony: BIMSTEC Field Training Military Exercise
Â
The Inaugural Military Field Training Exercise for the Bay of Bengal Initiative for Multi Sectoral Technological and Economic Cooperation nations named MILEX-18 scheduled from 10 September 18 to 16 September 18 started with a Grand Opening Ceremony on 10 September 18 at Aundh Military Station.
Contingents of the member nations came together for the Opening Ceremony.
The aim of the forthcoming exercise is to practice the BIMSTEC Nations in planning and conduct of counter terrorist operations.
The exercise schedule is focused upon learning of best practices, team building & special tactical level operations in a counter-terrorist environment in semi urban setting.
25. Dubai to host India-UAE Partnership Summit
A two-day India-UAE Partnership Summit (IUPS) will be held in Dubai from October 30.
Second India-UAE Partnership Summit is being organised by the Business Leaders Forum (BLF).
Vipul, the Consul General of India in Dubai, said "I am happy that the second edition of the IUPS is being organised by the BLF this year in partnership with the consulate.
26. India focus country in Izmir International Trade Show
The Trade Promotion Council of India (TPCI) led a75-member Indian delegation for the ongoing 87th Izmir International Trade Show in Turkey.
The delegation had several B2B meetings and business tie-ups with members of the Turkish business community.
India is the Focus Country in the trade show with a standalone pavilion named 'Source India'.
The India Pavilion is a multi-product pavilion, including companies displaying products like ceramics, cereals and mechanical appliances.
27. India ranks 130 in UN's human development index
India climbed one spot to 130 among 189 countries in the latest human development index released by the United Nations Development Programme.
Within South Asia, India's human development index (HDI) value is above the average of 0.638 for the region, with Bangladesh and Pakistan, countries with similar population size, being ranked 136 and 150 respectively.
In 2016, India's HDI value of 0.624 put it at 131 rank.
India's HDI value for 2017 is 0.640, which put the country in the medium human development category
Norway, Switzerland, Australia, Ireland and Germany led the ranking, while Niger, the Central African Republic, South Sudan, Chad and Burundi have the lowest scores.
28. Suresh Prabhu to participate in G-20, Trade and Investment Ministerial Meeting in Argentina
Union Minister of Commerce & Industry and Civil Aviation, Suresh Prabhu, will participate in the G-20, Trade and Investment Ministerial Meeting, being held in Mar del Plata in Argentina on 14th – 15thSeptember 2018.
The meeting will provide an opportunity for a dialogue on current developments in international trade and its implications for the global economy.
The Ministerial Meeting will discuss about building an inclusive trade system that contributes to sustainable and shared growth.
Trade and investment must benefit all and countries must jointly address both the opportunities and challenges of globalization, innovation and technological advancements.
The Ministerial Meeting will examine the inter relationship between trade and development with a special emphasis on the need to promote further integration of small and medium sized companies into international trade, and the opportunities posed by the digital economy and new technologies.
29. Six Hundred Global Buyers to Participate Indusfood- II 2019
The Dhaka based India-Bangladesh Chamber of Commerce (IBCCI) will participate with a strong contingent of F&B buyers in Indusfood-II 2019 to source their food and beverage requirements from India.
Abdul Matlub Ahmad, President-IBCCI and former President of the Federation of Bangladesh Chambers of Commerce and Industry (FBCCI) made this announcement following discussions with Ashok Sethi, Director-Trade Promotion Council of India (TPCI), at NitolBhaban, in Mohakhali, Dhaka recently.
TPCI is working to attract maximum buyers from the SAARC countries to source their food and beverage related requirements from India. Some of the big buyers, including supermarket chains, from Gulf Cooperation Council (GCC) countries including Iran and the Commonwealth of Independent States or Russian Commonwealth (CIS) countries have already pledged their presence in Indusfood-II.
30. India Sri Lanka Naval Exercise Slinex-18
Indian Naval Ships Kirch, Sumitra and Cora Divh entered Trincomalee, Sri Lanka to participate in the sixth edition of SLINEX 2018, a bi-lateral Naval Exercise between India and Sri Lanka, from 07 to 13 September 2018.
SLINEX series of bilateral maritime exercises were initiated in 2005 and since then five successful engagements have been conducted.
SLINEX over the years has helped both the Navies in understanding each other's procedures and enhanced interoperability.
This edition of the exercise will further strength ties between the two maritime neighbours and contribute towards maritime security in the region.
31. Rajnath Singh inaugurates the 6th International Geriatric Orthopaedic Conference
The Union Home Minister Shri Rajnath Singh inaugurated the 6th International Geriatric Orthopaedic Society of India Conference on the theme "Increased Longevity with Reduced Fragility and Enhanced Mobility", at the All India Institute of Medical Sciences.
Speaking on theccasion, the Minister hailed the Ayushman Bharat Health Protection Scheme announced by the Prime Minister Shri Narendra Modi for the benefit of the rural and poor people.
Under this scheme the Government will provide affordable healthcare with universal health insurance to poor and needy people and their families, specially the elderly, he added.
32. Prakash Javadekar Inaugurates 4thWorld Summit on Accreditation
Union Minister for HRD Shri Prakash Javadekar Inaugurates 4th World Summit on Accreditation (WOSA-2018) at New Delhi.
Speaking on this occasion the Minister said that 'Ratings and Rankings' both the quality hallmark for any educational institutions therefore accreditation becomes very important.
Points to Remember
The National Board of Accreditation (NBA) is an autonomous organisation under Ministry of Human Resource Development engaged in quality assurance of the programs offered by the professional and technical institutions in India through accreditation.
World Summit on Accreditation (WOSA) is a biennial Summit organised by NBA, which provides platform to stakeholders to share their knowledge and information on accreditation.
The focus of WOSA 2018 is on "CHALLENGES AND OPPORTUNITIES IN OUTCOME BASED ACCREDITATION".
33. Ministry of Defence announces aeroshow
The Government has decided to hold the Aero India 2019 in Bengaluru from 20-24 February 2019.
This five-day event will combine a major trade exhibition for the aerospace and defence industries with public air shows.
Besides global leaders and big investors in aerospace industry, the show will also see participation by think-tanks from across the world.
It will provide a unique opportunity for exchange of information, ideas and new developments in the aviation industry.
Besides giving fillip to the domestic aviation industry it would further the cause of Make in India.
34. Two Day Regional Conference on Good Governance
Â
The Department of Administrative Reforms and Public Grievances (DAR&PG), Government of India in association with Government of Madhya Pradesh is organizing a Regional Conference on Good Governance with Focus on Aspirational Districts, in Bhopal.
Delegates from 12 States and 2 UTs will participate in the Conference. There will be 5 Technical sessions in the 2-day conference.
The DAR&PG has organized 28 Regional Conferences till date.
35. Home ministry sanctions Rs 3,000 cr for special women safety programme
Public panic buttons and all-women police patrol teams will soon be launched in eight major cities, including Delhi, under a special women safety programme for which the home ministry has approved nearly Rs 3,000 crore.
Transit dormitories for women and children, smart LED streetlights, one-stop crisis centres, and forensic and cyber crime cells will be part of the Women Safe City Project.
It will implemented in Delhi, Mumbai, Kolkata, Chennai, Bengaluru, Hyderabad, Ahmedabad and Lucknow from 2018-19 to 2020-21.
Safe city proposals amounting to Rs 2,919.55 crore were approved under the 'Nirbhaya Fund' recently.
36. 'Arogya Yojana to also help counter childhood cancer'
A member of the Niti Aayog, Dr Vinod Kumar Paul said that the treatment of childhood cancer will be covered under the Pradhan Mantri Jan Arogya Yojana.
Dr Paul was speaking at the 10th Annual National Childhood Cancer Excellence Awards Programme in the national capital.
According to him, this scheme will provide health insurance cover of Rs 5 lakh to poor families.
37. India launches new digital bridge with Africa
As part of India's reachout to Africa, the External Affairs Ministry signed an agreement with the Telecommunications Consultants India Ltd. (TCIL) to establish a pan-African e-network between the two nations.
This project, called the e-VidyaBharati and e-ArogyaBharati Network Project, will serve as a digital bridge between the two countries, External Affairs Minister Sushma Swaraj said.
She said that the the Project "is a clear effort by India to reach out to Africa in the critical areas of education and health".
32. PM Modi, Bangladesh PM Sheikh Hasina, jointly dedicate three projects in Bangladesh
Prime Minister Shri Narendra Modi, the Prime Minister of Bangladesh, Sheikh Hasina, Chief Minister of West Bengal - Ms. Mamata Banerjee, and the Chief Minister of Tripura - Shri Biplab Kumar Deb, jointly inaugurated three projects in Bangladesh, via video conference.
External Affairs Minister of India, Ms. Sushma Swaraj, and the Foreign Minister of Bangladesh, also joined the video conference from Delhi and Dhaka respectively.
These include: (a) 500 MW additional power supply from India to Bangladesh, through the existing Bheramara (Bangladesh) - Baharampur (India) interconnection. (b) Akhaura – Agartala Rail Link (c) Rehabilitation of the Kulaura-Shahbazpur section of Bangladesh Railways.
33. Successful Air-to-Air Refuelling of LCA Tejas
In a significant achievement and a major step towards Final Operational Clearance (FOC) of LCA Tejas, the mid-air refuelling of 'wet contact' trial for LCA Tejas MK-1 was successfully carried out from an Indian Air Force base.
Before this 'wet contact' trial, the 'dry contact trials' were successfully conducted on September 04 & 06, 2018 where the Drogue (basket) extended from the IAF tanker aircraft by a fuel hose, was tracked and plugged into using the aircraft refuelling probe without taking fuel.
IAF provided all required support to DRDO including the tanker aircraft for the successful test flight.
34. Bihar-Nepal bus service launched
Bihar and Nepal are now connected by bus. Bihar Chief Minister Nitish Kumar flagged off the first bus service between Bihar and Nepal.
The service will link Bodh Gaya and Patna in Bihar to Kathmandu and Janakpur in Nepal.
The bus service was commissioned following an agreement between India and Nepal.
35. India's first railway varsity starts operations in Vadodara
Â
The first of its kind university in the country on the transport sector, the National Rail and Transportation Institute (NRTI), started operations this week.
A total of 103 students formed the first batch of this unique institute. This year it has started with two UG courses.
36. Apsara – U Reactor Becomes Operational at Trombay
Â
"Apsara", the first research reactor in Asia became operational in Trombay campus of Bhabha Atomic Research Centre in August 1956.
After providing more than five decades of dedicated service to the researchers, the reactor was shut down in 2009.
Nearly sixty-two years after Apsara came into existence, a swimming pool type research reactor "Apsara-upgraded", of higher capacity was born at Trombay on 10th September 2018.
The reactor, made indigenously, uses plate type dispersion fuel elements made of Low Enriched Uranium (LEU).
By virtue of higher neutron flux, this reactor will increase indigenous production or radio-isotopes for medical application by about fifty percent and would also be extensively used for research in nuclear physics, material science and radiation shielding.
37. Curtain raiser: INDO-US joint military exercise Yudh Abhyas 2018
As part of the ongoing Indo-US defence cooperation, a joint military training Exercise Yudh Abhyas 2018 is scheduled to be conducted in the foothills of Himalayas at Chaubattia in Uttarakhand from 16 September to 29 September 2018.
This will be the 14th edition of the joint military exercise hosted alternately by both countries.
The joint exercise Yudh Abhyas 2018 will simulate a scenario where both nations will work together in counter insurgency and counter terrorism environment in mountainous terrain under United Nation charter.
38. Piyush Goyal launches a web portal "Rail Sahyog"
The Minister of Railways and Coal, Shri Piyush Goyal launched a web portal www.railsahyog.in.
The web portal will provide a platform for the Corporates and PSUs to contribute to creation of amenities at/near Railway Stations through Corporate Social Responsibility funds.
39. Delhi, Seoul governments to ink pact for cooperation in urban regeneration
The Delhi Government and the Seoul Metropolitan Government are slated to sign an agreement this week for cooperation in urban regeneration.
The agreement will be signed during Delhi Chief Minister Arvind Kejriwal's ongoing trip to Seoul.
Kejriwal, along with Urban Development Minister Satyendar Jain visited the Cheonggyecheon stream in downtown Seoul to see its transformation.
40. Sonowal inaugurates Indo-Bhutan Border Centre
Assam Chief Minister Sarbananda Sonowal has inaugurated the Indo-Bhutan Border Centre at Darranga in Assam's Baksa district to strengthen bilateral trade with the neighbouring country.
The Centre has decided to construct 264 km of border roads touching four BTAD districts of the state.
41. Cabinet approves "Pradhan Mantri Annadata Aay SanraksHan Abhiyan"
Giving a major boost to the pro-farmer initiatives of the Government and in keeping with its commitment and dedication for the Annadata, the Union Cabinet chaired by Prime Minister Shri Narendra Modi has approved a new Umbrella Scheme "Pradhan Mantri Annadata Aay SanraksHan Abhiyan' (PM-AASHA).
The Scheme is aimed at ensuring remunerative prices to the farmers for their produce as announced in the Union Budget for 2018.
This is an unprecedented step taken by Govt. of India to protect the farmers' income which is expected to go a long way towards the welfare of farmers.
Government has already increased the MSP of kharif crops by following the principle of 1.5 times the cost of production.
It is expected that the increase in MSP will be translated to farmer's income by way of robust procurement mechanism in coordination with the State Governments.
42. Cabinet approves amendment to National Institute of Design (NID) Act, 2014
The Union Cabinet chaired by Prime Minister Shri Narendra Modi has given its approval for introduction of Bill in Parliament for amendment of NID Act, 2014 to include the four new National Institutes of Design (NID) viz. National Institute of Design, Amaravati/Vijayawada, Andhra Pradesh; National Institute of Design, Bhopal, Madhya Pradesh; National Institute of Design, Jorhat, Assam and National Institute of Design, Kurukshetra, Haryana within the ambit of the National Institute of Design Act, 2014 and to declare them as Institutions of National Importance (INIs) at par with the National Institute of Design, Ahmedabad.
Some minor amendments to the Act including consequential amendments considered necessary namely, to re-name NID Vijayawada as NID Amaravati and nomenclature of Principal Designer as equivalent to Professor are also proposed in the Bill.
Establishing new NIDs as Institutions of National Importance in different geographical regions of the country will help produce highly skilled manpower in design which, in turn, will create job opportunities, both direct and indirect, by providing sustainable design interventions for crafts, handloom, rural technology, small, medium and large scale enterprises; and outreach programmes for capacity, capability and institution building.
43. Cabinet approves continuation of Capacity Development Scheme
The Cabinet Committee on Economic Affairs, chaired by the Prime Minister Shri Narendra Modi has approved continuation of the Capacity Development Scheme for the period 2017-18 to 2019-20 with an outlay of Rs 2,250 crore.
The Capacity Development Scheme is an Ongoing Central Sector Scheme of MoSPI.
The overall objective of the scheme is to augment infrastructural, technical as well as manpower resources for making available credible and timely Official Statistics for policy makers and public at large.
44. Radha Mohan Singh launches Dairy Processing & Infrastructure Development Fund
Vast opportunities exist today for dairy entrepreneurs and in order to concretize these opportunities and help double the income of dairy farmers, Rs 51,077 crore is needed to operationalize the National Action Plan (Vision-2024), Minister of Agriculture and Farmers' Welfare Shri Radha Mohan Singh said at the inauguration ceremony of Dairy Processing & Infrastructure Development Fund (DIDF) in New Delhi.
Shri Singh said that as a result of the announcement of Union Budget 2017-18, the Department of Animal Husbandry, Dairying and Fisheries (DADF) started the Dairy Processing & Infrastructure Development Fund (DIDF) with an outlay of Rs 10881 crore.
Under this, the first installment of Rs 440 crore is being given to the National Dairy Development Board (NDDB).
45. First Tribal Circuit Project under Swadesh Darshan Scheme to be inaugurated in Chhattisgarh
Shri. K.J Alphons, the Minister of State for Tourism (IC), Government of India will be inaugurating the project "Development of Tribal Circuit: Jashpur- Kunkuri- Mainpat- Kamleshpur- Maheshpur- Kurdar-Sarodadadar- Gangrel- Kondagaon- Nathiya Nawagaon- Jagdalpur- Chitrakoot- Tirthgarh in Chhattisgarh" implemented under the Swadesh Darshan Scheme of Ministry of Tourism, in Gangrel, Chhattisgarh on 14th September 2018.
This is the second project under the Swadesh Darshan Scheme being inaugurated in the country.
This project which is to be inaugurated was sanctioned by the Ministry of Tourism in February 2016 for Rs. 99.21 Crores.
The project covers thirteen sites in Chhattisgarh i.e. Jashpur, Kunkuri, Mainpat, Kamleshpur, Maheshpur, Kurdar, Sarodadadar, Gangrel, Kondagaon, Nathiya Nawagaon, Jagdalpur, Chitrakoot, Tirthgarh.
46. Mukhtar Abbas Naqvi launches National Scholarship Portal Mobile App
Union Minister for Minority Affairs Shri Mukhtar Abbas Naqvi launched the country's first "National Scholarship Portal Mobile App" (NSP Mobile App).
Speaking on the occasion, Shri Naqvi said that this "National Scholarship Portal Mobile App" will ensure a smooth, accessible and hassle-free scholarship system for students from poor and weaker sections.
He said that all the scholarships are being given directly into bank accounts of the needy students under Direct Benefit Transfer (DBT) mode through the National Scholarship Portal which has ensured that there is no scope for duplication and leakage.
47. INMAS develops India's first indigenous anti-nuclear medical kit
In a major shot in the arm for paramilitary and police forces, scientists at a central research institute claim to have developed India's first indigenous medical kit that may ensure protection from serious injuries and faster healing of wounds resulting from nuclear warfare or radioactive leakage.
The kit, developed after two decades of work by the Institute of Nuclear Medicine and Allied Sciences (INMAS), has over 25 items, including radio-protectors that provide 80-90 per cent protection against radiation.
Developed in India for the first time, it's a potent alternative to similar kits that were till now being procured from strategically advanced nations such as the US and Russia at much higher prices.
48. Hindi Divas: 14 September
Hindi Divas or Hindi day is an annual day celebrated on 14 September in India.
On this day in 1949, the Constituent Assembly of India had adopted Hindi written in Devanagari script as the official language of the Republic of India.
49. World chefs' congress on Oct 12-14 in Amritsar
Â
The World Cultural Culinary Heritage Committee, under the aegis of the World Association of Chefs' Societies (WorldChefs), will hold the first edition of the World Heritage Cuisine Summit and food festival from October 12-14 at the Qila Gobindgarh in Amritsar.
The summit, hosted by the Indian Federation of Culinary Associations, will celebrate traditional cuisine with live demonstrations, food tasting, presentations, panel discussions, master classes by chefs from around the world in the holy city.
It will focus on inculcating appreciation for food culture and traditions, good food habits and sustainable practices.
50. Uttarakhand ranked best among states in PMGSY
Uttarakhand has been ranked the best among states in the country for the construction of maximum number of roads under the PMGSY during 2017-2018.
The state constructed a maximum of 1,839 kilometre roads under the Pradhan Mantri Gram Sadak Yojana against a target of 1,500 km set for the year 2017-18.
Uttarakhand has also been ranked second for connecting 207 habitations with roads against a target of 172 under the scheme.
51. Coast Guard commissions patrol vessel 'Vijaya'
The Indian Coast Guard commissioned the indigenously built patrol vessel 'Vijaya', fitted with advanced navigation and communication equipment.
The 98-metre ship will be based at Paradip in Odisha for extensive surveillance in the Exclusive Economic Zone.
Defence Secretary Sanjay Mitra and Coast Guard Director-General Rajendra Singh took part in the commissioning ceremony.
52. India to hold its first global tourism mart from Sep 16
India will hold its first-ever global tourism mart modelled on the ITB Berlin, the world's largest tourism trade fair.
The mart will be held in Delhi from September 16-18, said Secretary, Tourism Ministry Rashmi Verma.
The ten major tourist organisations like FHRAI, HAI, IATO are involved in this mega event.
53. India and France sign an implementation agreement on "MOBILISE YOUR CITY"
India and France have signed an implementation agreement on "MOBILISE YOUR CITY" (MYC) in the presence of Minister of State (I/C), Ministry of Housing & Urban Affairs (MoHUA) Shri Hardeep Singh Puri and Shri Alexander Ziegler, Ambassador of France in India.
Mobilise Your City (MYC) is part of an international initiative which is supported by the French and the German Governments and was launched at 21st Conference of Parties (COP21) meeting in December, 2015.
Based on a proposal made by AFD in 2015, the European Union has agreed to provide funds of Euro 3.5 million through the AFD to contribute to specific investments and technical assistance components within the Mobilise Your City (MYC) programme in India.
54. HDFC bank most valuable indian brand
Kantar Millward Brown unveiled the Top 75 Most Valuable Indian Brands as part of its annual Brand Z report.
HDFC Bank is 2018's most valuable Indian brand followed by one of the country's oldest brands, LIC. IT services major TCS took third place.
The methodology of the study involved examining both financial performance and extensive consumer research.
55. RBI slaps Rs 1 cr fine each on UBI, BoI, Maharashtra Bank
The Reserve Bank in three separate releases said it has imposed a penalty of Rs 1 crore each on the three banks of Union Bank of India (UBI), Bank of India and Bank of Maharashtra.
The penalty has been imposed taking into account delay on the part of the bank to detect and report fraud in an account, it said.
56. NIIF inks $400 mn agreement with Singapore's Temasek
Singapore government's Temasek Holdings has agreed to invest $400 million in the National Infrastructure Investment Fund (NIIF) in another bet on India's infrastructure asset management space.
NIIF, touted as India's first sovereign investment vehicle anchored by the government, already has investors such as Abu Dhabi Investment Authority along with several large domestic financial institutions.
With the entry of Temasek, NIIF's Master Fund is now one of the largest infrastructure funds in India, after IDFC Alternatives and ICICI Infrastructure Fund.
57. LIC launches group insurance scheme for CDSL demat account holders
Life Insurance Corporation of India has signed an agreement with Central Depository Services (India) to provide group insurance coverage to all eligible demat account holders serviced through depository participants associated with it.
The facility will be available to demat account holders between the age of 18 years and 59 years.
CDSL serves more than 15.85 million demat accounts, which is 48 per cent of the industry.
58. IPPB ties up with FSS
India Post Payments Bank has tied up with Financial Software and Systems (FSS), a leading payments technology and transaction processing systems, to offer a wide range of banking solutions to financially underserved customer segments—especially rural households, small and medium enterprises and women.
FSS will help India Post to provide affordable, quality banking and payment services to its customers.
It comprises of a comprehensive set of solutions to bring customers and merchants into the digital payments mainstream, generating critical network effects for furthering adoption and usage.
59. NITI Aayog, Intel and TIFR collaborate for Model International Center for Transformative AI
Â
NITI Aayog, Intel, and Tata Institute of Fundamental Research (TIFR) announced on 7th September that they are collaborating to set up a Model International Center for Transformative Artificial Intelligence (ICTAI) towards developing and deploying AI-led application-based research projects.
This initiative is part of NITI Aayog's 'National Strategy for Artificial Intelligence' Discussion Paper that focuses on establishing ICTAI in the country through private sector collaboration.
Based in Bengaluru, the Model ICTAI aims to conduct advanced research to incubate AI-led solutions in three important areas – healthcare, agriculture and smart mobility – by bringing together the expertise of Intel and TIFR.
It aims to experiment, discover and establish best practices in the domains of ICTAI governance, fundamental research, physical infrastructure, compute and service infrastructure needs, and talent acquisition.
60. Cabinet approves MoU on blockchain technology by Exim Bank
The Union Cabinet chaired by Prime Minister Shri Narendra Modi has given its ex-post facto approval for the Memorandum of Understanding (MoU) on Collaborative Research on Distributed Ledger and Block chain Technology in the context of Development of digital economy by Export-Import Bank of India (Exim Bank).
Participating member banks.under the BRICS Interbank Cooperation Mechanism are namely Banco Nacional de DesenvolvimentoEconomico e Social (BNDES, of Brazil), China Development Bank (CDB), State Corporation Bank for Development and Foreign Economic Affairs (Vnesheconombank, of Russia) and Development Bank of Southern Africa (DBSA).
Distributed Ledger/Block chain technology holds potential for solutions to various challenges being faced in the financial sector space of the BRICS nations.
The MoU intends to enhance understanding of Distributed Ledger/Block Chain technology, through the joint research efforts to identify areas within respective business operations where it may have the potential for applications aimed at enhancing the operational efficiencies.
61. Federal Bank inks MOU with Infopark Kakkanad
Federal Bank, which is in the process of formation of a wholly owned subsidiary company, has executed MOU with Infopark Kakkanad for leasing space in their campus.
The Bank has already obtained in principle approval of the Reserve Bank of India for the creation of a subsidiary company.
The proposed company will integrate and handle all the back-end operations of the Bank.