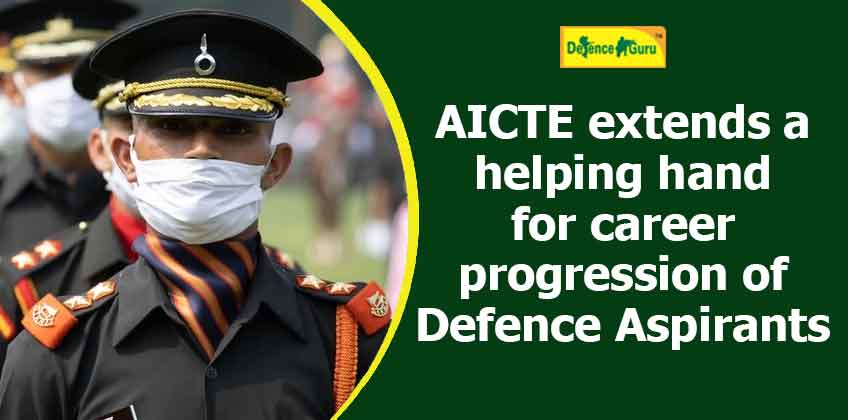 In a positive move to provide defence aspirants with career prospects in engineering, the All India Council for Technical Education (AICTE) has instructed its associated colleges to consider granting admission to such candidates who were unable to complete their defence training courses due to medical reasons. This approach will help candidates who suffer from medical conditions and are unable to complete their training at renowned defence institutions like the National Defence Academy (NDA) and others to advance their career opportunities.
Following a request from a displeased father whose son was unable to conclude his training course due to an injury, the AICTE decided to open up opportunities for such candidates in engineering colleges.

AICTE made the conclusion in response to petitions from several injured candidates who requested that there should be opportunities for them in engineering colleges.
Let's explore in detail what the AICTE is, how its actions may help defence aspirants succeed in their career paths, and what else needs to be done for applicants who get merit out despite earning recommendations from the Services Selection Board (SSB).
What is AICTE?
The Department of Higher Education, Ministry of Education, Government of India, administers the All India Council for Technical Education (AICTE). As a national-level council for technical education founded in November 1945, it is in charge of the strategic planning and integrated growth of India's technical education system. AICTE upholds quality assurance through school accreditation, funding in priority areas, evaluation and monitoring, and ensuring comprehensive and collaborative management in the future. It also acts as a regulatory authority for planning and formulation of norms and standards for technical education in the country.
Around 3,500 affiliated colleges are initially expected to abide by the rule, appreciating the AICTE's initiative in opening doors for defence candidates in the engineering sector. Many well-known figures in the field of education have also expressed their opinions on this action.
Views expressed by experts
Speaking to the Education Times, Rajive Kumar, Member Secretary, AICTE, says, "There have been cases of several candidates who could not finish their tenure in the defence institute after getting injured during the training. These aspirants will be accommodated in the vacant seats and we may ask them to create a few extra seats for them."
The Member Secretary continued by saying that if a candidate has a degree, he will be admitted in the second year; but, if he does not, he will be admitted in the first year.
"Our equivalence committee will map the courses studied by these candidates and the credits they have earned from previous institutions. The committee will recommend admitting them at the appropriate levels based on credits earned," says Rajiv Gupta, director of admissions at Sharda University in Greater Noida.
Mr. Gupta went on to note that some seats remain open as a result of students moving on to other engineering disciplines, allowing for the accommodation of candidates who are forced to quit the NDA or any other defence establishments due to medical reasons. He also advised adding 10% more seats than needed above the intake capacity.
Dejection of merit out candidates
Although the AICTE's approach is pretty reasonable, it should not be confined to only those candidates who have medical injuries because hundreds of other candidates also experience the same trauma after getting merit out from the final selection list. Every year, a large number of candidates apply to sit for competitive defence exams like NDA, CDS, and AFCAT, and even after clearing the most difficult selection process, some of them fail to make it to the final merit list and run into trouble owing to their uncertain future. As a result, these candidates should also be given consideration for admission to engineering colleges since they have already demonstrated their competence by passing the toughest defence exams in the country.