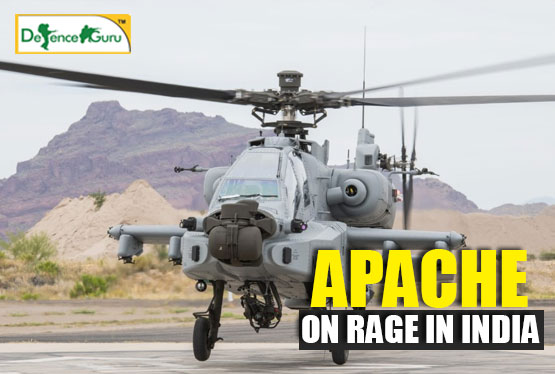 Apache Guardian Helicopter- ON RAGE IN INDIA
APACHE- ON RAGE IN INDIA
Resting in a mountainous region, Apache with its high tech landing gear, cockpit and nose- alike suite is a pearl in high demand today.
Like others, India is in want for the same. The age old dream is going to turn real this very day. Mark the date- September 3, 2019 India venture to roll and shoot its very own Apache batch.
So where does the story begin and what is the probable future? Without extending further, let's get started with the answers:
In full, the Boeing AH- 64 Apache is a U.S invention. Developed by Hughes Helicopter, Apache is a twin turboshaft attack helicopter. The advanced equipment became a part of U.S Army on April 1986. The design excels from all angles and is an upgraded tool.
Apache has essential redundancy systems for enhancing combat survivability.
It is equipped enough with certain sensors and avionics to work in harsh environment and to work day and night.
The burning question in your mind must be, how does Apache fits in India? It certainly fits well because the best Armed Forces deserve the best equipment!
Beginning 2010, India initiated a tender of 22 Apache while the move was virtually executed in 2013 when the Ministry of Defence made a final verdict that I.A.F will receive 22 Apache. 2015 proved lucky as India made the order.
Post the order comes the confirmation by U.S Department of State as it approved the sale of Apache to India. On May 11, 2019 India received its first Apache in Arizona followed by delivery of next 4 Apache on 27 July, 2019.
The history covered time to enter this date- September 3, 2019 into the achievement logbook because today the first batch of Apache will be inducted to the Indian Air Force by Defence Minister, Rajnath Singh, in Pathankot.
To enrich the aircraft count and quality of the Indian Air Force, Rajnath Singh made this tremendous move which will add glare to Indian Defence' development.
U.S delivered the first batch at Hindan air base three weeks ago.
Scheduled to induct 8 Apache today, the complete count of 22 Apache is projected to be complete by 2020.
The deal costs $ 1.4 billion.
Indian Armed Forces will receive its first ever attack helicopter with the entry of Apache in the nation.
The helicopter brings in added benefits such as: it can work in mountainous region; can carry attacks and carry operations in hostile airspace; it can very well receive and impart battlefield close-up.
The assignment of Apache was adjoined with 15 Chinook helicopter in 2015 for heavy weight lifting.
Alongwith Rajnath Singh, Punjab Chief Minister Captain Amrinder Singh will grace the occasion.
The crowd is seeing this endeavor as a catalyst that will boost India's progress. It will bloom flowers of evolution in Indian Defence Air Force. So let's look forward to see India making a monumental record!