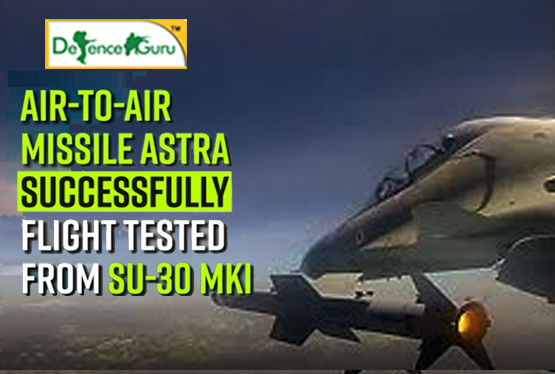 A GLORIOUS RELEASE:- IAF successfully test-fires air-to-air missile Astra from Sukhoi-30 combat aircrafts
India has been enthralled with new missile releases this year. There has been an outpour of upgraded Defence equipment along with elevation of their quality recently. Missile ASTRA is the new ball in court and here is a dig into the same.
Bright sun cascading its rays all around and a warm feeling engulfing the crowd, 16th September, 2019 had a good start. Apart from nature the news of Missile ASTRA added smile to the nation.
So what is missile Astra and why is it doing the social rounds?
Missile Astra is an intrinsically built beyond visual range aerial missile adding military cheer to Indian Defence. Developed by Defence Research and Development Organization (DRDO) Missile ASTRA is India's first air- to- air missile. Missile ASTRA is well capable to handle short- range and long- range targets up to the range of 70 km. Talking about the production, the assembling of Missile ASTRA began in 2017 by Limited series production. Missile ASTRA is equipped to fly at a speed of 5,555 km per hour. Add to that it has the provision of 15 kg high explosive pre- fragmented war head.
Missile ASTRA fuels class and dignity of Defence system.
This September DRDO successfully test fired the intrinsically built Missile ASTRA from a Sukhoi Su- 30MKI combat aircraft. The launch occurred in Bay of Bengal off the coast of Odisha.
After the release the missile was tracked by the means of radars and electro- optical targeting sensors.
The result out shown a successful hit- at- the- target.
Currently India is using Russian air- to air missile on the flight of Su-30 fighters but now with the entry of Mission Astra India can relish in its own equipment.
Here is a note on some critical insight into the grand news: The Defence Ministry proudly comments on this release as: a "lively target was engaged successfully" and the "mission profile was executed in a text book manner".
To sum it up India is on a roller coaster these days when seen in relation to modernization and launch of missile and various equipments. Without doubt our honor has escalated!