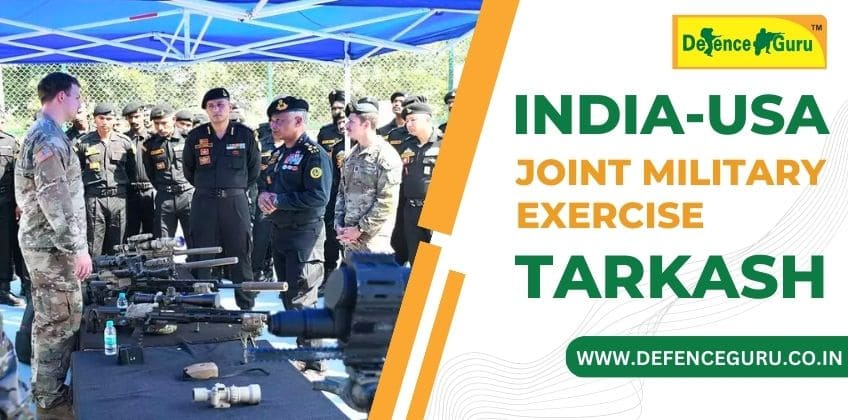 India-USA Joint Military Exercise: TARKASH
With a major focus on unconventional warfare, the Special Forces of India and the USA jointly conducted TARKASH joint military exercises in Chennai. This is the first joint military exercise between India and USA in 2023. India and USA share deep and wide defence relations and it is one of the many joint military exercises conducted between India and the USA. TARKASH Exercise is a unique exercise because India and USA never conducted any joint military exercises related to Chemical, Biological, Radiological, and Nuclear (CBRN) warfare.
Brief Information of India-USA Joint Military Exercise: TARKASH

Participants

India- NSG (National Security Guards)

USA- (US Special Operations Forces)

Venue

Chennai

Purpose

To deal with Chemical, Biological, Radiological, and Nuclear (CBRN) Attack
Other India-USA Joint Military Exercise
Army/Navy/Airforce

Joint Military Exercise Name

Army

Yudh Abhyas

Vajra Prahar

Navy

MALABAR (Total Four Participants- India, USA, Japan, and Australia)

Airforce

RED FLAG 16-1
India-USA Defence Relations
India-USA shares very deep and broad defence relations. India uses a wide variety of American platforms such as M777 Howitzers, Apache Helicopter, Chinook Helicopter, MH-60 Romeo Helicopter, P-80 I Aircraft, etc. The USA has given the status of an important non-NATO ally to India. India and USA regularly conduct 2+2
Importance of Joint Military Exercises for Upcoming Defence Exam
Joint Military Exercises Names, Participants, Places, and Editions are asked in Defence Exams like NDA, CDS, AFCAT, MNS, and Agniveer. That's why Defence Aspirants should study joint military exercises before any defence exam. Joint Military Exercises are also crucial for your upcoming SSB also.
Read More
Top 10 Facilities and Special Allowances Of Indian Army Officers