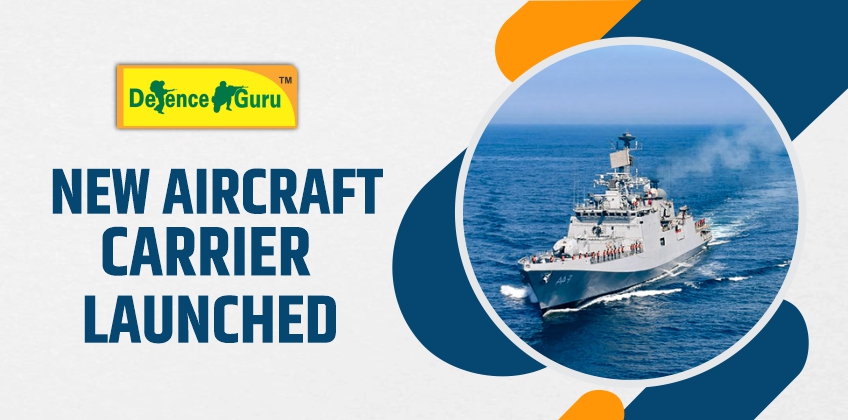 New Aircraft Carrier Launched in Indian Navy
The third phase of sea trials for India's indigenously built aircraft carrier Vikrant began on January 9th, with sophisticated operations to establish specific readings of how the ship functions in varying circumstances. The Indian Navy's Maritime Capability Perspective Plan ((MCPP) includes funding for a second indigenous aircraft carrier. Vice Chief of Naval Staff Satish Namdeo Ghormade highlighted the dynamic maritime environment during a media interaction in New Delhi. India has joined a select group of countries that can manufacture aircraft carriers, owing to the building of the indigenous aircraft carrier Vikrant, which started in 2009. On December 22, President Ram Nath Kovind visited the carrier in Kochi, accompanied by Vice President M Venkaiah Naidu on January 2. The ship was placed through its lengths in terms of numerous machinery trials and flight trials during the second sea trials in October-November last year, which were undertaken to establish propulsion, navigational suite, and basic operations.
Key Characteristics of New Aircraft Carrier Launched in Indian Navy
The government-owned Cochin Shipyard Limited (CSL) produced Vikrant, which was designed by the Indian Navy's Directorate of Naval Design (DND).

Cochin Shipyard Ltd is one of India's leading shipbuilding and maintenance companies. It is one among a series of maritime-related facilities in the port city of Kochi, Kerala, India.

The shipyard's services include the construction of platform supply vessels and double-hulled oil tankers. It is currently constructing the INS Vikrant, India's first indigenous aircraft carrier.

The MiG-29K fighter jets, Kamov-31 helicopters, MH-60R multi-role helicopters, and indigenous advanced light helicopters will all be operated by the warship, which has a displacement of 37,500 tonnes.
In August 2021, the Vikrant set sail for its initial trials, followed by Phase 2 trials in October of that year. The carrier will undergo sophisticated operations in the current round of sea testing, according to the Navy, to establish specific readings of how the ship operates in various scenarios. As the 40,000-tonne indigenous aircraft carrier Vikrant sailed out of Kochi harbor for the third phase of sea trials, Dassault Aviation, a French aircraft manufacturer, will fly its Rafale-M fighter jet from the Indian Navy's Shore Based Test Facility (SBTF) in Goa to demonstrate compatibility and suitability for operation from the carrier's deck. These tests are part of an effort by aircraft manufacturers to demonstrate their aircraft's compatibility with the Indian Navy's aircraft carriers, which use a ski-jump to launch planes. "In addition, the ship's different sensor suites would be put to the test." During the trials, scientists from the Naval Science and Technological Laboratory, a DRDO facility situated in Visakhapatnam, will also be on board, according to the Navy.