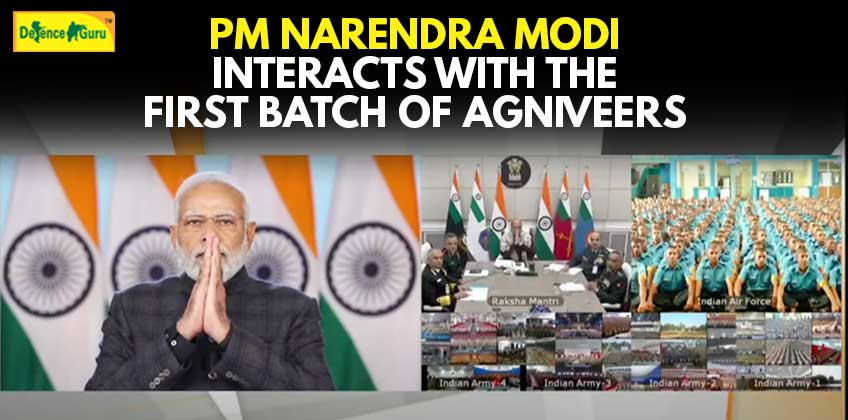 PM addresses first batch of Agniveers
Honorable Prime Minister, Narendra Modi Ji interacted with the first batch of Agniveers from all three Armed Forces. PM congratulated Agniveers and said that Agniveers will strengthen our Armed Forces. Several Agniveers who are undergoing training under the Agnipath scheme attended the joint address of PM Modi and Rajnath Singh, from training centers. Prime Minister highlighted that this Agniveer Scheme will prove to be transformative and a game-changer for our Armed Forces.
Who are Agniveers?
The Armed Forces of India have formulated a new policy for recruiting soldiers and soldiers inducted under this scheme, Soldiers will be given the rank of 'Agniveer'. Candidates between the ages of 17.5 years to 21 years can apply for Agniveer. Agniveers will serve for four years in the Armed Forces and based on their performance in the four years, they will be enrolled in the Army as regular soldiers.
Agniveer Scheme Important Information
Particulars

Details

Eligibility

10+2 with 50% Marks

Age Limit

17.5-21 Years

Salary

Between 30,000 to 40,000

Post Retirement Benefit

11 Lakh Seva Nidhi Package
Reservation in CAPF Jobs
How will Agniveer Scheme benefit Our Armed Forces?
Agniveer Scheme will help Indian Armed Forces to save Salaries and Pensions. Saved Money will help to modernise Armed Forces.
Agniveer Scheme will help Indian Armed Forces to get young youth filled with courage and bravery to serve the Nation.
Only 25% of Agniveers will be inducted in the Armed Forces. It will help to reduce the bulky size of the Indian Armed Forces.
The 21st Century Wars are being fought with technology rather than Soldiers. That's why It is important for the Armed Forces to invest in modernization.
Agnipath Scheme will help Armed Forces to be more youthful and advanced.
Agnipeeth Scheme will give equal chance to Female Defence Aspirants to serve in the Armed Forces.