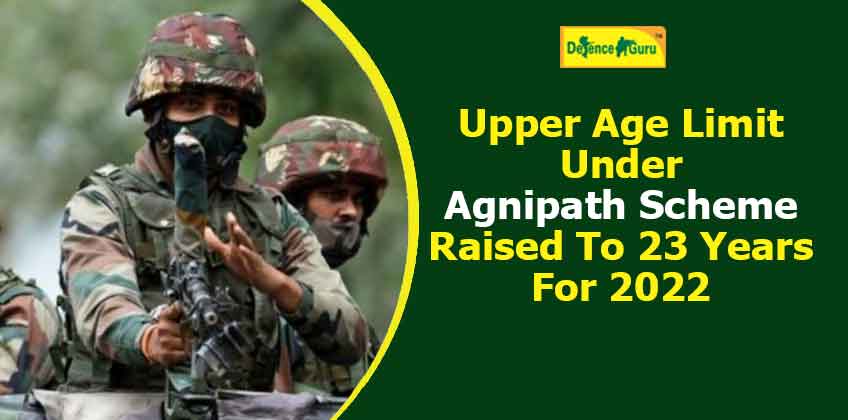 The Union Cabinet introduced the Agnipath scheme, a game-changing initiative to upgrade the country's defence forces and provide opportunities for young people to serve the country. The Agnipath scheme will produce a tech-savvy, qualified workforce, as well as core military attitudes such as nation-first, which are critical for India's sustained growth and progress. The Agniveers will be useful in defending our borders as well as advancing India's goal of becoming a modern, technology-driven, young global superpower. Furthermore, all Agniveers will receive Skill India certification while on the job, allowing them to explore a variety of entrepreneurship and career roles that are emerging in our economy after their term is completed.
Maximum Age for Agniveers Raised to 23
In a press release, the Press Information Bureau of the Ministry of Information and Broadcasting of the Government of India stated that because the recruitment could not be completed in the previous two years, the Government has decided to grant a one-time waiver for the proposed recruitment cycle for 2022. As a result, the upper age limit for the Agnipath scheme recruiting process in 2022 has been raised to 23 years.
Statement by Defence Minister of India
The AGNIPATH scheme, according to India's Defence Minister, Shri Rajnath Singh, is a golden chance for Indian youngsters to join the Armed Forces and serve their homeland.
"The relaxation of age indicates that the Government cares for our youth. Department of Military Affairs, Ministry of Defence and the Services are committed to commence the recruitment process at the earliest. We invite the youth to join the Armed Forces and serve the Nation through AGNIPATH," the Raksha Mantri.
Shri Rajnath Singh stated in a statement that many young people have been denied the opportunity to join the Armed Forces since the recruiting process has been stalled for the past two years. With the future of the youth in mind, Shri Rajnath Singh announced that the government, on the orders of Prime Minister Shri Narendra Modi, has raised the age restriction for Agniveer recruitment from 21 to 23 years for the 2022 recruitment cycle.