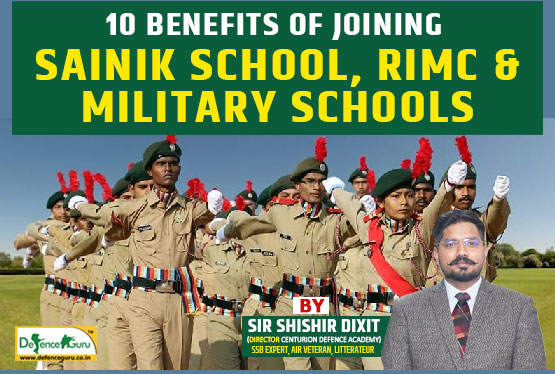 At the growing age child needs special care, protection and guidance. During admissions in school they get tested at various stages and levels but what matters are the benefits they receive after getting admission in that particular school.
To lead a disciplined life the golden opportunity available to students is their admissions in the Sainik School or RIMC or Military Schools. The core advantage of joining Sainik School, RIMC & Military Schools is the life of skilled and trained human being. The autonomous life of students get boosted at various stages from the growing age and they become part of most respected and passionate job in Indian Armed Forces.
Founder Director Centurion Education Pvt. Ltd. Sir Shishir Dixit penned his golden words and explained the 10 Benefits of Joining Sainik School, RIMC & Military Schools to the youth of nation.
1-Joining Sainik School or RIMC or Military Schools student goal to enter in defence is set. Students get a platform where he began his combat & armed training that lead a skilled career with the utmost vigilant and expertise.
2-The power of uniform make students crazy, excited and passionate about the military lifestyle. Uniform inherits among students sense of discipline, integrity towards organization, military spirit, team spirit & coordination, social tact through which they get prepared for a mission and learn to live in a group.
3-Rigorous training provided to students after joining Sainik School, RIMC, Military School make them physically fit and mentally agile. Due to initial stage training at young age their officer intelligence rating and values are empowered. Students being fit and agile get the best training at the crucial stage of life. To be noted that trainability with age decreases so with age you can become a good person and can become LADIES and GENTLEMAN for the nation.
4-Students enriched with the Sense of Responsibility quality, since they get accommodated in hostels and they live far from their family their minds are open, broader and think in broader perspective (however they are permitted leaves and sufficient holidays for festival). Students become self dependent & their sense of responsibility factor is also up and high.
5-High class opportunity they get in Sainik school, RIMC, Military School as compared to other schools. Infrastructure provided to students for sports and extra co-curricular activities get them ample time & ample opportunity to represent themselves at various level. With the participation in extra co-curricular activities, hobbies and interest they are transformed into constructive and productive life.
6-Entrance exam held after class 12th standards like NDA, MNS, AF X-Y Group and other officer cadre exams and with respect to these exams students get prepared in advance as they are provided extra sessions . Students after joining Sainik School, RIMC & Military Schools get prepared for competitive exams along with academics exams and with the competitive level preparation they are likely to clear the exam in first attempt.
7-When you go for SSB Interview the importance associated with Sainik School, RIMC & Military Schools are reflected. At that time tag of Sainik School, RIMC Military School play a major role in PIQ, the tag get attached with the students PIQ to add values and reflect extra weightage that is visible in result.
8-Recently government step for females to join NDA in the upcoming years and for the young girls to join Sainik Schools also get appreciated. The major developments provide best opportunity for females and now at the young age girls can also head high with Boys.
9-Co-education in Sainik School, RIMC Military School make both girls and boys confident, bolder, strong. During grooming process they performed various tasks that make them competent, strategic, leader as well as help boys and girls to develop patient, calm and composed at the time of need. Co-education will add only value to your growth because of which they don't face problem in group coordination and group execution tasks.
10- Students get admission in Sainik School, RIMC & Military Schools through entrance exam that make the Admission more authentic and relevant. The annual fees is minimum as compared to private schools in Sainik School, RIMC & Military Schools. The government lead the Sainik School, RIMC & Military Schools and provide financial aid and funding to these colleges. The government support and coordination strengthen the Sainik School, RIMC & Military Schools many folds thus reducing the Financial burden faced by Parents/Guardians.
The benefits listed above woo the parents and young kids on joining Sainik School, RIMC & Military Schools. The key focus of these schools is to foster the growth and development of young students for the growth and development of their career and nation.