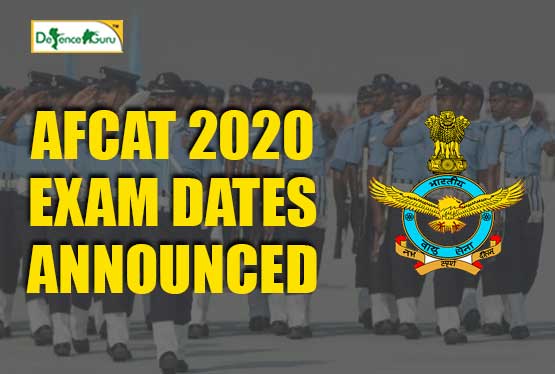 AFCAT 2020 EXAM DATES
Air Force Common Admission Test (AFCAT) is a one in a million opportunity to mark your steps in the field of Indian Air Force. AFCAT is a national level exam which is conducted twice a year across India.
Thousands of young Indian citizens wait for the exam all year while only few of them are lucky enough to clear it successfully. AFCAT is an all- in- one opportunity as it recruits applicants for all three branches, that is, technical branch, flying branch and ground duty. Air Force Selection Board (AFSB) holds the responsibility of this exam. It prepares the final merit list.
Like each year this year too AFCAT released its notification for the exam to be held in the year 2020. The application procedure has started from December 1, 2019 and will end on 30th December, 2019. The dates for exam have also been released recently as per which the AFCAT 2020 exam is scheduled on 22 and 23 February in the following procedure:
Talking about the exam pattern AFCAT exam is a twofold process involving written exam held by UPSC and SSB interview session. The written exam will be of 2 hours with 100 questions. Each question shall carry 3 marks. Hence the total marks shall be 300. SSB interview, on the other hand is a lengthy session lasting approximately 4- 5 days. Combining the result of both the final merit list is formed.
All the selected candidates will have to go for training which is to commence in January, 2021. The training period of Ground Duty (non- technical) branch is 52 weeks while that of Flying and Ground Duty (technical) branch is 74 weeks.
With the application procedure being started and release of exam date, there seems very little time left for AFCAT. Utilize these few days to the maximum by indulging into an in- depth preparation. All the best!
Click Here for AFCAT-I 2020 Exam Notification