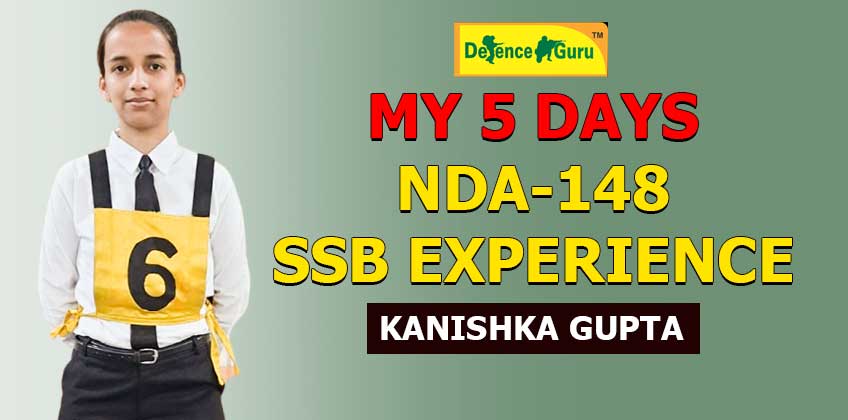 NDA-148 SSB Interview 5 Days Experience Explained by Kanishka Gupta
My name is Kanishka Gupta and I cracked SSB for NDA 148, 19 SSB Allahabad (AIR 6) in my first attempt. To start with I would like to say that whenever someone recites the lines "khoob ladi mardani who toh Jhansi wali rani thi" I always let my mind wander and travel against time to see the courageous Rani Laxmi Bai fighting on the battlefield. What must have it felt like to be, the courage it must have taken, to be such an eminent part of history that the proverb for courage imbibed her name. And that's when I think that there is no limit to what we, as women, can accomplish. In an era where if a woman wants to go to school, she's shot in the head. If she attempts to drive a car, she is jailed. If she attempts to take part in the political uprisings happening in her own country, to be heard, to be counted, she's publically assaulted, this decision of the Supreme Court that girls can now join the NDA is a revolution in itself. They are now within striking distance of storming another male bastion in the armed forces - permanent commission as officers. I am here to share my SSB journey in the hopes that you can take away some inspiration and gather the courage to pursue your defence dream.
5 Days NDA-148 SSB Interview Experience:

Day 1-
Firstly we went through the process of documentation then we had our OIR, which was moderate level, both verbal and non-verbal. The second was the PPDT, there was a picture shown to us and we were asked to make stories, then individual narration which for me went quite well. Soon group discussion was also over and 21 of us were screened in.
Day 2-
This was the day for psychological tests under which we had TAT, WAT, SRT and SD. TAT had 12 pictures out of which most of them were familiar as I had already practiced them at Centurion. WAT, SRT and SD went very well for me too as there were a lot of things which were familiar to what I had practiced at Centurion.
Day 3-
This was the GTO day 1, first we went through the process of group discussion. We were divided into the groups of 7 people each and were given topics. My topic was ' Which is the currently most important issue worldwide- humanitarian crisis, covid 19 or global warming'. I chose the third lead and pointed out all my reasons. And with that I went through the next group discussion. After the GD we went through GPE, this was a group forward decision for us and we were able to provide better solutions as a group. Then it was time for lecturette which I would say went good for me because my topic was 'Atmanirbhar Bharat' and I had already practiced it at Centurion. Then it was time for PGT where I was involved in giving ideas and implementing them. The practice at Centurion really helped me there because I knew multiple ways of solving it. We also had our GOR on that day, I was able to complete all the five obstacles and helped our group members.
SSB Personal Interview:
It was something I was familiar with because I had been through 3 mock interviews at Centruion. The questions too were very familiar and so I did pretty much good in the interview. There was no difficulty at all.
Day 4-
This was the GTO day 2. We had FGT, Command Task and individual obstacles. I was able to perform seven individual obstacles. Then came the command task and I was the first one to be called, and it was quite difficult for me but I was able to give all the solutions the GTO demanded for and it was the best experience of my entire GTO tasks. Then FGT felt pretty easy because my group members had too become familiar with one another and led each other.
Day 5-
We had our conference and we were all really very excited for that. My conference went on from 5-6 minutes and after that it was announced that only one of us has made it. Although I was expecting my selection but I was a little nervous too. That was the moment my name was announced and I was so happy it felt like the best moment of my life.
Message to future aspirants:
The only thing I want to say to future aspirants is that never feel weak as a woman, if you have the passion for armed forces, there is no man you cannot compete with. So brace yourself and chase your dream. The very decision that women can now be a part of NDA and is no less than the answer to the prayers of all the young girls aspiring to join the armed forces. Despite the evolution of our own narratives there are a lot of times people ask as to why would a woman want to be a part of such a gruesomely valiant career but to me the answer seems obvious, the army is a traditional place. Throw into the mix nonconventional women and things get interesting. These women believe they can fight, lead and defend, despite conventional wisdom. Also women serve for the same reasons as men, which ranges from patriotic duty, family tradition, money for college, or simply because it's a steady paycheck in a poor economy. The performance of this generation of servicewomen is not only revolutionizing the army, but is also testing social views of traditional gender roles and norms. You are your own Jhansi ki Rani who single handedly capable of achieving all her goals.
Watch Complete Video
kanishka-5-days-ssb-experiance.jpg