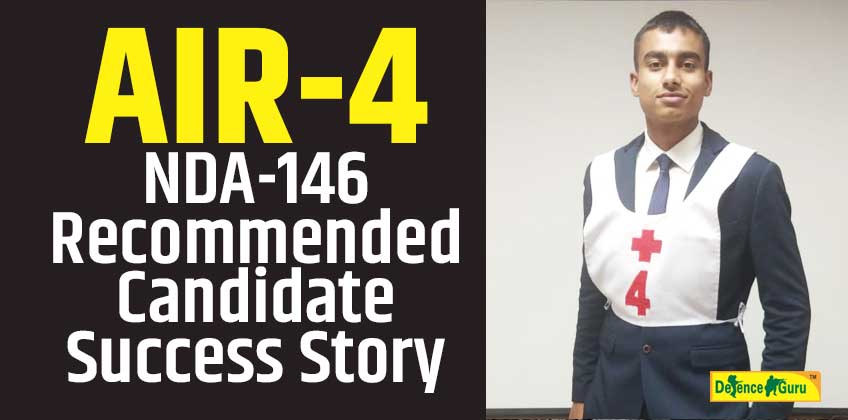 Hi, Aspirants , my name is Manik Turan and I have achieved AIR4 in NDA 2 2020 Examination !! My Dream has come true! I like the way Will Smith put it: "There's a redemptive power that making a choice has. Decide what you're going to be, who you are going to be and then how you are going to do it. From that point on, the universe is going to get out of your way."
" Most of us think about doing great things. The difference between the average person and the high achiever is a commitment to belief—because possessing the unqualified belief that you are capable of doing something is the first step to achieving it. When you commit, really commit to a choice, then everything else will fall into place to make it happen for you. Your decisions will be guided by your mindset.Today , through DefenceGuru.co.in platform ,I will share how I achieved my aim , hope it helps you!
1. My family background:
I belong to Karnal, Haryana. My father's name is Satbir Singh Turan. He is an ex-serviceman and has served in the Army Education Core of the Indian Army, retiring at the rank of NaibSubedar. Currently, he is a govt. teacher in Karnal, Haryana. My mother's name is Sunita Rani Turan. She is also a govt teacher in Karnal. Two of my paternal uncles are also ex-servicemen. (One retired at the rank of Subedar from Signals while the other served in the Indian Air Force.)
2. My educational background:
My primary education was from SB Mission School, Karnal. It is a school with an average infrastructure but the quality of education imparted makes even ordinary people like me achieve extra-ordinary goals like clearing the RIMC entrance exam. I cleared the RIMC exam in my third and final attempt, joining the RIMC on 20 July, 2016. I appeared for 10th Boards from RIMC, Dehradun and secured a good 90% and then on started preparing for NDA and SSB making it in the very first attempt.
3. Motivation to join RIMC and NDA:
At a very young age, i was very skeptic about my choice of career. My father advised me to appear for RIMC exam and being a hard working student , I channelized all my energy towards clearing the exam. After moving to RIMC I saw the environment in the forces- the opportunities the forces have to offer, the friends we make, the people we come across and of course the passion with which we wore the uniform. This developed an interest for the forces and Irealised that maybe this was my chance to further my family's legacy of becoming the first officer in the family. Also it was my parents' dream to see me in the uniform. All these things combined became my motivation to work hard. I made it my goal to fulfill my parents'dreams.
4. My preparation for NDA and SSB:
Since I knew from the very beginning that I have to take the NDA exam ,Iprepared myself well. I made proper notes since the start of my 11th standard because the syllabus is vast. I did my preparation gradually and consistently, step by step. I made daily schedules for myself, set up short term goals and revised regularly. And it proved to be enough for the written exam. Although I did not exactly do any specific preparation for SSB, but the training started the very day I joined RIMC. I followed every word of my seniors and teachers obediently. For SSB I just had to assemble and organise everything that i had learnt in RIMC. I honestly got through SSB by only practicing a few psych tests. And I had made it a routine to read the newspaper every morning.
5. My choice of service:
When Ijoined RIMC, I was very clear that I am made for defence services but my mind was still clouded on which one. This choice was made later in my senior terms. After meeting many officers, I decided on Navy since it made me feel the passion that I needed. Here, I would confess thatI did want to join the airforce as a pilot but I knew my medical issues would not make it possible. So I settled for the Navy as a conclusion.
6. Message for future defence aspirants:
The most common question I face is that how much time should be spent studying? When to study and more importantly what to study? I would like to tell them that every person is different. Every person understands things differently. Some may understand a thing at once while others may take time for the exact same concepts. What they need to realise is that they have to introspect and find out what is good for them. Yes, they can surely take inputs and seek guidance but the decision has to be made by them. And planning is very important along with consistency. There is no shortcut to success. They have to give their all. They need to make plans which suit them and follow it religiously, and then improvise. And SSB is a gradual process. We can't change ourselves in 10 days. It takes time and sincere efforts. We have to take inputs from our teachers, parents and friends. We have to be receptive and work on our grey areas. If we do so, there is nothing that can stop us.
Lastly, all the best to everyone for their upcoming exams.