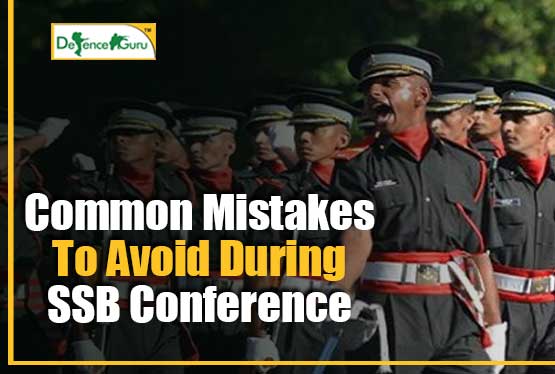 MISTAKES TO AVOID DURING SSB CONFERENCE
Entering Indian Armed Forces without clearing SSB is synonymous to impossible. SSB is the prime channel of proving your talent and suitability for military lifestyle. It's a platform to expose your skills and Officer like qualities.
As known by every Defence aspirant SSB involves a chain of tests with varied focus such as psychology, written, verbal, physical, co- ordination and team spirit. To add a finishing touch to this tedious 5 day session of tests there is a Conference round which marks the end of your SSB interview.
Today's article is all about this final conference round and the mistakes that must be avoided herein. So, Conference round is conducted on the last day of SSB. There is a panel of 12 or more than 12 Officers in the room. The IO, Psychologist and GTO Officer are all present. They question you about your stay and experience.
This is not a test but a general round to have a face to face interaction with the applicant. The aim is to assess the candidate based upon his qualities, attitude, personality and performance in the complete session of SSB. Hence the interaction during the conference is short, direct and simple.
As easy as it may sound there still remains space for faults and after working so hard for 4-5 days in SSB a bad performance at the end moment can sabotage your impression. To guide you through the correct manner of execution in SSB conference I have jotted down the common mistakes that need to be avoided:
-DRESS UP: Have you heard of the saying first impression is the last impression? Well, whether first or last, impression starts with personality and good appearance is its chief element. When you are going for the Conference make sure you dress up smartly and by smartly I don't mean an expensive, wedding kind of dress. No, just get a formal pant, shirt, tie and if possible a blazer. Do shave, comb and look as descent as you can.
-ENTERY: As a part of general etiquettes and manner you must know that a knock on the door before entering is must. Same applies to Conference in SSB. Asking permission to come in, knocking on the door these lay a good impression. Add to that; take care of the 'pull' and 'push' command on the door. Do not sit until permitted by the Officers and most importantly maintain a straight, confident posture. No shaking of legs or bending down your back.
- GREETING: Note it well that when you go into the board room there will be a lot of Officers sitting. You, in no way, are supposed to greet everyone of them. Only the Senior most Officer is to be wished. Wishing him is equivalent to wishing the complete board.
- EYE INTERACTION: Not often but still quite times candidates tend to look directly, or worse, stare at the Ofiicer. Talk confidently but do not look back at them. Also you need to avoid looking at your marks displayed on the side.
- OVER FRIENDLY: There are certain candidates who are repeaters, or from NCC or military background and hence possess more knowledge as well as experience of Defence lifestyle. Such candidates go into a free conversation with the CHM and tend to become over friendly. Such an attitude shows informality and lack of professionalism. Hence avoid such carefree interaction.
- LONG STAY: Another mistake on which hardly any candidate pays attention is time duration. Note that you do not spend too much time inside. Avoid getting involved in deep conversation. Just answer what is questioned, you do not have to narrate your entire experience from day 1 to day 5.
- COMPLAINTS: So what do you say when questioned about your stay during these few days? Say that which makes sense. Complaints like that of laundry service, food or any such small notion marks no importance. Just think about it, you are going to join Indian Armed Forces wherein you will have to adjust in numerous difficult situations and you are complaining about food? Doesn't sound like military men. So ignore complaining until required.
- SUGGESTIONS: The panel of Officers, as a sign of formality, will ask you for suggestions but my dear you need not oblige to whatever they say. It's not a compulsion to give suggestion. You can appreciate the service or say a few good words about your experience. Still if you want to provide a suggestion say something relevant. Just give a thought before uttering the sentence. If it seems to bring a change then do go ahead with it.
Along with the above pointers, keep in mind to thank the President before leaving.
If you could come so far to the finale of SSB, you certainly could get through the Conference. Simply avoid the above mistakes and proceed with an undying confidence!