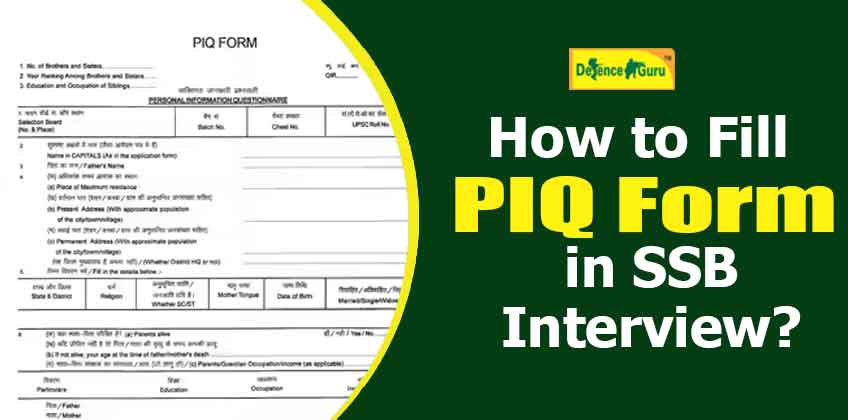 PIQ Form in SSB Interview
The Personal Information Questionnaire, or PIQ, is an essential aspect of the SSB Interview. It facilitates assessors in examining your overall background, including academic performance, school-based extracurricular participation, and entire personal characteristics. The PIQ Form, which contains crucial information about the applicant, is filled out after the documentation at the SSB Interview. Interview questions at the SSB interview are often based on what you submit in your PIQ form. Continue reading to learn how to fill out the PIQ form during the SSB interview.
PIQ stands for Personal Information Questionnaire in the context of the SSB Interview, which is a compilation of basic questions written on a piece of paper that assessors use to effectively evaluate you during the SSB Interview. After gathering some information about you, evaluators read the PIQ to gain a better understanding of your personality.

It helps assessors construct a mental image of your attitude by looking at how you fill out the form and comparing your answers to what you wrote in the TAT, WAT, SRT, and Self Description to determine if they are all true or if you are simply exaggerating your personality.

Since SSB Board members examine an applicant's personality by assessing his/her PIQ, copying and overwriting indicate that the candidate lacks coherence in his thoughts and has a careless attitude. As a result, candidates must carefully fill out the application form, as listing roles and achievements in the correct order demonstrates good organizational abilities.

Candidates should verify there are no contradictions between what they write and what they actually do when filling out the PIQ form. As a result, the simplest thing to do is fill out the form yourself, then ask more questions about it, then evaluate your answers to come up with more countering discussions.
Important Tips to Fill the PIQ Form Accurately
During the interview, candidates must thoroughly fill out the PIQ and be prepared to share their insights and knowledge acquired from engaging in all of the activities mentioned in the form. The first thing to remember when writing is to avoid making any mistakes. Instead of trying to make abstract art out of a mistake, clip it with a single horizontal line. The following are some key points to keep in mind when completing the PIQ form.
1. Coherence and Sequencing
Include all necessary information, such as educational qualifications, duties held, interests, and so on. Candidates should list their accomplishments chronologically and avoid copying and overwriting. Practice filling out the PIQ form before heading to the SSB Interview.
2. Honesty and Reliability
The most essential thing is, to tell the truth, and be honest on your PIQ form so that you may show the same personality in both the psychological test and the personal interview. Candidates must understand all they write in the PIQ and be able to react to any questions that may arise. Find out as much as you can about your birthplace and family history.
3. Be Authenticate and Real
If you don't have excellent achievements in school, you'll need to explain your advancement with interesting hobbies and interests. If you don't already have them, start developing new hobbies and interests. Stay true to yourself, don't mimic others, and examine yourself to establish a clear mental image of yourself so you can react promptly to queries about yourself.
4. Make an Introspection
During the interview, your PIQ score will be used to determine your selection. As a result, you should read what you've written carefully. Your experience is reflected in your PIQ form. Assessors may ask some questions to corroborate your presence and handling of the situation and to assess the authenticity of your experience. Your responsibilities show that you are a capable leader.
Download Now: Sample PIQ form for SSB Interview