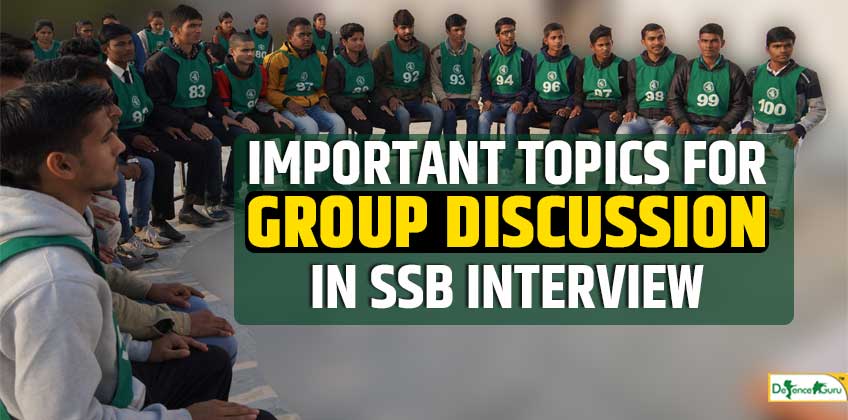 IMPORTANT TOPICS FOR GD (GROUP DISCUSSION)
The group Testing Officer or the GTO during his first his first interaction with candidates begins with two group discussions. In first group discussion GTO will give you two topics based on the OIR level of candidates i.e. the Average OIR of the group. If the average OIR of the group is 1 or 2 then you will get normally both the topics of Higher order, where the group will decide on which topic you want to discuss. If the average OIR is 2 or 3 then the topics given to you are of Average order. Based on your performance i.e. the group performance you will be given the second topic by the GTO. This time the topic is of GTO's choice.
Normally a discussion will last for approximate 20 to 25 minutes. You must have sufficient knowledge or information. Regular reading and watching news will help you a lot in this testing of SSB process.
After giving you a brief wait of the group discussion in this Article for preparation of SSB Interview, I am going to share the most important current affairs & social burning issues or topics from the past (3-6) months. Preparing on these expected current affairs & social group discussion topics will also help you in personal interview as the Interviewing officer may ask you your views on some of these globalissues. Hence it becomes very necessary and important for you to prepare your answers and get your facts.
Ready on these GD topics before going for any interview.
Latest Topics for Group Discussion in SSB:-
1. Impact of Black fungus on Covid-19 recovered patients?
2. Chances of third wave of Covid-19 in Indian and its impact?
3. Vaccination – A failure or success?
4. Should the Government regulate Social Media, OTT Platforms?
5. After the passing of farm laws and protest whether formers Income will be doubled or not?
6. Whether India must demand for UNSC& weather the permanent seat must be given or not?
7. Where should India invest more (a) Human Capital (b) Human development?
8. Do you think India is now fully prepared to combat natural disasters?
9. What's you view on New Education Policy?
10. How can we as individuals contribute to bring down Environmental pollution?
11. What steps must be taken by Indian Government to reach $ 5 trillion economy by 2024?
12. Weather India is ready for cashless economy?
13. What is the status of Jammu & Kashmir after the oabrogation of Art 370?
14. Self Reliance!!! Is practically possible in India?
15. What steps must be taken to eradicate child labour from India?
16. The Issues regarding Right to Privacy between the social networking sites and government can be solved by what steps?
17. Should the government Invest in building stadiums or elevating poverty?
18. Sudden increase in divorce cases. What is the basic reason behind this?
19. Does the concept of division of states work properly in India?
20. What is the basic reason behind the migration of people from villages to cities?
21. What steps must be taken by Indian Government to acquire Permanent seat in UNSC?
22. What is your opinion on Juvenile Justice Act in India?
23. What is your opinion on CAA, NPR and NRC?
24. What steps must be taken to counter Urban Naxilism?
25. How the world economy will deal with Semi conductor war between China and USA?
By,
Yash Tripathi
Senior Faculty
Centurion Defence Academy