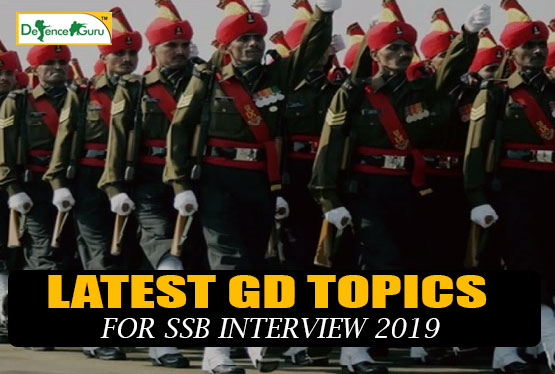 Latest Group Discussion Topics For SSB Interview
THE SECRET VAULT OF GD
Mulling over a long list of current affairs, plunging over headlines and streaming various news apps to jot down the essential topics is the nightmare of every defence aspirants. Life is uncertain and so is the GD round of SSB interview. After a thorough research I endeavor to make your task easy by hogging the most common topics for GD1 of SSB interview.
Group Discussion is the foremost round of SSB interview, although it is split up into two. GD 1 is conducted at the beginning of session while GD 2 follows up next. Scared huh? No worries dear it is not mountain climbing, it's just a speak- your- heart- and- mind task. The aim of 1st GD is to test the knowledge of the student about global activities, national and international news. In simple words it's an elimination round. The topics given are usually current affairs and are of quite high level. There are 2 topics given and the time limit is 10- 15 minutes. The good news is that you get to choose (with other members of course) the topic on which you want to speak. Think before you speak in this round as you need to fledge your answers with correct facts and figures.
Gather your pen and paper get going with the following most crucial topics for GD1:
1. Article 35A:
A: Should be abolished?  B: Should be retained?  C: left as it is?
2. Nullifying of AFSPA:
A: Beneficial for Indian defence?  B: Beneficial for citizens?  C: Beneficial for none.
3. The abundance of MNCs in India:
A: Accelerate economy?  B: Slow the economy?  C: A profession only for rich?
4. India- US relation:
A: Should strengthen links?  B: Should maintain distance?  C: Should stop probing into personal matters?
5. India China competition:
A: Turning into rivalry? B: Healthy competition? C: An unnecessary evil?
6. How to curb the large import of defence equipment in India?
A: Improve existing equipments; B: Produce new equipments;  C: Government should sanction more money for developing equipments
7. Article 370 abrogation:
A: Favorable; B: Unfavorable?;  C: Too early to draw any conclusion.
8. Beti Bachao Beti Padhao:
A: Empowered girls; B: No benefits seen; C: Condition improving
9. Uniform Civil Code: 
A: A matter of conflict; B: Step towards unity; C: Political game?
10. India- Pakistan feud:
A: Should end through war?  B: Must be controlled through dialogue?  C: UN should intervene?
11. Reflect on Syrian crisis:
A: a shame on humanity; B: Political regime; C: A civil war
12. India- Russia relation:
A: Good for Indian development; B: a wastage of Indian money; C: Still needs improvement
13. Demonetization:
A: Positively affected Indian economy; B: Negatively affected Indian economy; C: No visible effect
14. The emergence of Swach Bharat Abhiyan:
A: Has improved cleanliness?  B: A step only for glamour?  C: Both the above.
15. March 12, 2018: the passing of Fugitive Economic Offenders Bill:
A: Advantageous?  B: Disadvantageous?  C: Neutral for the nation?
16. Make- in India:
A: Slowing Indian economy; B: Raised Indian economy; C: No growth noticed
17. The annulment of subsidy regime:
A: Loss for the citizens; B: Loss for the government; C: None of the above
18. Role of India in Climate change summit:
A: Contributing at basic level; B: Contributing highly; C: can't say anything
19. Linking Aadhar:
A: A threat to privacy; B: Aids national security; C: A futile move
20. India and net neutrality:
A: Necessary; B: Unnecessary; C: neutral
21. UAPA bill, 2019:
A: Will curb terrorism; B: will not curb terrorism; C: too early to draw any conclusion
22. Smart city project:
A: Raising India's development graph; B: Burden on economy; C: Can't draw any conclusion
23. How to tackle Indian economic slowdown:
A: Develop human capital; B: focus on basic necessities; C: generate more employment
24. GST:
A: Beneficial for government; B: Beneficial for public; C: None of the above
25. Four year Modi government:
      A: increased employment; B: reduced terrorism; C: Increased education
26. Elections 2019
A: Predictable results; B: unpredictable results; C: neutral opinion
27. Privatization of the Indian economy:
A: Possess good scope; B: Has little scope for India; C: Has no scope
28. Companies Amendment bill:
A: Helpful for business; B: Harmful for business; C: Doesn't affect business
29. The never-ending Kashmir- war crisis:
A: Dialogue is the correct solution; B: War is the solution; C: the situation seems difficult to handle
30. The success story of Mission MARS:
A: Big achievement for India; B: expose relevant information; C: beneficial for future
31. Farmer's income:
A: Highly neglected; B: Measures are being taken to resolve the issue; C: Farmer's suffering doesn't end
32. Union budget 2019-20:
A: introduced better strategies; B: had some loopholes; C: too early ro say anything
33. Disaster management in India:
A: Well planned; B: Unmanageable; C: Improved recently
34. RERA:
A: advantageous for home buyers; B: Burden for homebuyers; C: doesn't affect homebuyers
35. One rank pension scheme:
A: Poses uniformity; B: Reduced perks for Armed Force men; C: discussion still going on
36: Upgradation of Indian armed forces:
A: Highly modernized; B: Little modernized; C: Still improving
Well here is yours to- do list! Just muster up some minutes daily from your busy schedule and prepare strong points for discussion on the above topics and you are all set to impress the GTO. Oh and the moment you enter the interview space remind yourself: confidence is the key to victory!