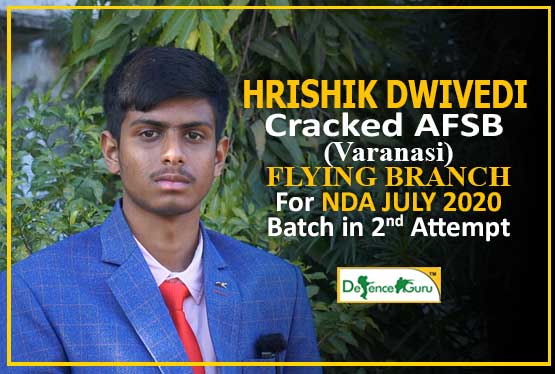 NDA AFSB Success Story - Hrishik Dwivedi
Deep down in my heart I am happy, smiling, satisfied, motivated and at the same time very excited to begin the new chapter of my life. Hello friends, I Hrishik Dwivedi from Lucknow, Uttar Pradesh selected in NDA July, 2020 recommended from 4 AFSB, Varanasi, want to share my journey with you. This new beginning of my life has come up from all the hardwork, sincerity and efforts put in by me for climbing the first step of success in my career. My success is not one day miracle or luck by chance but it has a major contribution of many prominent people in my life like from my parents support and blessings, friends, school teachers and to most importantly Centurion Defence Academy teachers particularly Founder Director Air Veteran Shishir Sir, whose personal guidance, experience, methods of preparation has always encouraged and built my confidence.
To be the third generation joining the Indian Defence Forces in my family has added much more responsibility and pressure to me but at the same time has given a proud, joyous moment to my entire family. Born and brought up in a disciplined air force background is surely reflected in my success journey. A 12yr old boy who dreamt to be a Fighter Pilot of Indian Air force , now at 17yr of age had successfully qualified for NDA-II-2019 written exam and SSB Interview for NDA July 2020 Batch (Flying Branch) in his first attempt, which standa as s a big accomplishment.
If you will track my journey then since 8th standard I was clear what I want to do in my career and how I will do it. I have opted PCM in my intermediate for board exams and prepared with the help of intermediate subjects for my written exams of NDA as an initial step. When your thoughts and passion are clear then nothing can stop your way. I qualified my NDA –II 2019 written exam with my hardwork and initiated my step closer to my dream Job.
Without wasting my time in celebrations I set my target for clearing SSB Interview. After searching through internet, other sources and consulting fellow achievers the only name came for SSB classes was Centurion Defence Academy. Two months classes on and off ground, online and offline lectures, group discussions, interview sessions and Shishir Sir's personal interaction, notes, tips and suggestions has provided a lot of material required in my selection.
SSB Interview started with 6 days series of test. Reporting on time to the selection centre the document verification all started on a positive note in right place as required. Please be careful to take all the documents with you and be very clear with the tattoo policy also. The crucial part of the day was filling your PIQ form this form is your identity throughout your stay at SSB centre. It will go to the Interviewer, GTO and Psychologist everywhere. Pre-planned organization and initial updations always avoid unnecessary hassles during SSB Interview. It all started with no.of students and ended on being selected myself.
On 1st day, after post documentation process the candidates were divided into groups, for Day 1 session is scheduled with Screening test and after clearing Screenimg Test at AFSB the psychology test was scheduled for the same day.. The screening test includes Officer Intelligence Rating (OIR) Test, and the Picture Perception and Discussion Test (PPDT). My test went well for screening where I attempted more than 95% OIR questions in both my verbal and non-verbal test. Boosting up my confidence level I went ahead to face my PP&DTl test on the same day which includes four tests one after another, testing the best and real side of me. The most important tip to deal with the Screening Test as recommended by Shishir Sir was your self-confidence, sharpness, focus, simplicity and logical narration of stories. I made sure that I narrate the real and original story, sticking to the best, original and appropriate content towards my narration however, I never made my character of story do things that I couldn't do or relate to in reality. My performance went well, I was satisfied and then I started waiting for my screening results. When the results were announced, Finally I got my name my Chest No. and Name heard... and Yes! I Had Done It! I was Happy and confidence got a boost.
After Screening Results , Psychological tests started from the Thematic Apperception Test (TAT) following Word Association Test (WAT), Situation Reaction Test (SRTs) and Self Description Test (SD). You can't even imagine to stand in these test without proper grilling, conviction, daringness that will hold your position firm for clearing these psychological test sessions in SSB Interview. The stories I evolved in the test are not rehearsed ones, they are only derived from my experiences of personal life, gathered knowledge and good observation ability also helped me in writing and non-repetitive stories in Thematic Apperception Test (TAT).
In the Word Association Test (WAT), I was concise and to the point to write my sentences at the allotted time as guided by Shishir Sir. Following the Situation Reaction Test (SRTs) for thirty minutes, psychological test completely scanned the candidates overall abilities. The last test is the Self-Description Test and with this final test submission the first day of SSB Interview ended.
On 2nd & 3rd days, Group Test (GTO) was scheduled for which we are divided into groups. GT showcases your group leadership, teamwork, social compatibility and overall interaction capabilities. As the first day of GT started with group discussions, I made sure to score enough points and mark my presence when I felt like. GT includes nine tests on role one after other took two complete days in completing the entire test, started with the Group Planning Exercise (GPE) where in the discussion I made valid points, gave solutions and suggested amendments to help the group in moving ahead. Next task is Progressive Group Task (PGT) followed by Snake Race or the Group Obstacle Race, encourages individuals and groups to bond and help each other as a team. Next task is Half Group Task (HGT) following Lecturette Task, Individual Obstacles, Command Task where as a sub-ordinate I only followed orders and commanded well when my role was switched to a commander. The last task was the Final Group Task (FGT) with this the two days GTO sessions ended on a good result focusing on group-oriented results.
On 4th day, Personal Interview took a thorough analysis of my personality, family, school, teachers, friends, surroundings I live-in, source of information I am use to in my life, strategies and planning for future perspective, all these questions throughout interview round was bombarded on me. I made sure that I knew everything about whatever I had written in my PIQ. Answering patiently, confidently and consciously displayed my state of mind during the interview. My interview lasted for about 45-50 minutes. Tackling interview questions is a skill one can comfortably master through Practice which I had done at the academy.
On 5th day, during conference the result was announced where the selected candidate headed for 6th day, which turned out to be a day of joy and Happiness for me. Getting Recommended was my childhood dream and I had made it come true! I thanked God for his grace he had showered upon me !
On 6th day, being the final day of mine SSB Interview. It had Computerized Pilot Selection System (CPSS) round, based on the Cognitive test and Psycho motor test here the qualified candidates were to join the Flying Branch in Air Force and not qualified candidate can opt other choices in Defence prevailing in Army and others except Air Force. Since childhood my dream was just few hours away from me and I made sure that I have to give my best in CPSS.
The result declared , and Finally Hrishik Dwivedi the name was called out for Flying Branch List.. I got selected in NDA July, 2020 recommended from 4 AFSB, Varanasi. I am absolutely exhilarated there's a lot of competition for this honor and I have one it.
SSB Interview requires a lot of understanding, perseverance, will to win, the desire to succeed, the urge to reach your full potential all these are the keys that will unlock the door of excellence and success for you. Clearing SSB interview is the test of one's personality, overall efforts which yields the result, so just be yourself and let everything naturally happen. It is my first attempt and it took me my first recommendation, I hope my journey will help you to pave your way for success. Good luck and believe yourself eternally!
Congratulations Hrishik Dwivedi ! Another SSB selection of Jan 2020. Sincere Efforts & Perseverance paid him off! He cracks NDA-II 2019 written in his 1st attempt from Tejas Batch, Alambagh branch. Hrishik Dwivedi Cracked AFSB (Varanasi) FLYING BRANCH For NDA JULY 2020 Batch in 2nd Attempt on 31st JAN 2020. Today Father of Hrishik Dwivedi Celebrating Happiness With Shishir Sir. #ProudCenturion #BestNDACoaching

A post shared by Centurion Defence Academy (@centuriondefenceacademy) on Feb 9, 2020 at 9:54pm PST