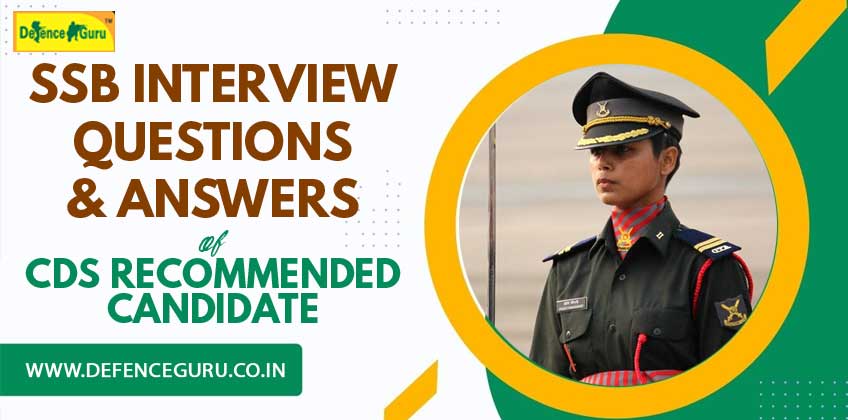 Interview Questions and Answers of CDS Recommended Candidate
SSB Interview is a five days selection procedure and it is considered to be the toughest selection procedure in the world due to uncertainty and low selection rate in SSB. The interview round is considered to be the most vital part of five days interview process. In this round Candidate directly face Interviewing officer who is usually the deputy commandant of the board. This round is a nightmare for some students as they are not fully prepared or don't know the right responses to the questions of Interviewing Officer.
In this article, Aishwarya Chand a CDS-recommended candidate has shared her experience of her SSB Interview and the questions asked during her interview. Candidates can learn from responses of recommended candidate Aishwarya and try to make their own responses of following questions. This will greatly help in their interview preparation.
Interviewing Officer-: Tell me something about your family background.
Aishwarya-: In my family. There are four family members. My father who works as a farmers and grows paddy and wheat. My mother, who is a housewife. My elder sister who is forest range officer. A elder brother who is pursuing MBA and also doing some business. My sister-in-law, who is an event manager at a multinational company.
Interviewing Officer-: Why do you want to join the armed forces?
Aishwarya-: I want to join Indian armed forces because it provides me the best opportunity. And according to principle of Ikigai, Do what you love, DO what you paid for, Do what society need and Do what is good. I want to join armed forces because it gives me the best opportunity at age of 21.
Interviewing Officer-: What inspired you to join armed forces?
Aishwarya-: The thing that inspired me to join Indian armed forces is a book called Ikigai.
Interviewing Officer-:Why is the average age of Japanese people live longer than that of Indians?
Aishwarya-: Sir I have not read the whole book But according to my understanding, Japanese people do not forget to meditate. They always do meditation after work.
Rapid Fire Round CDS SSB Interview Questions and Answers…
Interviewing Officer-:
Tell me something about your friend circle.
Tell me something about your Hobbies and interests.
Why only Air Force.
What about your CDS exam.
How did you prepare for SSB?
How do you manage your time?
Who motivated you to join the armed forces?
Who is your role model?
Tell me something about your best friend.
Tell me something about your favorite book.
Tell me about your strengths.
Tell me something about your weaknesses.
CDS Recommended Candidate Airshwarya Answers-:
I have a group of 12 Friends and we became friends in our college. We are also in the same class which is a B.sc life science class. My all friends are very supportive of me.
About my weaknesses, I don't think I have any weaknesses. But I have areas of improvement. First, I am a little weak in vocabulary. But I know how to use these words in my sentences. Second, I have a little bit weak body and less stamina also. Third, I ignore some minor things during my preparation which become serious for me. Fourth, I chat with my friends a lot and do not give them time to meet that's why I think we are drifting apart.
About my strengths, I am an honest person and my friends share everything. I also try to help them both physically and emotionally. Whenever they break down I try to help them emotionally and during presidential election in our college, I helped them physically. And My Gnenral Knowledge is another strength.
My Insipiration is my sister who is currently working as a forest range officer. She is very dedicated person and since class eight she started tutoring childrenand contributed in income of home. She also prepared for UPSC and cleared forest range officer exam.
I am inspired from freedom fighters like Rani Lakshmibai.
Preparing question and answer for SSB interview is very important, because if you do not prepare for your interview in upcoming SSB in 2023 exam, you will not be able to answer questions properly. To prepare for upcoming SSB in 2023, you can join Centurion Defence Academy's 21 days SSB programme under guidence of Sishir Sir, Chief SSB Mentor at Centurion Defence Academy.