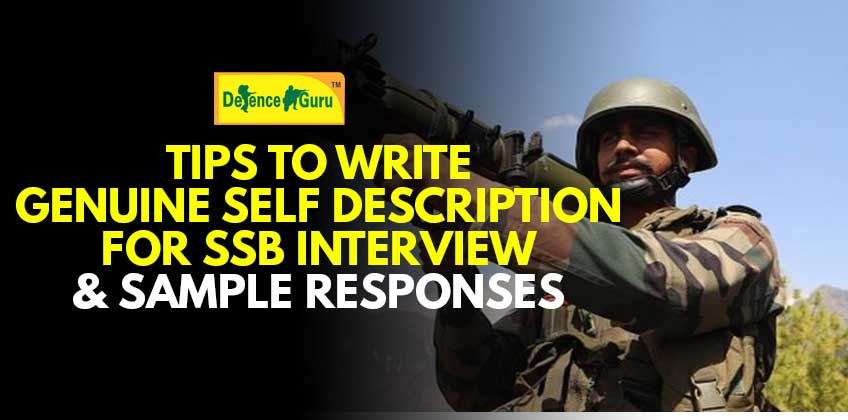 TIPS TO WRITE GENUINE SELF DESCRIPTIONS FOR SSB INTERVIEW
Services Selection Board (SSB) is an organization that assesses the candidates for becoming officers in the Indian Armed Forces. The board evaluates the suitability of the candidate for becoming an officer using a standardized protocol of evaluation system which constitutes personality, intelligence tests, and interviews. The tests are of both types i.e. written and practical task-based. An SSB comprises a panel of assessors, who are officers in the Indian Armed Forces and have their specialization as Psychologist, GTO (Group Task Officer), and Interviewing Officer. At times the psychologist may not be directly from the armed forces as well. In total there are thirteen Service Selection Boards across India, out of which four boards are for the Indian Army, four boards are for Indian Air Force, and five boards for the Indian Navy. SSB is a 5 days evaluation process.
TIPS TO KEEP IN MIND WHILE APPEARING FOR SSB INTERVIEW
While writing the opinion of your parent/guardian, teachers/employers, friends/colleagues, and your personal view be precise and exact with your words. Strictly, write around 5-6 lines to talk about these.
Do not plagiarism. Write about your description by being honest with your interviewer.
Add positive and motivating points about yourself.
Avoid unnecessary usage of adjectives if you are not following them in your deeds.
While talking about areas of improvement do not use frightening words to describe it.
If the interviewer asks about your weaknesses, be ready with some examples from your life.
Lastly, SD is very exclusive to your personality, and hence it should be written in your own words and honestly, keeping the above fundamentals in mind.
SAMPLE SELF DESCRIPTION
Sample 1-
PARENTS- My parents think that I am a good son/daughter who is very obedient. They have always trusted me and have faith that I will do well in every field as I excelled in academics. They see my helping nature towards my siblings and appreciate my concern for them. They feel that I am very thoughtful towards family and help them in hours of need.
TEACHERS- I have always been a good and well-behaved student . Teachers have always appreciated me for the same. They encourage me to do everything in the best manner. Apart from academics, I am good in co-curricular activities games and sports. The only times my teachers would disagree with me was when I would bunk classes for going to camps, sports meet or even canteen.
FRIENDS- My friends think that I am a funny, loving and straightforward person. They appreciate my helping nature in studies as well as personal problems. They feel happy around me. However, some of them say that I am too talkative but they know that it's just because I like to have fun with and they also love it.
SELF- I think that I am confident and honest boy/girl who wants to do things successfully. I am punctual and keen towards my work and do it before time. I believe that mutual cooperation is a way to success and like to help people whenever they seek my help. I am an average student and like to read books and play football.
AIMS IN MY LIFE/ QUALITY I WANT TO IMPROVE- I would like to be a distinguished Indian Army officer as my father was in the army and he inspired me to select army as a career. I would like to improve my physical and mental abilities for which I do yoga and meditation. I am working hard to improve my general knowledge for which I regularly keep myself in touch with the news.
SAMPLE 2
PARENTS- My parents always consider me as a dutiful and gifted child. I should admit that I am the favourite of my father. They have always trusted me and have faith that I will do well in every field as I excelled in academics. My mother always comes to me for help in routine activities.
EMPLOYERS- My employers believe that I am a regular, punctual employee who is well organised and have good time management. They think that I am an immersive and transparent and respectful in dealings. They also say that I complete all my tasks on time and efficiently and set a good example for others to contend in the office.
COLLEAGUES- My colleagues think that I am a practical person who puts forward his/her opinions honestly and straight forwardly. They say that I am cooperative and with mutual understanding complete team works successfully. I have been asked to indulge in unauthorized/illegal /immoral activities which I decline and later on also convince them not to do so.
SELF- I am a candid, responsible and social person. I am confident with my thinking analysis I give good advices to my friends and keep myself motivated. I am self-reliant, well behaved and above all, a person with strong character. I take initiative whenever the situation arises and come out with flying colours.
AIM IN LIFE AND QUALITIES YOU WOULD LIKE TO
IMPROVE- I would like to develop all my existing qualities to the maximum level of perfection, as such I would like to go for positive experiences in my life because experience is the best teacher of a human being. I would like to be patient in my life to get success in life.