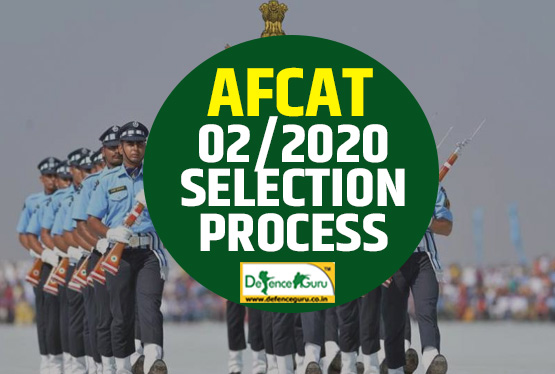 AFCAT 2020 Selection Process
AFCAT 02/2020 exam successfully conducted on 3rd, 4th and 5th October. AFCAT 2020 written exam experienced a huge rush of AFCAT aspirants who arrived on three days all over India in various centers. Know AFCAT 02/2020 exam detailed selection process.
The selection for various posts in the Indian Air Force (IAF) will depend on 4 steps. These steps are:
| | |
| --- | --- |
| Step 1 | AFCAT Written Test |
| Step 2 | Interview Round |
| Step 3 | Medical Examination Round |
| Step 4 | Final Merit List |
Step 1: AFCAT Written Test
AFCAT is a written exam which is conducted by IAF.
AFCAT exam is an online exam.
The exam consists of objective type questions which candidates have to complete within 2 hours.
AFCAT 02/2020 conducted in various cities across the country.
Candidates who cleared the AFCAT Written Exam examination will be selected for the next round.
Step 2: AFSB Interview
AFCAT 02/2020 written exam qualified candidates will move to AFSB Interview.
Air Force Selection Board Selection Procedure
For AFCAT entry, the selection committee AFSB (Air Force Selection Board) will organize an interview for the selected candidates after the AFCAT 02/2020 exam.
Candidates who have qualified the AFCAT 02/2020 examination will be called to the interview centres available at the selected locations of the country.
The available centres for the AFCAT examination include Dehradun (AFSB 1), Mysuru (AFSB 2), Gandhinagar (AFSB 3) and Varanasi (AFSB 4).
Candidates who opt for the Meteorology Branch and NCC Special Entry will be directly invited to any of the available centres for testing.
Other candidates who have applied for the flying branch may choose between Dehradun, Mysore and Varanasi for their interview session.
The AFSB is a 5 Days selection process which is divided into Stage 1 and Stage 2 including Screening Test, Psychology Test, GTO, Interview, Conference round.
Stage 1: Screening Test includes Officer Intelligence Rating Test and Picture Perception and Discussion test
On Day 1 Screening test is conducted, candidates who qualify this stage will be allowed to go to the document verification round.
Stage 2: Psychological Tests including TAT, SRT, WAT, SD
On Day 2 Psychological Tests conducted proceeding to this test GTO, Interview and Conference will be conducted in the next five days.
Documents Required for AFSB 02/2020
Following documents will be required by the candidates at the time of the Interview Session:
10/10+2 Certificate and Mark sheets (Original and 2 photocopies).
Copies of recent passport size color photographs
Original valid Commercial Pilots' License, issued by DGCA, if applicable.
Inbound Railway Ticket/ Bus Tickets. (For refund of Travelling Allowance).
Original NCC Certificate(if applicable)
Copies of recent passport size color photographs
Provisional Graduation Degree/ Post Graduation Degree Certificates and Mark Sheet (Original and 2 photocopies)
NOC from employers from Central/ State Govt. or Public Sector
AFCAT Admit Card (Original and 2 photocopies)
Note: For the candidates who are in the final year/ semester have to attach documents including Aggregate Percentage, Discipline in Graduation/ Post Graduation, Certificate from the College Principal, Declaration of Final Result (in DD/MM/YYYY Format). (Original and 2 photocopies)
Step 3: Medical Examination Round:
AFSB recommended candidates move to medical examination round.
Candidates should be mentally as well as physically fit while going for any selection round in the Indian Air Force.
A medical examination is conducted by the conducting body of AFACT 2020 to examine the physical and medical health of the candidate.
Step 4: Final Merit List
The final merit list will be prepared by the conducting body of AFCAT on the basis of total marks scored by the candidate in the written examination and in the AFSB test.
The final selection will be done on the basis of merit list.
AFCAT 02/2020 examination step 1, has been successfully conducted. Candidates preparing for AFCAT 2020 exam study the selection procedure listed above and prepare well for the next level.
For complete details related to AFCAT 02/2020 AFSB and Medical Visit centuriondefenceacademy.com Contact 9795977776