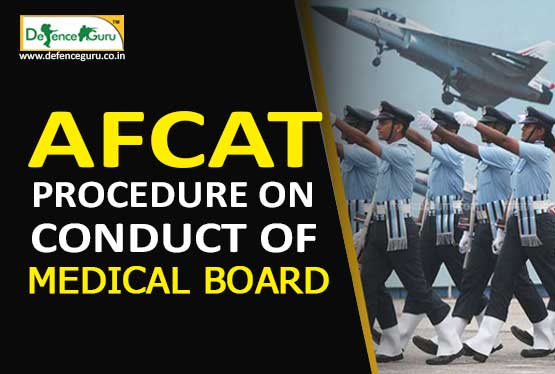 Indian Air Force conducts the AFCAT exam for graduates and post graduates students who are dreaming to serve the country. Candidates who are applying for AFCAT in Flying Branch and Ground Duty Branch it is important to be physically and medically fit on all standards of IAF.
AFCAT medical standards and physical fitness rules for examination are concisely collected in this article for all the future aspirants of AFCAT. Take your mission in life to the next level, examine the complete path you are about to face to avoid any uninterrupted barriers from the way.
The candidates recommended by Service Selection Board (SSB) undergo medical examination by a Board of Service Medical Officers at nearest Service Hospitals. The report of the IAF Medical Authorities is considered as final fitness criteria for final selection in AFCAT entries.
The medical examination procedure for candidates is as follow:-
Special Medical Board (SMB) or Initial Medical - SMB of officer candidates will be held at designated hospitals over duration of five to six days. Candidates will be declared Fit/Temporary Unfit or Permanent Unfit. Candidates declared Temporary Unfit are to report back to the hospital for examination after the specified time. Candidates who still do not qualify will be declared Permanent Unfit.
Appeal Medical Board (AMB) or Temporary Rejection - Candidates who are declared Permanent Unfit by Special Medical Board are eligible for Appeal Medical Board after depositing a sum of Rs. 40/- in the Government Treasury. No fees will be charged from Temporarily Unfit candidates. Unfit candidates get a maximum of 42 days to report for AMB at designated Command Hospital. Candidates declared unfit by Appeal Medical Board within one day are eligible to appeal for Review Medical Board.
Review Medical Board (RMB) - The President of Appeal Medical Board will intimate the candidate, the reason of his/ her unfitness through a leaflet and guide him / her for Review Medical Board.
The best suited person to suggest you on the AFCAT medical procedures is always the one recommended in AFCAT 2020. In conversation with Priyanka Bangari who freshly cracked AFCAT 2020 and get recommended from 4AFSB Varanasi on 21st February, 2020. The must read originals from Priyanka medical experience in AFCAT 2020 help you to clearly examine the medical guidelines in AFCAT.
Priyanka reported on the given date at AFCME (Air Force Central Medical Establishment), Subroto Park, New Delhi. The medical examination started with 3 days medical check-up at the centre.
1st Day is for Dental Testing which includes
Weight, Height, Chest Testing
Initial Eye Check up – Visibility, Concentration of the eyes & Colour Blindness
Initial Ear Check up – Wax
Tongue and Teeth
Note: Candidate has to fill their form and submit their Health history on the first day of the medical examination. If your name comes in final merit list then all the submitted certificates will remain in the IAF till the time you are serving in the IAF.
2nd Day is for Lab Testing which includes
Blood Test
Full body X Ray - Degree of the spine checked
Ultrasound
Urine
ECG
Second stage Eye check up (eyes are diluted and examiner check you have undergone any major surgery or not).
Second stage of Ear check up (what kind of concentration you have when exposed to the minimum decibel sound which normally bats hear).
3rd Day is Surgical and Medicine Testing which includes
BP
Amount of oxygen we can inhale and exhale
Gynecology testing for female candidates
Surgical testing (how your hands & leg working)
The three day medical examination wrap up with the Conference day result. If your name is clear in Initial Medical then you hold your name in final merit list and if your name is not called then you can apply in second phase of AFCAT medical i.e. Appeal Medical Board (AMB) or Temporary Rejection Medical.
The candidates who are under temporary rejection fill 3 forms during Initial Medical and receive call letter thereafter to appear in Appeal Medical Board (AMB) or Temporary Rejection Medical at Base Hospital. In Temporary Rejection only specialized check up is done i.e. only for that factor is examined for which you are stated medically unfit in Initial medical.
The candidates who are not able to clear Temporary Rejection are send to Review Medical Board (RMB) where the President and Army Doctors are present at Research and Referral Hospital (RRH), Delhi. They Review the reports and can overrule the final medical judgment in your favor.
AFCAT Medical Standards:- Branch / Visual Standard / Height and Distance
Flying (Short Service Commission/Male & Women)
Candidates who habitually wear spectacles are not eligible.
Maximum Limits of Refractive Error: Hypermetropia: +3.5 D Sph
Myopia: -3.50 D Sph
Astigmatism: ± 2.50 D Cyl
Corrected visual acuity should be 6/9 in each eye. Wearing of glasses will be compulsory when advised.
Height: 162.5 cm
Leg Length: Min – 99 cm, Max -120 cm
Thigh Length : Max – 64 cm
Sitting Height : Min – 81.5 cm, Max – 96 cm
Weight: Proportionate to the height and age.
Ground Duty (Non- technical)
Maximum Limits of Refractive Error: Hypermetropia: +3.5 D Sph
Myopia: -3.50 D Sph
Astigmatism: ± 2.50 D Cyl
Corrected visual acuity should be 6/6 in the better eye and 6/18 in the worse eye. Wearing of glasses will be compulsory.
Height: The minimum acceptable height for male candidates is 157.5 cm. For women candidate minimum acceptable height is 152 cm. (For Gorkhas and individual belonging to hills of North- Eastern region of India, Garhwali and Kumaon, the minimum acceptable height will be 5 cm less. In case of candidates from Lakshadweep, the minimum acceptable height will be by 2 cm less.
Weight: Proportionate to the height and age.
Criteria for post LASIK surgery for all branches (Flying/Ground Duty (tech)/ Ground Duty (Non-tech) are as follows:-
Candidates who have undergone PRK (Photo Refractive Keratotomy)/LASIK (Laser in Situ Keratotomileusis surgery should not have been carried out before the age of 20 years.
The axial length of the eye should not be more than 25.5 mm as measured by IOL master.
Atleast 12 months should have elapsed post uncomplicated stable PRK/LASIK with no history or evidence of any complication.
The post LASIK corneal thickness as measured by a corneal pachymeter should not less than 450 microns.
Individuals with high refractive errors (>6D) prior to LASIK are to be excluded.
Radial Keratotomy (RK) surgery for correction of refractive errors are not permitted for any Air Force duties.
Candidates having undergone cataract surgery with or without IOL implants will also be declared unfit.
If any of these conditions detected, candidates would be disqualified:
Arthritis / Spondylosis
Granulomatous Disease of spine
Non-articular rheumatism
Rheumatoid arthritis and allied disorders
Ankylosing Spondylitis
Osteoarthrosis, Spondylosis and Degenerative joint disease.
Misc disorders including SLE, Polymyositis and Vasculitis.
Spondylolisthesis / Spondylolysis.
Compression fracture of vertebra
Scheuerman's Disease (Adolescent Kyphosis)
Unilateral / bilateral cervical ribs with demonstrable neurological or circulatory deficit.
Loss of cervical lordosis when associated with clinically restricted movements of cervical spine.
Any other abnormality as so considered by the expert.
The basic requirements of medical fitness are essentially the same for all branches in AFCAT. Candidates are suggested to go through the complete medical standard guidelines before applying for the AFCAT exam, if you fit in the medical standard do not set back and give your best short in final selection of AFCAT exam.
We are expecting that with this article all your doubts have met clarity as well as made you more vigilant, cautious and attentive decision towards your career. Regarding your desired courses if you have any query/doubt/FAQ's or questions related to exam pattern, exam syllabus, paper format, books to refer, official notification news are not clear, how to apply, where to apply, when to start preparation and many more questions will be shortly answered back to you personally or in an article form by the trusted defence team of Centurion Defence Academy.
Feel free to show your interest with us as we are here to nurture your dream, it is our duty that your minor or major questions should never come up as a set-back reason in your dreams.
To get detailed information on Notifications, Syllabus, Tips and Tricks, Admit Card Dates, Result, Cut off, Trend Analysis, Information about Physical Fitness Test and Medical Examination and Current Affairs, simple Follow us on You tube, Instagram, Twitter, Facebook. Visit our official website www.centruiondefenceacademy.com. Read articles related to defence and defence examination at defenceguru.co.in.