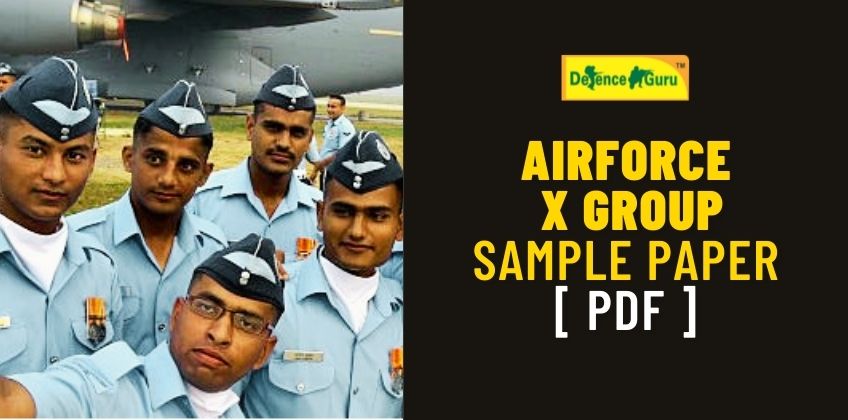 The assistance by study material and study pattern you follow for the Indian Air Force Exam as Airmen in Group X Trade the more vigilant and assertive you will become to face the final examination.
Unmarried male candidates preparing for AF Group X 2021 Exam could be benefitted in a greater extent with this sample paper designed specifically after tracking all the required details of AF Group X 2021 course. Questions in sample paper is based on the latest examination pattern followed by thorough analysis of the previous year exam pattern and questions.
Stay updated with updated Mock test and Sample Papers prepared under the trusted and reliable source.On attempting the same level of paper pattern you will be able to target the area you should work for attaining maximum marks and how you can work on your weaker sections for the upcoming exam can be determined well under the Sample paper result.
Appearing candidates can view Air Force Group X 2021 Exam Pattern before going to the exam with this article.
Eligible applicants need to appear in the Online Written Test (CBT- objective-type).
The test is of 60 Minutes (1 Hour)
Maximum Question- 70 (MCQs) Maximum Marks- 70
Medium of examination Hindi and English both
Sections in the exam: Three

Mathematics - 25 questions
English. - 20 questions
Physics . - 25 questions

Each question carry 1 Marks for Correct Answer and .25 Marks for Incorrect Answer.
Air Force Group X 2021 divided into 3 subjects i.e.
Mathematics
Physics
English
Note: Questions are based according to 10+2 syllabus
The Air Force Group X 2021 sample papers PDF is given below access the PDF and start practicing paper i.e. based on the exact paper pattern for the upcoming Air Force Group X 2021 exam. Solving sample papers is of great use for you as well their solutions might keep you growing, which would be beneficial for your growth.
Access the Air Force Group X Sample papers PDF, shared below:-
Sample Question Paper of Airforce x Group