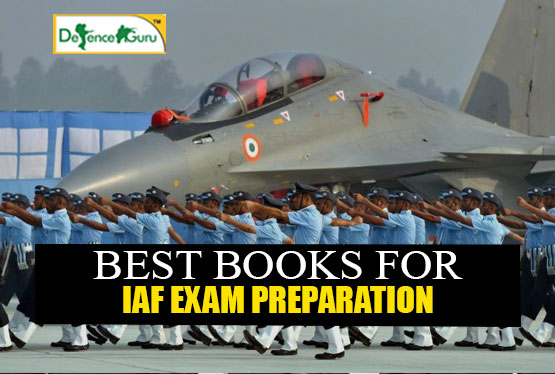 Books For Indian Air Force Entrance Exam
'Touch the sky with glory' has been the motto of Indian Air Force since its inception. There is a lot hidden behind these simple words: the motto is not only to reach great heights but to safeguard Indian security through aerial route.
It is highly renowned all over the world as an esteemed Air Force and recent addition of aircrafts; activities have added further glory to it.
No doubt I.A.F is the career choice of so many young citizens. To enter this branch of Indian Armed Forces you can either take AFCAT exam or Airmen X and Y group exam.
AFCAT is conducted twice a year, in the months of February and August. The paper is of 2 hours with 100 marks and its pattern is objective in nature. There is an inclusion of negative mark and the questions come from the following subjects: verbal ability (English), general awareness, numerical ability, and reasoning+ military aptitude.
Another mode to enter I.A.F is through Airmen X and Y group exam although it is not for Officers but only for Airman positions. The test is objective in kind, scheduled for 45 minutes. The subjects included here are English, reasoning and General Awareness.
Those who aspire to give a positive output need to be fed with best input. The input required for AFCAT comes in form of best study material. When we talk of best there is only one name that pops up in mind: Centurion Defence Academy. Speaking genuinely the results show how Centurion publication of study material is number one for I.A.F exam preparation.
For those of you who are unfamiliar, Centurion Defence Academy is a reputed academy that prepares Indian youth for Indian Armed Force. It is located in Lucknow, U.P. With highest selection rate, Centurion is endowed with numerous facilities such as: intense SSB training; expert faculty; personal GTO ground; personalized books; library; online mock tests; hostel & food.
As the count of students in Centurion Academy increased in recent years, incorporating a versatile crowd from different corners of India, Centurion opened up another branch and is on the path of continuous expansion.
In the backdrop of AFCAT exam preparation let me directly jump to the Centurion research & publication which renders the best study material for succeeding AFCAT. Our publication team incorporates skilled teachers from all arenas of subjects with wide range of knowledge. The reasons why our publication is exceptional are:
Unlike other market books, our study material is drafted after a deep research of the concerned subject through various sources
It covers the recent syllabus
The content is as per current status of questions and most probable questions to come next year
There is also inclusion of last year papers
Considering the 2 modes of exam to enter I.A.F as described above here is a brief of the Centurion book publication of the subjects included in those exams:
ENGLISH- Be it of elementary level or high level, command over English is essential for any competitive exam. Centurion English book has complete coverage of the recent syllabus from antonyms- synonyms to phrases and error detection as well as practice questions. Once you start reading it you will not feel to disengage yourself from the book.
MATHEMATICS- The subject may be scary but not Centurion book. Making it easy for the students the book incorporates short tricks, simple formulas, concept clarification and multitude of sample numerical. Last year questions are also listed in the book hence it's simply all in one!
GENERAL AWARENESS: General awareness demands a habitual reading of newspaper but certain facts could be found only in books. Centurion book of G.K includes achievements, recent national- international activities, and historical facts especially in consideration to India.
Since AFCAT includes a portion of military aptitude hence Centurion book has laid special focus on Defence issues.
REASONING- Reasoning tests your common sense and a very basic level of intelligence. Venn diagram, simplification or relationship exercises Centurion book of reasoning has left nothing untouched. It is especially designed as per the current pattern of questions.
So comprehensive are Centurion Academy books! You surely will not find it anywhere else. To avail benefits from our publication download the books or buy it online. Just log in to www.defenceguru.co.in.