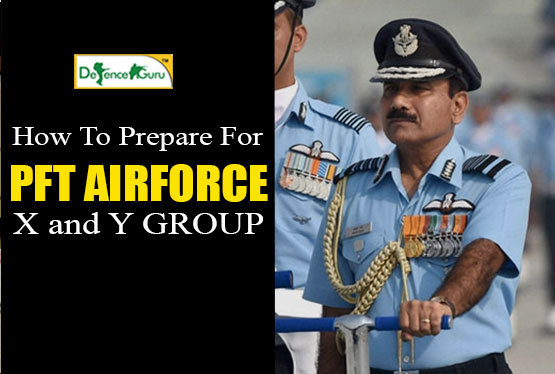 Blue sky, helmet on head, hand on aircraft and passion soaring high… doesn't that sound thrilling?
Indian Air Force is that castle where you can get all of the above along with various added benefits packed together. From pilots to technical, non- technical and ground staff this branch of Indian Armed Forces offers a complete stage for employment.
A high degree as Engineering or even graduation is not must. With a reasonable percentile in 10+2 level of education you can join Indian Air Force under the category of X and Y group, that is, technical and non- technical.
Going deep into the third part of the entrance procedure of X and Y candidates, today's article brings into spotlight the PFT test. But before moving further let me introduce you generally with the procedure of Indian Air Force X and Y entrance:
Foremost, a written exam is conducted in online mode. For X group the exam is scheduled for 60 minutes with 70 questions. The pattern is objective and the subjects involved are: English, Physics and Mathematics.
For Y group the exam is of 45 minutes with 50 MCQs. The subjects herein are: English, Reasoning and General Awareness.
Following the written test is Physical Fitness Test (PFT), Adaptability test (AT) 1 and 2 and lastly an interview.
Our focus today is on the 2nd round, that is, PFT. As implied by the name this session assesses the medical fitness and the health attributes of the candidate. It incorporates certain rounds such as:
1.6 Km run in 6 minutes 30 seconds,
20 squat ups
10 sit ups
10 Push-ups.
There are no marks assigned for PFT as it is a direct qualifying exam. You qualify the rounds or leave the ground.
For successfully passing through PFT get accustomed to the following habits:
To speed up your running capacity start running from today. It might seem hard in the starting but hard beginnings bring the best results. Set your target as 4km to 5 km daily and after few days increase the distance. Continue this and you will not only achieve a good target but also maintain your fitness, leading you to live a healthy life in general terms.
Note: try to take long steps and do not stop in between so as to uplift your stamina.
Another tip is to start taking 3 to 4 sprints daily of 400 m. Check your time after a while and work further accordingly.
Push- ups and sit- ups are the daily routine of thousand people these days. It is not for competitive exam but for a healthy lifestyle that the youth has switched to these exercises. So you too make it a part of your daily life. Keep a stopwatch. Stay up for 5 seconds the down for 10 seconds.
Squats… need not say anything about them, they are easy to handle.
Apart from the above keep a track of your progress. After every few days increase your limits and mark your previous performance.
Not to forget don't play with your diet. Eat healthy and nutritious not just for PFT but for lifetime.
Lastly, stay happy because a healthy mind resides in a healthy body and health and happiness run parallel. Hope you benefit from these small points- to- note. All the best!