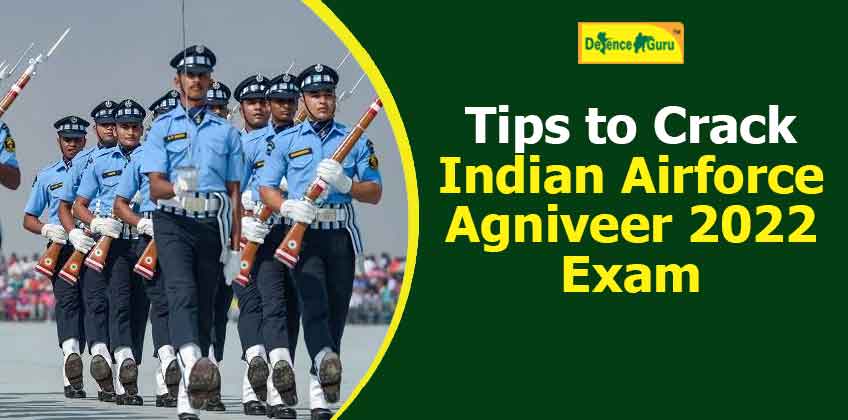 As per the official notification released by the Indian Air Force, online exam for Agniveer Vayu intake will start from 24th July 2022 onwards. If you are looking for preparation tips for Agniveer Vayu exam 2022, then this article is for you. Here, we will share important tips to help you crack the Agniveer Vayu Exam 2022 and realize your dream of joining the Indian Air Force. Read on to know more.
Key Tips to Crack Agniveer Vayu Exam 2022
Understanding the entire curriculum should be the main priority in strategic preparation, followed by creating exam-specific strategies and consistent practice including mock tests and sample papers. Below are the key tips to excel in the Air Force Agniveer Vayu Exam 2022.
Understanding the Complete Syllabus
Candidates should understand the Air Force Agniveer Vayu Syllabus as their beginning phase. They can choose the sections to focus on more and which topics to revise extensively if they have a clear understanding of the entire syllabus.

This approach will help candidates in placing stronger emphasis on the areas requiring consideration. They can put together their syllabus more skillfully and use their time more effectively to improve exam preparation.
Formulating Strategy as per Exam Pattern
After completely understanding the entire syllabus, you should concentrate on analyzing the exam pattern to determine which section contains the highest weight in terms of scores.

You can determine your priorities for revision work, preparation work, and deeper understanding by doing a thorough assessment of the exam pattern.

After understanding the exam pattern, concentrate more on practicing Agniveer Vayu mock tests and sample papers so that you can gauge your performance before the exam.
Practicing Mock Tests and Sample Papers
By attempting Agniveer model papers, you can develop a plan based on your understanding of fundamental aspects. By taking the Agniveer Vayu sample tests, you will be able to gauge your degree of preparation and the exam's difficulty level. Moreover, going through Agniveer sample tests will aid in the development of a detailed exam plan and provide a realistic representation of the exam itself.
Importance of Practicing Agniveer Sample Papers 2022
Attempting Agniveer model papers will enable candidates to formulate a strategy based on their comprehension of fundamental concepts.

Candidates will be able to evaluate their level of preparation and the difficulty level of exam after practicing the Agniveer Vayu sample papers.

Candidates must be able to pinpoint the crucial areas where they need to improve after thoroughly practicing the IAF Agniveer model papers.

Practicing Agniveer sample papers will help you create a thorough exam strategy and give you a realistic sense of the actual exam.
We hope this article on 'Tips to Crack Indian Airforce Agniveer 2022 Exam' will help you explore different avenues of the Air Force Agniveer Exam and Perform Well. Explore our website to read more such articles on defence exam preparation.