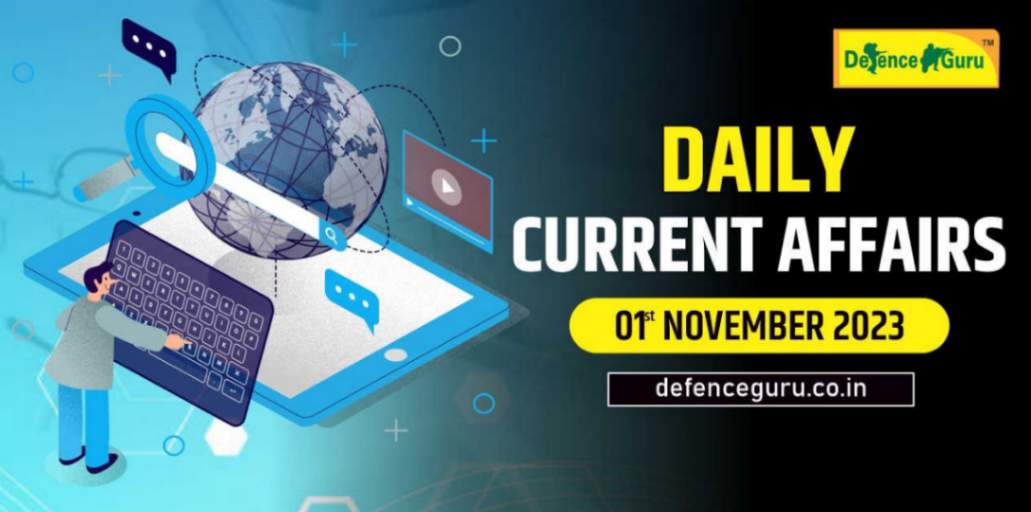 In an ever-evolving world, staying updated with the latest news and events is of paramount importance. Today, we bring you the Daily GK Update for the 01st of November 2023, providing a comprehensive overview of the most significant current affairs from around the globe.
Staying updated with the 01st November Current Affairs 2023 is essential for students who are preparing for NDA, CDS, AFCAT, MNS & Other Defence exams, as it forms an important part of the syllabus.
Sardar Patel Memorial Lecture: Former President Ram Nath Kovind Speech
Akashvani will broadcast its annual edition of the Sardar Patel Memorial Lecture.
Former President Ram Nath Kovind will deliver this year's address.
The lecture will be broadcast on the occasion of Sardar Patel's birth anniversary.
The birth anniversary of Sardar Patel is also known as the National Unity Day.
Smart City Mission presents Mahila Market in Belagavi in Karnataka.
Smart City Mission has presented a unique, initiative of women empowerment in Belagavi in Karnataka.
It has developed a Mahila Market in the heart of the city which has now become a must visit spot for Belagavi people to enjoy street food, local cuisines and handmade goods.
It is a place where women have created a 58 crore rupees economy.

BCCI mourns demise of Sri Lanka superfan Percy Abeysekera

The Board of Control for Cricket in India (BCCI) released an official statement on Monday saying that it deeply mourns the demise of Sri Lanka superfan Percy Abeysekera, fondly known as Uncle Percy and said that his presence will be dearly missed.
Sri Lankan cricket superfan Percy Abeysekera, also known as Uncle Percy among the cricketing fraternity, has passed away at the age of 87.
Lionel Messi clinches record-extending eighth Ballon d'Or award

36-year-old clinched his eighth Ballon d'Or award, at the Theatre du Chatelet in Paris.
Messi dedicated the trophy to late Argentina legend Diego Maradona.
Messi is 36 and won his first Ballon d'Or in 2009.
With eight, he is now three ahead of his old rival Cristiano Ronaldo, the next most decorated player in the award's history.
Aitana Bonmati clinches women's award.

Shooter Shriyanka Sadangi finishes 4th in Asian Shooting C'ship

After securing her 4th place, she has guaranteed her participation in Olympic quota for India.
The ongoing Asian Shooting Championship is being held in Changwon, South Korea.
Shriyanka shot 440.5, to bow out after the 43rd shot of the 45-shot final, equally distributed between the kneeling, prone and standing positions.
ICG Chief Rakesh Pal participates in 3rd Coast Guard Global Summit
The event took place in Japan.
During the inaugural summit, the Director General interacted with the Prime Minister of Japan.
The aim of the summit is to enhance the collaboration among Coast Guards worldwide in coping with issues of maritime law, safety & security of life at sea, marine environment protection, illicit drug trafficking, weapons, & maritime crimes occurring across borders.

Kozhikode Named India's First 'City of Literature' by UNESCO
On World Cities Day celebrated on 31 October, Kozhikode, a city located in Kerala, has been titled as the City of Literature, the first city in India to hold this distinction.
Kozhikode, a city located in the southern Indian state of Kerala, has made its mark on the global stage by being named one of the latest entrants

Indian Air Force Phases Out Mig-21 Bison Squadron based at Uttarlai
The Indian Air Force bid farewell to a squadron of Mig-21 Bison fighters in a ceremony at Uttarlai Air Force Station, reducing active squadrons to two.
In a significant milestone, the Indian Air Force (IAF) conducted a ceremony at the Uttarlai Air Force Station in Rajasthan's Barmer, marking the phase-out of another squadron of the iconic Mig-21 Bison fighter aircraft.
Stay informed on the latest International, National, Sports, Economy, schemes, appointments, and current affairs updates with the comprehensive coverage provided by Defence Guru Current Affairs. Our platform is your reliable source for daily updates and insights into the dynamic world of current affairs. Keep yourself up to date with us!

Read Also:
31st October 2023 Current Affairs
30th October 2023 Current Affairs