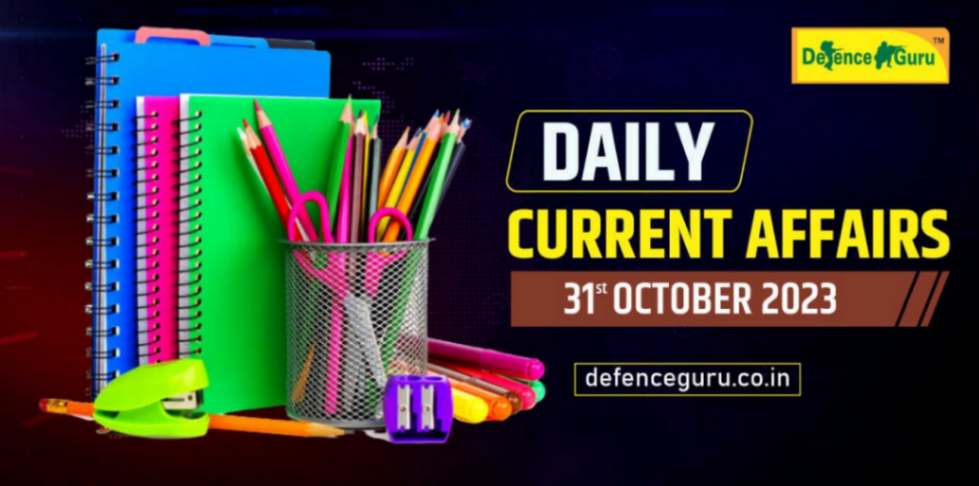 In an ever-evolving world, staying updated with the latest news and events is of paramount importance. Today, we bring you the Daily GK Update for the 31st of October 2023, providing a comprehensive overview of the most significant current affairs from around the globe.
Staying updated with the 31 October Current Affairs 2023 is essential for students who are preparing for NDA, CDS, AFCAT, MNS & Other Defence exams, as it forms an important part of the syllabus.
Sardar Patel Memorial Lecture: Former President Ram Nath Kovind Speech
Akashvani will broadcast its annual edition of the Sardar Patel Memorial Lecture.
Former President Ram Nath Kovind will deliver this year's address.
The lecture will be broadcast on the occasion of Sardar Patel's birth anniversary.
The birth anniversary of Sardar Patel is also known as the National Unity Day.
Lionel Messi clinches record-extending eighth Ballon d'Or award
36-year-old clinched his eighth Ballon d'Or award, at the Theatre du Chatelet in Paris.
Messi dedicated the trophy to late Argentina legend Diego Maradona.
Messi is 36 and won his first Ballon d'Or in 2009.
With eight, he is now three ahead of his old rival Cristiano Ronaldo, the next most decorated player in the award's history.
Aitana Bonmati clinches women's award.

Ministry of Tourism participates in International Travel Exhibitions.
International Travel Exhibitions Asia is being held in Singapore from 25 - 27 October 2023.
The aim is to showcase varied tourism products and series of transformative experiences for travellers to India under the theme 'Incredible India! Visit India Year 2023'.
Government of India along with various stakeholders including state tourism departments participated in the above event.

Central Vigilance Commission observes Vigilance Awareness Week.

Vigilance Awareness Week 2023 is observed from 30th October till 5th November of every year.
It is observed as an outreach measure to create greater awareness about the importance of integrity and ethics in public life.
The theme for this year is, "Say no to corruption; Commit to the Nation."
It commenced with integrity pledge by Central Vigilance Commissioner Praveen Kumar Srivastava.

Indo-Kazakhstan joint military exercise to commence on Oct 30

A combined contingent from the Indian Army and Indian Air Force, consisting of 120 personnel, has set off for Kazakhstan to participate in the 7th edition of the Joint Military Exercise KAZIND-2023
This year's exercise will take place in Otar, Kazakhstan, spanning from Oct 30 to Nov 11
The Indian Army's contingent is comprised of 90 personnel, led by a battalion from the DOGRA Regiment.

Ordnance Factory Medak to launch Carrier Command Post Tracked Vehicle

The Carrier Command Post Tracked Vehicle is designed by the Combat Vehicles Research and Development Establishment, DRDO for accomplishing all technical fire control functions to effectively deploy Self Propelled Artillery guns.
It is the first Artillery Combat Command and Control System which can accomplish fire control functions of Artillery guns, both towed and self-propelled versions.

G7 to agree AI code of conduct for companies
The Group of Seven industrial countries agreed on a code of conduct for companies developing advanced artificial intelligence systems
As governments seek to mitigate the risks and potential misuse of the technology
The voluntary code of conduct will set a landmark for how major countries govern AI, amid privacy concerns and security risks
State Bank of India signs MS Dhoni as brand ambassador
Dinesh Khara, Chairman of SBI gave a very warm welcome to MS Dhoni as Brand Ambassador of SBI.
As the brand ambassador of SBI, MS Dhoni will play a pivotal role in various marketing and promotional campaigns.
His remarkable capacity to maintain composure in stressful situations and his renowned ability for clear thinking and rapid decision-making under duress made him worthy of the post.
NTCA conducted exhibition "Silent Conversation:From Margins to Center"
National Tiger Conservation Authority is organising an art exhibition "Silent Conversation: From Margins to the Centre" , 3rd- 5th November 2023 in New Delhi.
NTCA under Ministry for Environment, Forest & Climate Change in collaboration with the Sankala Foundation is conducting it.
This art exhibition is paying a tribute to the successful completion of 50 years of Project Tiger.
16th Urban Mobility India (UMI) Conference & Exhibition 2023 concludes
Secretary MoHUA highlights importance of smart cards as a convenient and efficient means of payment for commuters
Awards for "Excellence/ best practice projects in Urban Transport" distributed in the conference
Srinagar Smart City Limited receives award for Best Public Transport System
Jabalpur City Transport Services Limited awarded for its Innovative Financing Mechanism
Stay informed on the latest International, National, Sports, Economy, schemes, appointments, and current affairs updates with the comprehensive coverage provided by Defence Guru Current Affairs. Our platform is your reliable source for daily updates and insights into the dynamic world of current affairs. Keep yourself up to date with us!