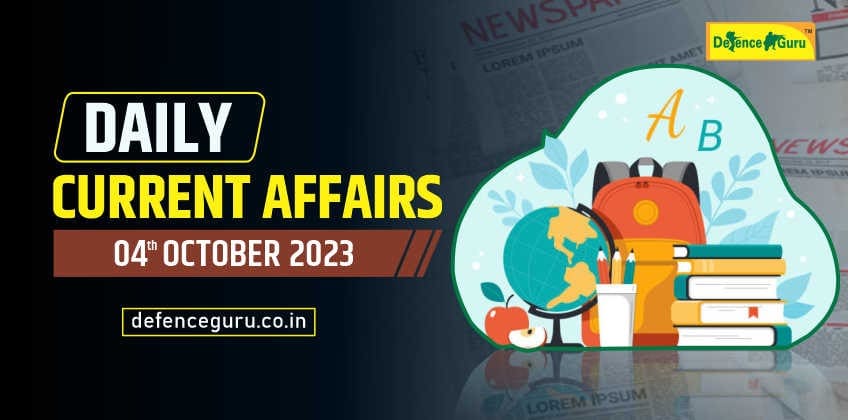 Defence Guru is a dedicated platform for daily current affairs updates to defence aspirants and candidates preparing for other competitive exams. Here you can get today's latest current affairs. We have covered all the latest current affairs including daily defence current affairs, national current affairs, international current affairs, latest current affairs on economy, sports current affairs, awards and honors, books, appointments, etc. You can follow us for regular current affairs updates. Our current affairs section is very useful for candidates preparing for NDA, CDS, AFCAT, MNS and other competitive exams. Thus, it becomes very important for competitive exam aspirants to cover daily current affairs updates on a regular basis. The Defence Guru current affairs update is accurate, reliable, and useful for every defence exam as well as other competitive exams in India.
Here are the latest current affairs of 04th October, 2023.
Events

Details

Latest Sports Current Affairs

Asian Games 2022: Jyothi-Ojas pair wins compound mixed team gold

The duo of Ojas Pravin Deotale and Jyothi Surekha Vennam beat South Korea in the archery mixed team compound to secure a first-place finish and give India its 16th gold medal at the Asian Games 2022 in Hangzhou.
Ojas-Jyothi's gold was India's 71st medal at the 2023 Hangzhou Games, which helped India surpass its 2018 Asian Games medal haul.

Irani Cup 2023-24: Rest of India hammers Saurashtra for title

Rest of India beat Saurashtra by 175 runs to win the Irani Cup as 21 wickets fell on the third day at the Saurashtra Cricket Association (SCA) stadium in Rajkot.
Parth Bhut's seven-wicket spell in the second session hit the Rest of India (RoI) like a zooming bus as he ended up with figures of seven for 53.

Asian Games: Annu Rani wins gold in women's javelin throw

India's Annu Rani won the gold medal in the women's javelin throw with a 69.92m throw at the Asian Games 2023.
She became the first Indian woman to win a javelin gold in Asian Games history.
Rani's first-place finish secured India its 15th gold.

Asian Games 2022, Canoe: Arjun Singh and Sunil Singh Salam win bronze

India won the bronze medal in the men's canoe double 1000m event at the Asian Games.
The India duo of Arjun Singh and Sunil Singh finished third with a timing of 3:53.329.
This was India's second Asian Games medal in canoeing, following a bronze medal by Johnny Rommel and Siji Kumar Sadanandan in the same event in Hiroshima in 1994.
Uzbekistan and Kazakhstan won gold and silver.

ICC names Sachin Tendulkar as 'Global Ambassador' for ODI World Cup

The ICC named legendary Sachin Tendulkar as the 'Global Ambassador' for the men's Cricket World Cup 2023.
Tendulkar, who has an enviable record of featuring in six 50 over World Cups in his decorated career, will walk out with the World Cup trophy before the opening match between England and New Zealand.
From being a ball boy in 1987 to winning the World Cup in 2011.

National News

Centre extends Amit Agrawal's tenure as CEO of UIDAI for one year

The central government has extended the tenure of senior IAS officer Amit Agrawal as CEO of the Unique Identification Authority of India (UIDAI) for one year.
Agrawal, a 1993-batch Indian Administrative Service (IAS) officer of the Chhattisgarh cadre, has been given in extension of his service as the CEO of UIDIA for a period of one year beyond November 2, 2023, to November 2, 2024.

22nd Law Commission submits report

The 22nd Law Commission of India submitted a report which suggest amending Section 154 of the Code of Criminal Procedure, 1973 (CrPC) to allow for online registration of FIRs (First Information Reports).
The Law Commission recommends enabling the registration of e-FIRs in a phased manner, starting with offenses carrying a maximum punishment of up to three years of imprisonment.

Govt to select 10 schools to demonstrate NEP implementation in U.P.

The state government has decided to launch a project to develop 10 schools as 'Demo Schools', which will be used to 'demonstrate' the implementation of the new education policy (NEP-2020) in the state to delegates and visitors from other states of the country and abroad.
These schools, most of which will be in the key areas of the state capital and some in the neighbouring Barabanki.

Bridge collapsed, roads washed away as flash floods hit Sikkim

Parts of National Highway 10 which connects Bengal to Sikkim were washed away completely after flash floods hit Sikkim on Tuesday night.

International

NASA'S CALIPSO mission ended

NASA has announced the conclusion of its CALIPSO (Cloud-Aerosol Lidar and Infrared Pathfinder Satellite Observation) mission, which analysed climate, weather, and air quality for 17 years.
CALIPSO, launched jointly by NASA and France's CNES, used LIDAR (Light Detection and Ranging) technology to record over 10 billion measurements and generate thousands of scientific reports.
Read Also:
03rd October 2023 GK Updates