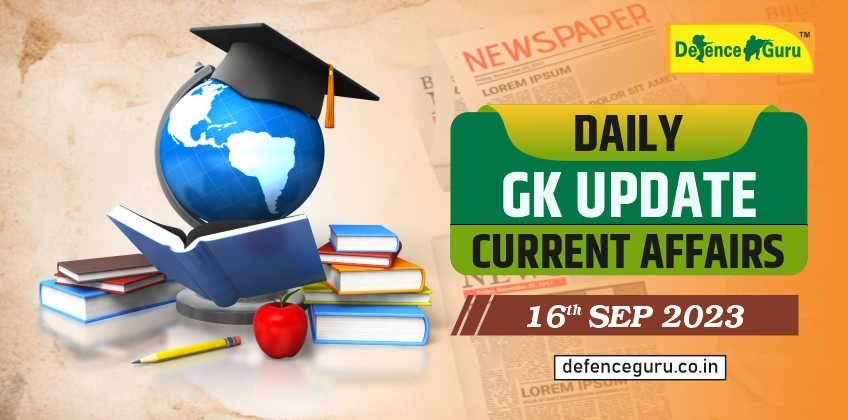 Defence Guru is a dedicated platform to provide Daily Current Affairs Updates to Defence Aspirants. Our Daily Current Affairs Update covers National Affairs, International Affairs, Economy, Sports, Awards and Honours, Books, Appointments, etc. You can follow us for regular current affairs updates. Current Affairs cover almost 15-20% of NDA, CDS, AFCAT, and MNS Exam syllabus. That's why It becomes very important for Defence Aspirants to cover Daily Current Affairs Updates. Our Current Affairs Update is accurate, reliable, and useful for every defence exams and other exams in India.
Current Affairs

National Affairs

Air India has launched 'Project Abhinandan'for Enhancing Passenger Experience

Air India, one of India's prominent airlines, has introduced 'Project Abhinandan,' a new initiative aimed at providing passengers with a personalized and hassle-free experience.

Tamil Nadu has started giving 1,000 monthly grants to Women.

Chief minister M K Stalin started the government's flagship welfare scheme to provide financial assistance of ₹1,000 every month to women. The government received 10.63 million applications and has identified 10.06 million women as beneficiaries.

Indian Government has approved the purchase of 12 Sukhoi-30 Mki Fighter Jets.

To further enhance capabilities and fulfill the operational requirements of the Indian Air Force, the Government has approved the purchase of 12 12 Sukhoi-30 Mki Fighter Jets and Dhruvastra which is an Air to Surface Missile.

Economy

India Emerges as Bangladesh's Leading Export Partner.

India has become Bangladesh's foremost export partner, surpassing Japan and China. The Agartala-Akhaura rail link project is nearing completion, promising to enhance connectivity.

Appointment

Former SBI Chief Rajnish Kumar was appointed Chairman of Mastercard India.

Mastercard, the global financial services corporation, has made a significant appointment in its Indian operations by naming Rajnish Kumar as the Chairman of Mastercard India.

IRS Officer Rahul Navin has been appointed as Acting Head of ED.

Indian Revenue Service Officer Rahul Navin has been appointed as Acting of Enforcement Directorate.
He will replace current ED chief Sanjay Kumar Mishra.

Read Also:
15th September 2023 Current Affairs
14th September 2023 Current Affairs