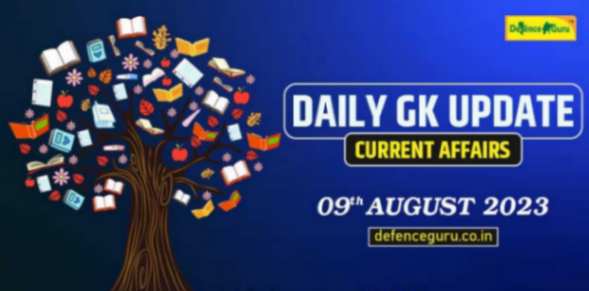 Welcome to Defence Guru, your dedicated platform providing essential daily updates on Current Affairs tailored for Defense Aspirants. Our inclusive Daily Update encompasses a wide spectrum of topics, including National and International Affairs, Economy, Sports, Awards and Honors, Books, Appointments, and more. Acknowledging that Current Affairs contribute significantly, about 15-20%, to the defense exam syllabus, Defence Guru ensures the delivery of accurate and reliable information crucial for aspirants preparing not only for defence exams but also for various competitive examinations across India. Stay informed, stay updated, and stay ahead with our dependable updates. Keep Reading Defence Guru Current Affair for Higher Score in Current Affairs .
Current Affairs

National Affairs

The Union Cabinet has approved funds for the BhartNet Programme.

The Union Cabinet has approved 1.39 Lakh Crore Rupees for BharatNet Project.
BharatNet Project aims at promoting broadband connectivity.

Chhattisgarh CM transfers Rs 15 crore as part of Godhan Nyay Yojana.

Chief Minister Bhupesh Baghel transfers Rs 15 crore in online mode to support beneficiaries as part of Godhan Nyay Yojana.
As part of the flagship it was started to support cattle rearers, women's self-help groups (SHGs), and 'gauthan' committees.

The Central Government launches Bhartiya Vastra Evam Shilp Kala.

Prime Minister Narendra Modi has launched the e-portal Bhartiya Vastra Evam Shilp Kala on National Handloom Day.
This portal has been developed by NIFT (National Institute for Fashion Technology).

International News

Cambodian King appoints Hun Sen's son as new Prime Minister.

Cambodia's King appointed Hun Sen's son the country's new leader, beginning a handover of power that ends nearly four decades of rule.

New COVID variant Eris is spreading rapidly in the UK.

The United Kingdom has witnessed the spread of new COVID variant Eris or EG.5.1 at a faster rate across the country and become a significant contributor to COVID-19 cases in the UK.

Iraq becomes the 18th country recognized by WHO for eliminating Trachoma.

Iraq has been officially recognized by the World Health Organization (WHO) as the 18th country to successfully eliminate trachoma as a public health concern.

Economy

India is the 18th largest exporter in the world, According to the WTO Report.

According to the World Trade Organisation's World Trade Statistics Review has placed India on the 18th spot.
India is the 9th largest merchandise exporter.

Important Days

World Lion Day 2023- 10th August

World Lion Day is observed on August 10 each year. The day is observed annually on a global scale to raise awareness about their conservation and protection.

Sports

Indian wrestlers win 11 medals at World u­17 championships.

India ended their 2023 World Cadet Wrestling Championships, meant for under-17 grapplers, with a total of 11 medals, including a gold, at Istanbul, Turkey.
Read Also -
Daily GK Update - 8th August 2023 Current Affairs
Daily GK Update - 7th August 2023 Current Affairs