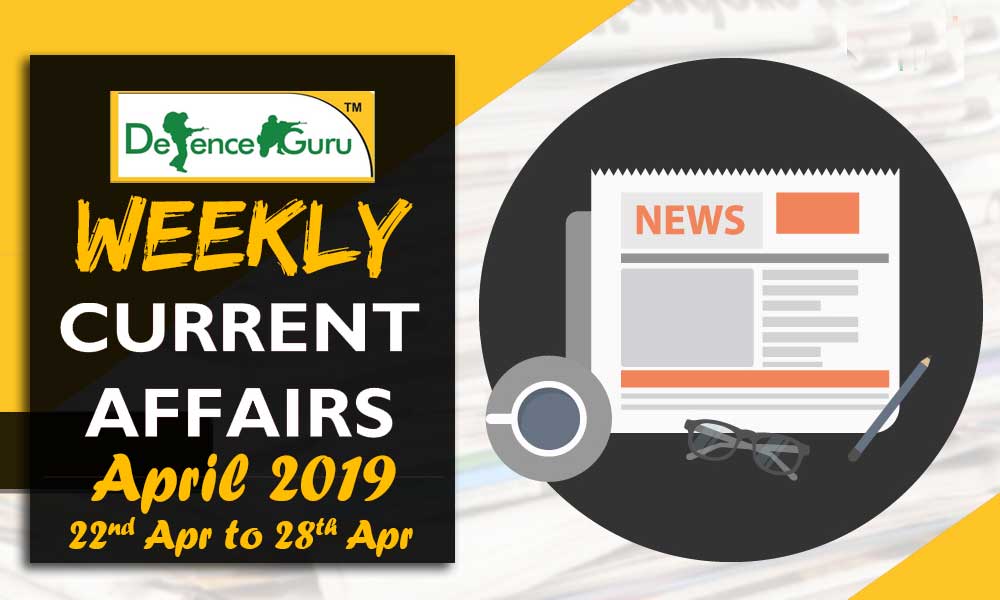 Weekly Current Affairs April 2019
We are sharing Weekly Current Affairs April 2019. This post of Weekly Current Affairs is a collection of important news and events that occurred in the April 4th week 2019. These News are highly important for various competitive exams and interviews.
General Dalbir Singh
Former army chief General Dalbir Singh was named as the Indian high commissioner India to Seychelles. Seychelles is an Indian Ocean island nation. Gen Singh was the army chief when India carried out surgical strikes against terror launch pads in Pakistan-occupied Kashmir in September 2016. He was the army chief from 2014 to 2016.
Points to remember: Seychelles
Seychelles Capital: Victoria
Currency: Seychellois rupee
2. Shri Rajendra Kumar Nayak
Shri Rajendra Kumar Nayak took over as the 52nd Controller General of Defence Accounts. He is from the Indian Defence Accounts Service of 1983 batch. Shri Nayak has held important assignments in the Defence Accounts Department and on deputation in the Government of India. He was Additional Controller General of Defence Accounts, Defence Accounts Department, Ministry of Defence before taking over as the CGDA.
3. Manish Maheshwari
Twitter has appointed Manish Maheshwari as the Managing Director of its India operations. Last year, Taranjeet Singh had stepped down as the India Country Director and Balaji Krish was given charge of leading the country's operations in the interim period. Maheshwari, who previously served as the CEO of Network18 Digital, takes over the new role from April 29.
Points to remember: Twitter
Twitter CEO: Jack Dorsey
Founded: 21 March 2006
Headquarters: San Francisco, United States
4. BCCI recommends four cricketers for Arjuna award
The BCCI recommended cricketers Mohammad Shami, Jasprit Bumrah, Ravindra Jadeja and Poonam Yadav for the Arjuna award. The decision was taken during a meeting of the Supreme Court-appointed Committee of Administrators in New Delhi. 25-year-old Bumrah is currently playing in the IPL for Mumbai Indians. Pacer Shami has been a crucial cog in the Indian bowling set up. All-rounder Jadeja has also made a comeback in the limited overs team and has been named in the 15-member squad for the World Cup. The 27-year-old leg-spinner, Poonam, is the fourth name to be nominated for the coveted award.
5. Malayalam film "Bhayanakam" wins best cinematography award at Beijing International Film Festival
Malayalam film "Bhayanakam" (Fear) directed by Jayaraj won the best cinematography award at the Beijing International Film Festival. The cinematography was done by Nikihil S Praveen. The film had also won the best cinematography award at the 65th National Film Awards. The film portrays the visits of first World War veteran to a small village in the backwaters of Kerala's Kuttanand as a postman during the World War-II.
6. Shooter Abhishek Verma bags Gold at ISSF World Cup
India's Abhishek Verma bagged a Gold medal in the 10-metre Air Pistol event at the International Shooting Sport Federation (ISSF) World Cup at Beijing in China. He clinched the top honours with a total score of 242.7 points. Russia's Artem Chernousov won the Silver. With the Gold, Abhishek has secured India's fifth 2020 Tokyo Olympic quota.
7. Gurpreet, Sunil settle for silver at Asian Wrestling Championship
India's Gurpreet Singh and Sunil Kumar settled for a silver medal each in their Greco-Roman categories at the Asian Wrestling Championships in Xi'an, China. Gurpreet had to be satisfied with a second spot after being handed a 0-8 defeat by Hyeonwoo Kim of Korea in the final of 77-kilogram category. In 87 kilogram, Sunil Kumar failed to clinch the top spot as he went down to Hossein Ahmad Nouri of Iran in the title clash.
8. Divyansh secures India's fourth Olympic quota in shooting
India's Divyansh Singh Panwar secured the country's fourth Olympic quota place in shooting by winning a silver in the ISSF World Cup in Beijing. The 17-year-old teenager Divyansh finished second in the 10m air rifle event in the International Shooting Sport Federation World Cup for pistol and rifle shooters. This is India's fourth 2020 Tokyo Olympic quota after Anjum Moudgil and Apurvi Chandela (10m air rifle women) and Saurabh Choudhary (10m Air Pistol men).
9. Pankaj Advani wins inaugural Asian Snooker Tour title
India's Pankaj Advani defeated Ehsan Heydari Nezhad of Iran 6-4 to claim the inaugural Asian Snooker Tour title. The Indian had earlier defeated Aung Phyo of Myanmar in the semifinal. Advani had earlier won the second leg of the Tour in China.
10. Divya, Manju win bronze medals in Asian Wrestling Championship
In Wrestling, India's Divya Kakran and Manju Kumari bagged bronze medals for the country in the women's competition of the Asian Championships in Xi'an, China. Asian Games bronze-medallist Kakran defeated Battsetseg Soronzonbold of Mongolia via fall in the playoffs of the 68-kilogram category. It was double delight for India as Manju also secured a bronze medal earlier in the day by beating Vietnam's Thi Huong Dao 11-2.
11. India bag two gold at ISSF World Cup
In Shooting, India opened its medal account with gold each in 10 metres Air Rifle Mixed Team and 10 metres Air Pistol Mixed team events at the ISSF World Cup in Beijing. Young shooters Manu Bhaker and Saurabh Chaudhary took the top spot in the 10 metres Air Pistol Mixed Team event. Also, Anjum Moudgil and Divyansh Singh Panwar opened the country's gold account in the 10 metres Air Rifle Mixed Team event.
12. Asian Athletics Championship concluded
India bagged four medals, including a Gold, on the final day of the Asian Athletics Championships at Doha. PU Chitra successfully defended her Women's 1,500 metres Gold she had won in 2017. India ended at the fourth spot in the medals tally with 3 Gold, 7 Silver and 7 Bronze. Bahrain topped the table with 11 Gold, 7 Silver and 4 Bronze. China was second with 10 Gold, 13 Silver and 7 Bronze. India had won 29 medals - 12 Gold, 5 Silver and 12 Bronze in the last edition in Bhubaneswar in 2017, topping the medal tally for the first time.
13. BCCI shifts IPL final from Chennai to Hyderabad
The Indian Premier League final scheduled on May 12 was shifted from Chennai to Hyderabad. The decision came after the Tamil Nadu Cricket Association (TNCA) failed to get requisite permission from the government to open the three closed stands.
Points to remember
Chennai cricket stadium: M. A. Chidambaram Stadium
Hyderabad cricket stadium: Rajiv Gandhi International Cricket Stadium
14. Bajrang Punia wins Gold in Asian Wrestling Championship
World number one Bajrang Punia won a gold medal to reclaim his Asian Championship crown. He defeated Kazakhstan's Sayatbek Okassov 12-7 in a nail-biting 65kg men's freestyle final. It is Bajrang's second gold at this championship, having won one in 2017. Another Indian Parveen Rana, lost to Bahman Mohammad Teymouri of Iran in the final 0-3 in 79kg category securing a silver medal. In 97 Kg category, Satywart Kadian picked a bronze medal defeating Haobin Gao of China by 8-2.
15. Asia Badminton Championships to begins at Wuhan in China
The Asia Badminton Championships began at Wuhan in China. It will continue until the 28th of April. India will be represented by Kidambi Srikanth and Sameer Verma in men's singles. P.V. Sindhu and Saina Nehwal will compete in women's singles.
16. Services lift Santosh Trophy
In Football, the Services lifted the Santosh Trophy, beating Punjab 1-0l in the final at Ludhiana. In the first half, both the teams were goal-less. In the second half, Services scored the lone goal and held on till the final whistle. The only goal in the match was scored by Bikash Thapa in the 61st-minute. Santosh Trophy Most successful team: West Bengal (32 titles)
17. India bag five medals including two silvers on Day 1 at Asian Athletics Championship
India opened their account at the 23rd Asian Athletics Championship in Doha, Qatar on when Annu Rani won the silver medal in women's javelin throw. Parul Chaudhary bagged a bronze medal in women's 5000m race. Avinash Sable won a silver medal in men's 3000m steeplechase. MR Poovamma finished third in women's 400m with bronze and Gavit Murali Kumar bagged another bronze medal for India in the 10,000m event.
18. World Intellectual Property Day: 26 April
World Intellectual Property Day observed across the globe on 26 April. Intellectual property refers to creations of the mind, inventions, literary and artistic works, and symbols, names and images used in commercial activities. The day is observed across the world to spread awareness about the role that intellectual property rights like patents, trademarks, industrial designs and copyright play in encouraging innovation and creativity. The theme of World Intellectual Property Day 2019 is 'Reach for Gold: IP and Sports'.
19. India Pavilion inaugurated at Abu Dhabi International Book Fair 2019
The India Pavilion at the 29th Abu Dhabi International Book Fair has been inaugurated. India has been designated as the Guest of Honour for the Book Fair, which is being held from 24th – 30th April 2019. The India Pavilion lays special focus on the life and philosophy of Mahatma Gandhi. It displays the 100 volume series titled Collected Works of Mahatma Gandhi, apart from various publications on the freedom struggle.
20. ABU Media Summit on Climate Action and Disaster Preparedness underway in Nepal
5th Asia Pacific Broadcasting Union (ABU) Media Summit on Climate Action and Disaster Preparedness began in Kathmandu. The theme of the two-day summit is "Media Solutions for Sustainable Future: Saving Lives, Building Resilient Communities". The basic aim of the summit is to address the issue of fully utilizing the media's potential of accelerating climate action and disaster preparedness. Over 200 participants including political leaders, representatives of UN agencies and NGOs scientists and media persons are attending the event.
Points to remember: Nepal
Nepal Capital: Kathmandu
Currency: Nepalese rupee
President: Bidhya Devi Bhandari
21. NASA's InSight detects first likely 'quake' on Mars
NASA's robotic Mars InSight lander has recorded a likely marsquake for the first time ever. The US space agency said the faint seismic signal, detected by the lander's Seismic instrument, was recorded on April 6. NASA said this is the first recorded trembling that appears to have come from inside the plane. Scientists still are examining the data to determine the exact cause of the signal.
22. World Malaria Day: 25 April 2019
World Malaria Day (WMD) is an international observance commemorated every year on 25 April. It is observed to spread awareness about malaria disease globally and to promote efforts to prevent malaria around the world. The theme of the World Malaria Day 2019 was "Zero malaria starts with me". WMD is one of eight official global public health campaigns currently marked by the World Health Organization (WHO).
23. Israel to name a new town in Golan after Trump
Israel would name a new place in the Golan Heights after U.S. President Donald Trump. It will be named as an expression of gratitude for his recognition of its claim of sovereignty over the strategic plateau. Israel captured the Golan from Syria in a 1967 war and annexed it, in a move not recognized internationally. The United States broke with other world powers last month when Trump signed a decree recognizing Israeli sovereignty there.
24. UN, EU sign joint framework to strengthen partnership in counter-terrorism efforts
The United Nations and the European Union (EU) have signed a joint framework aimed at strengthening partnership in counter-terrorism efforts. The framework was enacted on the occasion of the second EU-UN high-level political dialogue on Counter-Terrorism that was held in New York. The UN-EU initiative will focus on terrorism and violent extremism prevention in Africa, the Middle East, and Asia, as well as support victims of terrorism offenders.
Points to Remember
European Union Headquarters: Brussels, Belgium
Member states: 28 states
25. Etihad becomes first major airline to operate plastic-free
UAE's carrier Etihad Airways has become the first airline in the Gulf region to operate a flight without any single-use plastics on board., This was concluded in a bid to raise awareness about pollution on Earth Day (April 22). It is a part of Etihad's pledge to reduce single-use plastic usage by 80 per cent not just in-flight, but across the entire organisation by the end of 2022.
26. Kim Jong-un & Vladimir Putin to hold first summit talks in Vladivostok
North Korean leader Kim Jong-un and Russian President Vladimir Putin met for their first summit talks in the Pacific port city of Vladivostok. The two leaders talked about the Korean peninsula's nuclear problem. Kim is believed to seek support after failing to reach an agreement with US President Trump on Pyongyang's nuclear weapons programme at Hanoi earlier this year.
27. World Book Day 2019: 23 April
World Book Day is celebrated by UNESCO and other related organisations every year on the 23rd of April. Also called the World Book and Copyright Day, it is an occasion to promote the joy of books and the art of reading. 23rd April was selected by UNESCO to pay tribute to great literary figures including William Shakespeare, Miguel Cervantes and Inca Garcilaso de la Vega who died on this day. This date was finalised in the year 1995 in the UNESCO General Conference, held in Paris, to honour authors and books worldwide.
28. Indonesia releases special stamp on the theme of Ramayana
Indonesia has released a special commemorative stamp on the theme of Ramayana to mark the 70th anniversary of the establishment of its diplomatic ties with India. The stamp has been designed by renowned Indonesian sculptor Padmashri Bapak Nyoman Nuarta. It featured a scene from Ramayana in which Jatayu valiantly fought to save Sita. India's Ambassador Pradeep Kumar Rawat and Indonesia's Vice Foreign Minister Abdurrahman Mohammad Fachir attended the event.
29. UAE's Hope Probe project bound for Mars is 85% complete
The UAE Space Agency and Mohammed bin Rashid Space Centre (MBRSC) have announced that 85% of the Hope Probe project has been completed. Hope Probe is an ambitious dream project of UAE to send a mission to Mars. Hope Probe is scheduled to be launched in July 2020. With a successful launch, UAE hopes to become the first Arabic and Islamic country to make the Mars Mission dream a reality. It is planned to reach Mars by 2021 to coincide with the 50th anniversary of the founding of the UAE.
30. NASA astronaut to set a record for the longest spaceflight by a woman
NASA astronaut Christina Koch is going to have her mission on the International Space Station (ISS) extended to 328 days. This would set a record for the longest single spaceflight by a woman. Koch arrived at the space station on March 14 and now is scheduled to remain in orbit until February 2020. She will eclipse the record of 288 days set by former NASA astronaut Peggy Whitson in 2016-17. The longest single spaceflight by a NASA astronaut is 340 days, set by former NASA astronaut Scott Kelly during his one-year mission in 2015-16.
31. Earth Day 2019: 22 April
Earth Day is an annual event celebrated on April 22. Worldwide, various events are held to demonstrate support for environmental protection. It was first celebrated in 1970, now this event includes events in more than 193 countries. Theme: 'Protect Our Species'
32. Comedian Zelensky wins the presidency by a landslide victory
In Ukraine, comedian and political newcomer Volodymyr Zelensky has apparently secured a landslide victory in the Presidential election. Exit polls indicated that he is going to take 73 per cent of the votes while incumbent Petro Poroshenko securing 25 per cent. Zelensky's only previous political role has been playing the President on television.
Points to remember: Ukraine
Capital: Kyiv
Currency: Ukrainian hryvnia
33. UAE adopts National Artificial Intelligence Strategy 2031
The UAE Cabinet has adopted the National Artificial Intelligence Strategy 2031. Its aims at positioning the UAE as a global leader in artificial intelligence by 2031 and to develop an integrated system that employs artificial intelligence in vital areas in the country. The strategy includes eight objectives and a number of initiatives, aimed at employing artificial intelligence in vital areas such as education, government services and the community wellbeing.
34. Olive Ridley hatchlings begin a new journey from Gahirmatha coast
Millions of baby Olive Ridley turtles have started emerging from the pits at Gahirmatha beach in Kendrapara district. This Sanctuary is known as the World's largest nesting ground for these endangered species. Around 4.50 lakh turtles had congregated at the beach for nesting in March. Every year, the female Olive Ridley turtles come ashore, dig a nest and lay about 100 eggs. After this, they conceal the nests before returning to the sea. The eggs incubate in the warm sand and after 40 to 45 days, two-inch baby turtles hatch.

35. Orange alert in Gujarat
Following the sudden spurt in heat across Gujarat, the state health department has issued an 'Orange Alert'. The warning is issued with temperatures likely to touch 44 degrees Celsius according to the weather department. Meteorological Centre (MC) Ahmedabad released warning for a heat wave in multiple regions of Gujarat for the next 48 hours.
Points to remember: Gujarat
Capital: Gandhinagar
Chief minister: Vijay Rupani
Governor: Om Prakash Kohli
Rajya Sabha Seats: 11
Lok Sabha Seats: 26
36. Cultural Festival begins in Guwahati
South Central Zone Cultural Centre (SCZCC) of Ministry of Culture, Government of India is organizing Madhya Dakshini Festival 2019. The festival is being celebrated in collaboration with North East Zone Cultural Centre (NEZCC) from April 25 to 28, 2019 in four venues of Guwahati. In the festival, around 100 folk artists from Central India, states from Maharashtra, Madhya Pradesh, Chhattisgarh and Andra Pradesh will perform vibrant and colourful folk dances showing the rich cultural heritage of India.The inauguration of the festival was organized at Shilpgram of NEZCC at Panjabari, Guwahati.
37. Major cyclone Fani, likely to cross Tamil Nadu
A red alert has been declared in Tamil Nadu for April 30 and May 1 as a major cyclone, Fani, is likely to hit the north coast of the state over the two days. Fishermen have been advised not to venture out into the sea during the coming week. The India Meteorological Department (IMD) said that after gaining more strength, the cyclonic circulation has finally induced a low-pressure area. The system is formed over Equatorial Indian Ocean and adjoining the southeast Bay of Bengal.
38. Indian Army signs MoU with NHPC for construction of tunnels on China, Pakistan borders
Indian Army signed an MoU with National Hydroelectric Power Corporation Limited (NHPC). The MoU is for the construct tunnels on borders with China and Pakistan for storage of ammunition and other war-related equipment. Under the pilot project, three tunnels will be built on China border while one will be built along the Line of Control with Pakistan. The project is meant to bolster the Indian Army's capabilities along the Chinese border.
39. Bimal Jalan panel on RBI's capital size to submit the report by June
A high-level panel led by former RBI governor Bimal Jalan, set up to decide the appropriate capital reserves that the central bank should maintain, is likely to submit its report by June. The six-member Jalan panel was appointed on December 26, 2018, to review the Economic Capital Framework for the RBI. The committee was to submit its report in 90 days from the first day of its meeting, which was held on January 8. The panel has got an extension beyond its three-month term.
40. India extends a ban on import of Chinese milk products
The government extended the ban on import of milk and its products, including chocolates, from China. The ban was first imposed in September 2008 and extended subsequently from time to time. The ban was imposed on apprehensions of the presence of melamine in some milk consignments from China. Melamine is a toxic chemical used for making plastics and fertilisers. Although India does not import milk, milk products from China, it has imposed the ban as a preventive measure.
41. Indian Coast Guard Vessel C-441 commissioned
A new Coast Guard vessel C- 441 has been commissioned at Vizhinjam harbour in Kerala. Indian Coast Guard Ship C- 441 is capable to undertake multifarious tasks such as close coast surveillance, interdiction, search and rescue and rendering assistance to boats in distress at sea. It will enhance the search and rescue capacity of Kerala seas. The ship is commanded by Assistant Commandant Amit K Choudhary and has 13 crew onboard with specialisation in various fields.
42. Real life 'Padman' makes it to Fortune's World Leaders List
India's original "Padman" Arunachalam Muruganantham has been featured on Fortune magazine's list of world's 100 greatest leaders. He became famous for producing low-cost sanitary napkins.He ranks 45th in the list and is featured along with stalwarts from various walks of life such as Bill and Melinda Gates, Jacinda Ardern, and Robert Mueller. Bill Gates topped the chart due to the massive charity work they have done.
43. IIM-Bangalore becomes only Indian institute to feature in QS EMBA Rankings 2019
The Indian Institute of Management-Bangalore (IIM-B) has once again made a mark at the global level. The institute's post-graduate programme in Enterprise Management (PGPEM) has secured the 12th rank in APAC listing and came 61st globally in the QS Executive MBA Rankings 2019. It is the only Indian B-school to secure a place among the top 100 B-Schools across the world. QS Rankings uses parameters such as leadership, executive profile, diversity, career outcomes, etc, for ranking.
44. MOU signed between Ministry of AYUSH and Council of Scientific and Industrial Research
A Memorandum of Understanding (MOU) was signed between the Ministry of AYUSH and Council of Scientific and Industrial Research (CSIR) at New Delhi. The MoU has been signed for cooperation in research and education in areas of traditional systems of medicine and its integration with modern science. Previously, CSIR jointly with Department of AYUSH developed the Traditional Knowledge Digital Library (TKDL), a globally recognized proprietary database on Indian systems of medicine for preventing bio-piracy and misappropriation of our traditional knowledge.
Points to Remember
AYUSH: Ayurveda, Yoga and Naturopathy, Unani, Siddha and Homoeopathy
Ministry of AYUSH officeholder: Shripad Naik
45. Nasim Zaidi quits Jet Airways board
Jet Airways' non-executive and non-independent director Nasim Zaidi has quit the board. Mr Zaidi, the former Chief Election Commissioner and ex-civil aviation secretary, joined the Jet Airways board in August last year. The airline has ceased all its operations temporarily last week and is under the management control of SBI-led consortium of lenders following a debt-recast plan.
46. SpiceJet, Emirates sign MoU for codeshare partnership
Budget carrier Spicejet announced the signing of an initial pact for codeshare partnership with Gulf carrier Emirates. The reciprocal partnership will allow the opening of new routes and destinations for passengers of the two airlines. SpiceJet passengers from 51 domestic destinations will be able to access Emirates' network across the US, Europe, Africa and the Middle East. Code-sharing allows an airline to book its passengers on its partner carriers and provide seamless travel to destinations where it has no presence.
Points to remember
Spice Jet Headquarters: Gurugram
CEO: Ajay Singh
47. RBI to issue new Rs 20 denomination banknotes
The Reserve Bank of India (RBI) will soon release new banknotes of Rs 20 denomination in the Mahatma Gandhi (New) Series. It will bear the signature of RBI Governor Shaktikanta Das. The new denomination has the motif of the Ellora Caves on the reverse. The base colour of the note is greenish yellow. All the banknotes in the denomination of Rs 20 issued by the RBI in the earlier series will continue to be legal tender. The dimension of the new Rs 20 note will be 63 mm x 129 mm.
48. Sebi reduces minimum net worth requirements for clearing corp in IFSC
Sebi has reduced the minimum required level for clearing corporations operating in international financial services centre. They should have at least Rs 100 crore net worth from three years of commencing operations. This net worth requirement in the form of liquid assets has been brought down from the earlier Rs 300 crore. However, the minimum net worth required to be held in liquid assets for clearing corporations on the commencement of operations remains the same as Rs 50 crore.
Points to Remember
SEBI Headquarters: Mumbai
Chairman: Ajay Tyagi
49. Wirecard partners RBL Bank to drive financial inclusion
Wirecard announced an expanded partnership with RBL Bank to promote financial inclusion in India. This partnership will make digital payment and banking transactions more readily accessible to all Indian citizens, including those living in remote areas. In partnership with RBL, Wirecard will empower its retail agents to enable the financially under-served to access basic payment and banking services. These include cash withdrawals and deposits as well as balance enquiries.
50. RBI divests its entire stake in NABARD and NHB
Based on the recommendation of the second Narasimham Committee, the Reserve Bank has divested its entire stake in National Housing Bank (NHB) and the National Bank for Agriculture and Rural Development (NABARD). RBI has sold the entire stake worth twenty crore rupees in NABARD and 1,450 crore rupees in NHB in the last quarter of 2018-19. With this, the government now holds a 100 per cent stake in both these financial institutions.
51. RBI approves the proposal of HDFC for holding a 9.9% stake in Bandhan Bank
The Reserve Bank of India (RBI) has given its nod to HDFC Ltd for acquiring up to 9.9 per cent stake in Bandhan Bank following the Gruh Finance deal. Gruh Finance, the affordable housing finance arm of HDFC Ltd, was taken over by Bandhan Bank in a share-swap deal in January 2019. The scheme remains subject to the approvals from the National Company Law Tribunal and the respective shareholders of Gruh Finance and Bandhan Bank.
52. Government raises authorised capital of Allahabad Bank to Rs 8,000 crore
State-owned Allahabad Bank said on April 23 the government has increased its authorised capital by Rs 5,000 crore to Rs 8,000 crore. The central government after consultation with the Reserve Bank of India has increased the authorised capital of the bank. The increase in authorised capital will enable the bank to raise further fund up to a maximum ceiling of Rs 8,000 crore.
Points to remember
Headquarters: Kolkata
Founded: 24 April 1865
MD & CEO: S. S. Mallikarjuna Rao
53. SBI General launches cyber defence insurance for businesses
SBI General Insurance has launched a product to protect businesses from financial and reputational losses due to cyber attacks. In the initial phase, the focus will be on SMEs and mid-market businesses, but later the product can cater to larger business conglomerates as well. This offers protection against the growing threat of cyber breaches. It is designed to protect against major insurable cyber exposures like hacking attacks, identity theft, disclosure of sensitive information and business interruption.
54. BEML and Syndicate Bank sign MoU
Syndicate Bank and BEML Limited, a 'Miniratna' Public Sector Undertaking, have signed an MOU for financing Earth Moving and Construction Equipment manufactured by BEML. Under the MOU, BEML will nominate Syndicate Bank as a preferred financier for financing its customers. The customers under the tie-up arrangement will be provided loans in the range of Rs 20 Lakh to Rs 300 Lakh and preferential pricing by Syndicate Bank.
55. Lakshmi Vilas Bank to raise Rs 188.16 crore via preferential shares sale to Indiabulls Housing Finance
Lakshmi Vilas Bank (LVB) proposes to raise Rs 188.16 crore by allotting 4.99 per cent of its shares at Rs 112 a piece on a preferential basis to Indiabulls Housing Finance Ltd. Earlier this month, the private sector lender had announced its merger with Indiabulls Housing Finance Ltd (IBHL) in a share-swap deal. The board of LVB has approved the merger with IBHL in which shareholders of the bank will get 14 shares of IBHL for every 100 shares they hold.