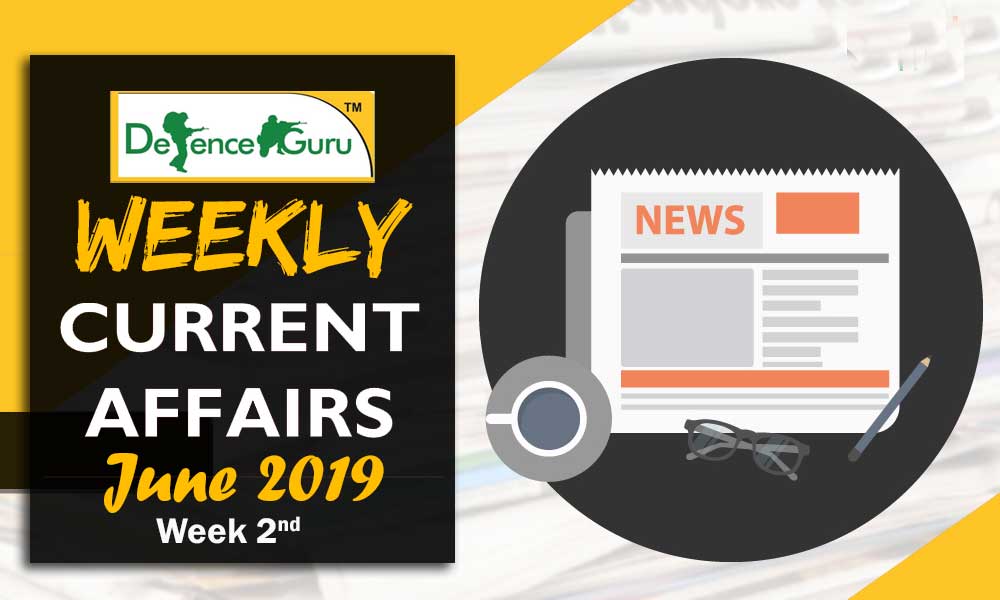 1. Kassyam-Jomart Tokayev
Kassym-Jomart Tokayev took oath as the new president of Kazakhstan. He was acting president following the surprise resignation of Nursultan Nazarbayev in March this year. The career diplomat became the country's second elected president after succeeding 78-year-old Nursultan Nazarbayev. Mr Toqaev took the oath of office during a ceremony at the Palace of Independence in the capital, Nur-Sultan.
Points to Remember: Kazakhstan
Capital: Nur-Sultan
Currency: Kazakhstani tenge
2. Reckitt Benckiser & Laxman Narasimhan
British consumer goods giant Reckitt Benckiser named PepsiCo executive Laxman Narasimhan as its Chief Executive Officer. Narasimhan was serving as PepsiCo's global Chief Commercial Officer. He will be joining the company as CEO and will be appointed to the board on July 16.
3. Thawarchand Gehlot
Union Minister of Social Justice and Empowerment Thawarchand Gehlot has been appointed as the leader of Rajya Sabha. He will replace senior BJP leader Arun Jaitley who opted out of the government citing health reasons. Gehlot is a Rajya Sabha member representing Madhya Pradesh.
4. Nripendra Misra
Nripendra Misra has been re-appointed as Principal Secretary to Prime Minister Narendra Modi. PK Mishra has also been re-appointed as Additional Principal Secretary to Mr Modi. The Appointments Committee of the Cabinet approved both the appointments with effect from 31st May. The appointments will be co-terminus with the term of the Prime Minister. During the term of their office, they will be assigned the rank of Cabinet Minister.
5. veteran diplomat Sun Weidong
China has appointed veteran diplomat Sun Weidong as its new envoy to India. Sun also served as the ambassador to Pakistan and is currently the Director General of the Policy and Planning Department of the Foreign Ministry. He will succeed Luo Zhaohui, who has been appointed as Vice Minister of Foreign Affairs.
6. Justice Prashant Kumar
Justice Prashant Kumar was appointed as the acting chief justice of the Jharkhand High Court as the incumbent Dhirubhai Naranbhai Patel has been appointed as the chief justice of the Delhi High Court. Justice Patel took charge in the Delhi HC on June 7. Patel was appointed as the acting chief justice of the Jharkhand HC last month following the elevation of the chief justice Aniruddha Bose to the Supreme Court.
7. Gopalaswami
Former Chief Election Commissioner N. Gopalaswami has been appointed as an electoral officer for the BCCI's Annual General Meeting. The Committee of Administrators (CoA) had last month announced that the long-awaited elections of the BCCI will be held on 22nd October. The CoA was appointed by the Supreme Court in January 2017 to oversee the sweeping reforms recommended by the Lodha panel.
8. Justice DN Patel
Justice Dhirubhai Naranbhai Patel was sworn in as Chief Justice of the Delhi High Court. Lt Governor Anil Baijal administered the oath of office to Justice Patel at a function held at Raj Niwas. Earlier, Justice Patel was posted at the Jharkhand High Court. The Supreme Court Collegium had recommended his name for the appointment as Chief Justice of the Delhi High Court.
9. UNICEF's humanitarian award
Actress Priyanka Chopra will be awarded the Danny Kaye Humanitarian Award by UNICEF's American chapter at their Snowflake Ball in December. The award is named after actor-philanthropist Danny Kaye, who was UNICEF's first Goodwill Ambassador. The actor is a UNICEF Goodwill Ambassador, as a part of which she visited Ethiopia last month.
Priyanka Chopra is known for her contribution to social causes and for being a voice for children's education. She has been a part of United Nation's global "Girl Up" Campaign and is associated with several NGOs in India to raise awareness about ways to improve the education, health and safety of girl child in India.
10. Jnanpith Award 2018
The Jnanpith award for the year 2018 will be given to the noted English writer Amitav Ghosh. Former Governor Gopalkrishna Gandhi will present the award to him at a function in New Delhi. The award is given for outstanding contribution in literature.
11. India's automobile major Mahindra wins Gold Award in South Africa
India's automobile major Mahindra won the Gold Award for fairing on various indicators, including the level of satisfaction among its network of dealers and the manner of allocation of vehicles to them. Mahindra has been in South Africa for the past 16 years and received the award from the country's National Automobile Dealers' Association (NADA). NADA tests dealers' satisfaction with the way a brand supports and communicates with them.
12. Maldives confers its highest civilian award on PM Modi
Prime Minister Narendra Modi was conferred with the Maldives' highest civilian award, the 'Order of the Distinguished Rule of Izzudeen', by the President of the host country, Ibrahim Mohamed Solih. The award is in recognition of the many services Prime Minister Modi has offered to cement the longstanding and amicable ties between the two countries. Also for the magnanimous assistance that the Indian government continues to provide to the Maldives under his stewardship.
13. Equator Prize 2019 winners announced for local innovative climate solutions
The UN Development Programme (UNDP) and partners announced the winners of the 10th Equator Prize, recognizing 22 local and indigenous communities from across the world. The winning organizations, which showcase innovative, nature-based solutions for tackling climate change, environment, and poverty challenges. Equator Prize winners will each receive US$10,000 and the opportunity for two community representatives to join a week-long summit in New York during the 74th United Nations General Assembly. The women groups of the Deccan Development Society, Telangana also have bagged the prize.
14. Crazy Mohan
Crazy Mohan, a renowned dialogue writer in Tamil film industry, passed away. The veteran playwright passed away due to a cardiac arrest at a private hospital. His real name is Mohan Rangachari and he was fondly known as Crazy Mohan because of his hit skit called Crazy Thieves In Paalavakkam. Chocolate Krishna, Maadhu +2 and Madhil Mel Maadhu were popular comedy plays, written by Crazy Mohan.
15. Girish Karnad
Noted actor, dramatist and Jnanpith awardee Girish Karnad passed away in Bengaluru due to multi-organ failure. Coming to fame as Kannada playwright in the 1960s, he went on to become a critically acclaimed actor and filmmaker during the later years. Besides the Jnanpith award, Karnad was also conferred the Padma Shri and Padma Bhushan. Vamsha Vruksha, Ek Tha Tiger, Nagamandala and Malgudi Days are some of the movies and TV serials in which he played a role.
16. The United States claims biggest ever Women's Fifa World Cup win
In Football, the United States recorded the biggest-ever victory in the Fifa Women's World Cup when they crushed Thailand, 13-nil. Alex Morgan scored a maximum of five goals. Rose Lavelle and Samantha Mewis netted two goals each. The US broke Germany's record of an 11-nil win over Argentina in 2007.
17. Novak Djokovic tops ATP rankings
Rafael Nadal might have won a 12th Roland Garros title on the weekend, but he remains well behind Novak Djokovic, a semi-finalist in Paris, in ATP rankings released. Top four in the ATP rankings remained the same after French Open. Austrian Dominic Thiem, whom Nadal beat in French Open final keeps his fourth place behind Switzerland's Roger Federer.
18. Yuvraj Singh announces retirement from international cricket
Yuvraj Singh announced retirement from international cricket, ending a roller-coaster career. Yuvraj played 40 Tests, 304 ODIs and 58 T20Is for India. He put together 1900 runs in the longest format, and 8701 in the one-dayers, the format in which he enjoyed the most success. Yuvraj Singh autobiography: The Test Of My Life.
19. Hamilton wins 7th Canadian GP after Vettel penalty
Lewis Hamilton secured a record-breaking seventh win at the 2019 Canadian Grand Prix after Sebastian Vettel was penalised for dangerous driving. During the race, both Vettel and Hamilton were engaged in a head-to-head battle when the former ran across the grass accidentally. The incident led to the awarding a five-second race time penalty to the German driver.
20. French Open: Rafael Nadal lifts Men's Singles title for the 12th time
In Tennis, world number two Rafael Nadal has lifted the French Open Men's Singles title for the 12th time. In the summit clash played at Paris, the Spaniard defeated Austrian fourth seed Dominic Thiem, 6-3, 5-7, 6-1, 6-1 to win at the Roland Garros for the third straight year. The 33-year-old became the first player to win 12 Singles titles at the same Grand Slam and has now won 18 majors overall.
21. French Open 2019 Concludes
The 2019 French Open is a Grand Slam tennis tournament played on outdoor clay courts. The 123rd edition of the French Open took place at the Stade Roland Garros in Paris, France. The winners of the various categories are as follows:
Men's Singles: Rafael Nadal (Spain)
Women's Singles: Ashleigh Barty (Australia)
Men's Doubles: Kevin Krawietz (Germany) and Andreas Mies (Germany)
Women's Doubles: Tímea Babos (Hungary) and Kristina Mladenovic (France)
Mixed Doubles: Latisha Chan (Chinese Taipei) and Ivan Dodig (Croatia)
22. Indian archers bag four berths for Tokyo Paralympics
Indian archers secured two quota places each in the recurve and compound sections for next year's Tokyo Paralympics after dishing out superb performances at the World Para Championships in the Netherlands. Punjabi University's Harvinder Singh and Uttar Pradesh's Vivek Chhikara finished joint ninth to bag the two available berths in the recurve men's open section. In the compound men's open category, Jammu's Rakesh Kumar was first to qualify after making the bronze play-off He was later joined by Rajasthan's Shyam Sundar Swami after his joint ninth finish.
23. FIFA Women's World Cup kicks off in France
The FIFA Women's World Cup will kickstart with a match between France and South Korea in France. The eighth edition of the Women's World Cup will be contested by 24 teams in nine cities across France. It is also the first Women's World Cup to use the video assistant referee (VAR) system.
Points to remember
Fifa women's world cup Current champions: United States
Most successful team: United States (3 titles)
24. World Blood Donor Day: 14 June 2019
Every year on 14 June, countries around the world celebrate World Blood Donor Day (WBDD). The event, established in 2004, serves to raise awareness of the need for safe blood and blood products and to thank blood donors for their voluntary, life-saving gifts of blood.
Theme: Safe blood for all
25. World Day Against Child Labour: 12 June
The World Day Against Child Labour is an day observed by International Labour Organization (ILO) on 12 June every year. The day was launched in 2002. The day aims to raise awareness and activism to prevent child labour. The theme for World Day Against Child Labour 2019 is 'Children shouldn't work in fields, but on dreams!'
26. 16th Asia media summit kicks off in Cambodia
The 16th Asia media summit kicked-off in Cambodia. The conference is deliberating on many issues pertaining to the media and broadcasting industry. The Ministers from different countries presented the digital trends in the broadcasting sector in their respective countries. Envisioning the media in the 4th Industrial revolution, Darren ong, an industry expert said that placing consumer interests at the centre of decision making is crucial to the online environment.
27. Japan to invest Rs 13,000 cr in the northeast in infrastructure projects
Japan will invest Rs 13,000 crore in several ongoing as well as new infrastructure projects in the northeast region. Some of the important projects in which Japan will collaborate include the Guwahati water supply project, Guwahati sewage project, the northeast road network connectivity improvement project spread over Assam and Meghalaya and northeast network connectivity improvement project in Meghalaya. The government of Japan has decided to invest an amount of 205.784 billion yen, equivalent to approximately Rs 13,000 crore, in several ongoing as well as new projects in different states of the northeastern region.
28. Canada to ban single-use plastics from 2021
Canada Prime Minister Justin Trudeau announced that single-use plastics will be banned in the country from 2021. He declared it a global challenge to phase out the plastic bags, straws and cutlery clogging the world's oceans. Each year a million birds and more than 100,000 marine mammals worldwide suffer injury or death by becoming entangled in plastic or ingesting it through the food chain. Single-use items represent some 70 per cent of the plastic waste littering the marine environment.
29. UAE Cabinet adopts "National Strategy for Wellbeing 2031"
The UAE Cabinet adopted the 'National Strategy for Wellbeing 2031' during its meeting at the Presidential Palace in Abu Dhabi. One of the most important initiatives is the development of the first 'National Wellbeing Observatory' to support the policymaking process. The strategy is based on a national framework of three main levels - individuals, society and the country. It includes 14 components and nine strategic objectives, which include enhancing people's wellbeing by promoting healthy and active lifestyles, promoting good mental health and adopting positive thinking.
30. Pakistan's economic growth expected to hit 3.3 %
Pakistan's economic growth in the financial year ending in June is expected to hit 3.3 per cent, well below the target of 6.3 per cent. According to the Economic Survey, the dip in economic growth is expected as the government failed to meet targets in nearly all sectors. The manufacturing sector slid by 0.3 per cent and the large scale manufacturing showed a negative growth of 2 per cent against the target 8.1 per cent.
31. Imports from Pakistan to India declined by 92% in March
Imports from Pakistan to India has declined by 92 per cent to 2.84 million US dollars in March this year. The reason behind this decline is the imposition of 200 per cent customs duties on all products following Pulwama terror attack. During the January-March period of 2018-19 fiscal, the imports from Pakistan declined by 47 per cent to 53.65 million dollars. India's exports to Pakistan to have dipped by about 32 per cent to over 171. million dollars in March. India had revoked the MFN (Most Favoured Nation) status to Pakistan in the aftermath of the terror attack. It had granted the MFN status to Pakistan in 1996.
32. Forex reserves increase by 1.8 billion to 421.8 billion
The country's foreign exchange reserves increased by USD 1.875 billion to USD 421.867 billion in the week ending May 31. Reserve Bank weekly data released showed that foreign currency assets, which is a major component of the overall reserves, rose by USD 1.946 billion to USD 394.134 billion. According to the RBI data, after remaining stable for the past few weeks, gold reserves declined by USD 62.9 million to USD 22.958 billion.
33. African bloc suspends Sudan, demanding an end to military rule
The African Union (AU) suspended Sudan until the establishment of civilian rule, intensifying global pressure on its new military leaders to stand down after the worst violence since Omar al-Bashir's fall in April. Meeting in Ethiopia's capital, Addis Ababa, the AU's peace and security council invoked its response to interruptions of constitutional rule by suspending Sudan.
Points to Remember: Sudan
Sudan Capital: Khartoum
Currency: Sudanese pound
34. SriLankan Airlines named world's most punctual
SriLankan Airlines, the flag carrier of the island nation, has been named the 'World's Most Punctual Airline'. It has been named for the second consecutive time with over 90 per cent of its flights in May being "on time". In May, it achieved a punctuality rating of 90.75 per cent. Global flight tracker, Flightstats analysed data of 41 carriers from Europe, North America, Asia, the Middle East, and South America, including most of the world's largest and most prestigious airlines before drawing its conclusions.
35. Theresa May officially steps down as leader of Conservative Party
British Prime Minister Theresa has officially stepped down as the leader of the Conservative Party but will remain as Prime Minister until her successor is chosen. She had announced to resign on 24th of last month. May has stepped down amid mounting pressure over her repeatedly defeated Brexit deal. May has been Prime Minister for nearly three years since she took over from David Cameron in the wake of the June 2016 Brexit referendum.
36. 'Gandhi Cycle Rally for Peace' organised in Saudi Arabia
To mark the 150th birth anniversary of Mahatma Gandhi, Indian Embassy in Saudi organized 'Gandhi Cycle Rally for Peace' in association with the Diplomatic Quarter Authority and Saudi Cycling Federation. The rally was flagged off by Dr Ausaf Sayeed, Ambassador of India to the Kingdom of Saudi Arabia. The Saudi dignitaries, diplomats, members of Indian diaspora and Saudi nationals attended the rally. Seven teams were deployed along the 6 km long route to assist the participants. The Cycle Rally was part of the series of events organized globally by the Government of India to commemorate the 150th Birth Anniversary of Mahatma Gandhi.
37. India successfully test fires hypersonic cruise missile
India conducted a successful first test flight of the indigenously developed Hypersonic Technology Demonstrator Vehicle (HSTDV) from a base off the Odisha coast. The only other countries that possess this technology are the US, Russia and China.The HSTDV is an unmanned scramjet demonstration vehicle that can cruise up to a speed of 6 Mach and rise up to an altitude of 32 km in 20 seconds. It has a range of uses, including missiles of the future, and energy-efficient, low cost and reusable satellite-launch vehicle.
38. India is home to the world's 2nd largest internet user base
According to Mary Meeker's Internet Trends 2019 report, India accounts for 12% of the world's internet users. Almost 3.8 billion people or more than half of the world's population is on the Internet. China continues to be on top of the list, accounting for 21% of the total Internet users. The United States continues to occupy the third position with 8%, after being toppled by India in 2016.
39. Government reduces ESI contribution rate to 4 per cent
The government has reduced the rate of the contribution made by employees and employers under the Employees' State Insurance (ESI) Act from 6.5 per cent to 4 per cent. The government has taken a historic decision to reduce the rate of contribution under the ESI act. The new rate will be effective from the 1st of July. It will benefit 3.6 crore employees and 12.85 lakh, employers.
40. HCL to roll out "Tech Bee" programme
HCL Technologies is all set to roll out "Tech Bee", a company initiative under which it trains and hires students who have completed Plus Two, across several states. The pilot programme of "Tech Bee", which was taken up two years ago in Uttar Pradesh and Tamil Nadu yielded good results. As many as 700 students have now become employees of the company while some of them are pursuing higher studies as part of the initiative.
41. Uttar Pradesh govt hikes old-age pension
In Uttar Pradesh, the state government has hiked old-age pension in the age group 60 to 79 years by rupees 100 monthly. Now the old-age pensioners would receive 500 rupees per month from the existing 400 rupees. Currently, the people who are above 80 years are already getting 500 rupees per month pension that are fully sponsored by the Union Government. The newly hiked pension will benefit around 44.21 lakh people in the state.
42. Mela Kheer Bhawani celebrated in Jammu and Kashmir
Mela Kheer Bhawani festival was celebrated in Jammu & Kashmir on Zeasht Ashtami. Hundreds of Kashmiri Pandit devotees prayed at the famous Ragnya Devi temple here in Jammu and Kashmir's Ganderbal district. Bhawani Mela is one of the biggest religious functions of the displaced community of Kashmiri Pandits, who were forcefully evicted from Valley in the 1990s by militants.
43. Abandoning elderly parents will now land sons, daughters in Jail in Bihar
Bihar Cabinet-led by Chief Minister Nitish Kumar has approved a proposal to punish sons and daughters who abandon their elderly parents with a jail term. The proposal of Bihar social welfare department has provisions for punishments which could go up to imprisonment if wards do not look after their parents properly in their old ages. The cases against the wards will be registered under the non-bail able section in Bihar after receiving complaints from the elderly parents.
44. Arjun Munda launches 'E-Governance initiatives for ST welfare wchemes'
Arjun Munda, Union Minister for Tribal Affairs launched the "e-governance initiatives for ST Welfare schemes" at a function organized by Ministry of Tribal Affairs. Shri Munda applauded the teamwork efforts of the Ministry of Tribal affairs for these-governance initiatives for Scheduled Tribes Welfare schemes and stated that as per the "SabkaSaath, SabkaVikas and SabkaVishwas". These e-governance initiatives will serve their purpose of the betterment of tribal communities across the nation.
45. Amazon clinches top spot in the world's most valuable brand ranking
US retail giant Amazon has moved past hi-tech titans Apple and Google to become the world's most valuable brand. According to Kantar's 2019 100 Top BrandZ report, the brand value of Amazon surged by 52 per cent to $315 billion. Amazon jumped from third to first place to eclipse Google - which slid from first to third place with Apple holding on to the second spot.
46. Cyclone VAYU intensifies into a very severe cyclonic storm
Cyclone VAYU over East-Central Arabian sea has intensified into a Very Severe Cyclonic Storm. It currently lays centred about 420 kilometres west-northwest of Goa, 320 kilometres south-southwest of Mumbai and 420 kilometres south of Veraval in Gujarat. The Cyclone is very likely to cross the Gujarat coast between Veraval and Diu by 13 June. The National Disaster Response Force (NDRF) has mobilized 35 teams in Gujarat and four in Diu in coordination with local administration.
47. PM Modi's two-day visit for SCO Summit at Bishkek
Prime Minister Narendra Modi's is on a two-day visit to Kyrgyzstan for SCO Summit at Bishkek. The visit is expected to further boost the bilateral ties with Kyrgyzstan. The focus will remain on the sectors like pharmaceuticals, textiles, manufacturing and machinery among others. This will be the second visit of Prime Minister Modi to Kyrgyzstan.
48. PM Modi accepts Macron's invite to attend the outreach session of G7 Summit
Prime Minister Narendra Modi has accepted an invitation from French President Emmanuel Macron to attend the outreach session of the G7 Summit in Biarritz as a special invitee. The 45th summit of the G7 group of countries will take place from August 24 to August 26 in Biarritz, France. The Group of Seven (G7) is a group consisting of Canada, France, Germany, Italy, Japan, the United Kingdom, and the United States. These countries, with the seven largest IMF-described advanced economies in the world.
49. BS-VI norms released for two-wheelers
Bharat Stage-VI (BS - VI) norms for two-wheelers have been released. In order to curb air pollution through the vehicular emissions, the government has decided to implement the BS VI norms with effect from 1st April 2020. This means that only those vehicles which comply with these norms will be sold and registered in India from 1st April 2020 onwards. Bharat stage norms are the automotive emission norms which the automotive manufacturers have to comply with if they want to sell their vehicles in India.
50. Aditya Birla Retail acquires Jaypore for Rs 110 crore
Aditya Birla Fashion and Retail Limited have acquired Jaypore for Rs110 crore. Jaypore is an ethnic apparel and accessories retailer. Established in February 2012, Jaypore sells home decor, accessories, jewellery and had revenues of Rs39 crore in FY19. Aditya Birla Fashion and Retail Ltd (ABFRL) retails brands such as Louis Philippe, Peter England and Van Heusen.
51. Piyush Goyal leads Indian delegation to G20 Ministerial meeting in Japan
Commerce and Industry Minister Piyush Goyal is leading the Indian delegation for the two-day G20 Ministerial meeting on Trade and Digital Economy beginning at Tsukuba city in Japan. Mr. Goyal will discuss developments in the global trade situation, WTO matters, and digital trade. He will also hold dialogue with other participating Trade Ministers on current international trade and investments. The G-20 Trade Ministers deliberations will form part of the G-20 Summit Leaders agenda in the formal discussions and will also be a part of the Summit Declaration.
52. Govt notifies extension of PM-KISAN scheme to all farmers
The government has notified its decision to extend the benefit of six thousand rupees per year to eligible farmers under the Pradhan Mantri Kisan Samman Nidhi (PM-KISAN) scheme. The decision will benefit all 14.5 crore farmers, irrespective of the size of their landholding, in the country. Notifying the decision, the Union Agriculture Ministry has written to all state governments, asking them to identify beneficiaries subject to the existing exclusion factors. PM-KISAN scheme was announced in the interim budget, under which the government decided to provide 6,000 rupees per year to about 12.5 crore small and marginal farmers.
53. PM Modi to lead the main event of International Yoga Day in Ranchi
Prime Minister Narendra Modi will lead the main event of International Day of Yoga 2019 celebrations to be held in Ranchi, Jharkhand on 21st of this month. Around 30,000 people are expected to participate in the main event. Ministry of AYUSH is the nodal Ministry for observation of the International Day of Yoga across the country.
54. CII launches new Index to measure fiscal performance
Confederation of Indian Industry (CII) has launched a Fiscal Performance Index (FPI) to assess state and central budgets. The Index incorporates qualitative assessments of revenue expenditure, capital expenditure, revenues, fiscal prudence and the level of public debt arrive at a more holistic picture of fiscal performance than the fiscal deficit to GDP ratio according to the CII. As an example, the index will consider expenditure on infrastructure, education, healthcare and other social sectors beneficial for economic growth compared to other revenue expenditure. The CII has used this index to analyse state and central budgets from 2004-05 to 2016-17.
55. RBI imposes Rs 2 crore penalty on Kotak Mahindra Bank for not adhering to its directions
The Reserve Bank of India (RBI) has imposed a monetary penalty of Rs 2 crore on Kotak Mahindra Bank for non-compliance of directions. The Central Bank had in March directed Kotak Mahindra Bank to furnish information about details of the shares held by its promoters and to submit details of the proposed course of action/ plans/ strategy for complying with the permitted timeline for dilution of promoter shareholding. However, the bank failed to comply with the directions and a show cause notice was issued to the bank advising it to explain why the penalty should not be imposed for non-compliance.
56. FDI flows to India grew 6% in 2018 to 42 billion
Foreign Direct Investment to India grew by 6 per cent to 42 billion dollars in 2018. It grew with strong inflows in the manufacturing, communication and financial services sectors, and cross-border merger and acquisition activities. The report ranked India among the top 20 host economies for FDI inflows in 2017-18. The World Investment Report 2019, released by the UN Conference on Trade and Development (UNCTAD) said, Foreign Direct Investment inflows to South Asia increased 3.5 per cent to 54 billion dollars.
57. RBI waives off charges for transactions using NEFT, RTGS
With an aim to encourage the digital transfer of funds, the Reserve Bank has waived off all charges for transactions using National Electronic Funds Transfer - NEFT and Real Time Gross Settlement - RTGS systems. RBI has advised banks to pass on the benefits to their customers with effect from 1st July 2019. While announcing the Second Bi-monthly Monetary Policy last week, RBI has issued a Statement on Developmental and Regulatory Policies, mentioning that it was planning to waive off these charges.
The Reserve Bank levies minimum charges on banks for transactions routed through its RTGS and NEFT System. RTGS is meant for large-value instantaneous fund transfers while NEFT System is used for fund transfers up to 2 lakh rupees.
58. RBI constitutes a committee to review ATM pricing
The Reserve Bank of India has constituted a six-member committee to review the entire gamut of ATM charges and fees. Chief Executive of Indian Banks' Association VG Kannan will chair the committee consisting of senior officers from National Payments Corporation of India, SBI, HDFC Bank, Confederation of ATM Industry and Tata Communications Payment Solutions Limited. The committee will review existing patterns of costs, charges and interchange fees for ATM transactions. It is to submit its report within two months from the date of its first meeting.