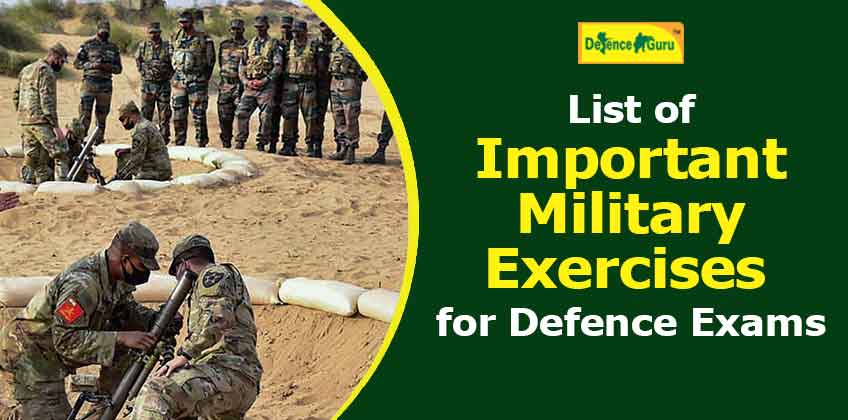 The majority of competitive exams, notably those in the defence sector, include important questions about military training and exercises. Through analyzing the repercussions of conflict and putting strategies to the trial, military exercises are crucial for international collaboration in preparation for combat activities. India takes part in a variety of joint military exercises with foreign countries. This article contains a list of all significant military exercises in which India takes part as an active member. Check the list of important military exercises associated with India for upcoming defence exams.
Types of Military Exercises -
In order to prepare for and analyze war scenarios without actual conflict, joint military exercises recreate realistic conditions and scenarios. Depending on the circumstances and demands, they may be domestic, unilateral, bilateral, multilateral, or any combination of these.
Domestic or Unilateral Exercises
A domestic or unilateral exercise can be inter-services or intra-services and works to improve relationships inside the services, depending on its format and purpose.
Bilateral Military Exercises
In the world of military training, bilateral exercises are quite important. These exercises are carried out between two nations so that their personnel can experience wartime situations. There are many different bilateral military drills, which we have discussed in the section below.
Multilateral Military Exercises
Compared to bilateral exercises, multilateral military exercises are exceptional. The military of more than two countries undertakes these exercises. Exercises that involve multiple organizations expose participants to a variety of possible military tactics and strategies.
All Important Unilateral, Bilateral and Multilateral Exercises
Type

Name

Participants

Domestic or Unilateral

Vayu Shakti

Within Indian Armed Forces

Gandiv Vijay

Vijay Prahar

Paschim Lehar

Bilateral

Vajra Prahar

India and United States

Yuddh Abhyas

India and United States

Garuda Shakti

India and Indonesia

Varuna

India and France

Sampriti

India and Bangladesh

Khanjar

India and Kyrgyzstan

Nomadic Elephant

India and Mongolia

Shakti Exercise

India and France

Indra

India and Russia

SIMBEX (Singapore India Maritime Bilateral Exercise)

India and Singapore

Dharma Guardian

India and Japan

Mitra Shakti

India and Sri Lanka

Surya Kiran

India and Nepal

Maitree Exercise

India and Thailand

Multilateral

Malabar
(Among QUAD Nations)

India

United States

Japan

Australia

Samvedna - A Humanitarian Assistance and Disaster Relief (HADR) exercise

Countries of South Asian Region

RIMPAC (Rim of the Pacific Exercise)

India

United States

Netherlands

New Zealand

Chile

Tonga

United Kingdom

Colombia

Denmark

France

Germany

Indonesia

Italy

Japan

Malaysia

Mexico

Thailand

China

Australia

Brunei

Canada

Norway

Peru

Philippines

South Korea Singapore