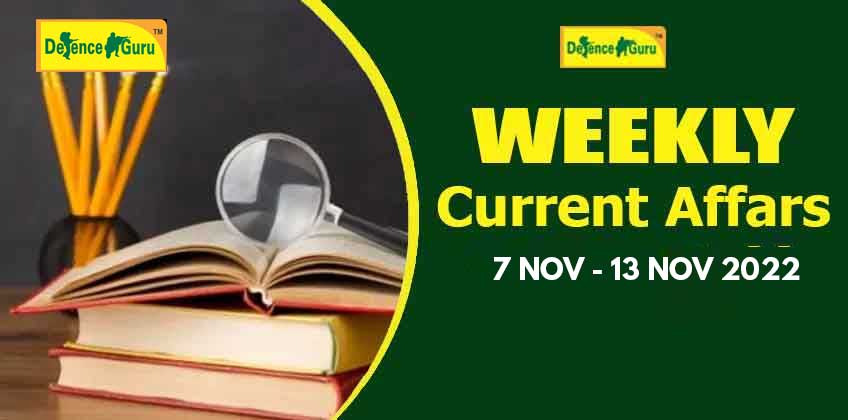 WEEKLY CURRENT AFFAIRS NOVEMBER 2022 (7NOV TO 13 NOV)
When it comes to preparing current affairs for defence exams, defence itself becomes one of the most important sectors in the syllabus and awareness of defence affairs counts when you take written exams as well as interviews. Therefore DefenceGuru has rooted out a weekly list of important events which will help you learn about important events without reading unnecessary news. Read the full article below to know the important current affairs from 7th November to 13th November 2022. Current affairs is generally a very vast topic and so the most difficult task at hand is to root out the ones which are important from exam point of view, we have already rooted out some important current affairs for you here in this article so that you don't waste your time listing out from various sources. Here are all the important current affairs from this week:
Army Commanders' Conference
Army Commanders' Conference to take place from November 7 in New Delhi to brainstorm on current and emerging security and administrative aspects and chart the future course for the Indian Army. Defence Minister Rajnath Singh is scheduled to address and interact with the Army Commanders on the 10th of November. The Chief of Defence Staff and the Chiefs of the Indian Navy and the Indian Air Force are also scheduled to address the senior leadership of the Army on avenues for promoting tri-service synergy.
single-window facility
The Indian Army has launched a single-window facility for welfare and grievance redressal of 'veer naris', the defence ministry said on 10th November. The window of a member of the armed forces, who has laid his life for the nation, whether in war or military operations, is called a 'veer nari'.
Unpredictable situation, no cut in China troops in LAC: Army chief
Describing the situation on the frontier with China as stable but unpredictable general Manoj Pande on 12th November said People's Liberation Army has neither reduced its forces on the Line of Actual Control(LAC) nor let up in infrastructure development for faster troop mobility and connectivity.
Indo-French Air Exercise Garuda-VII Culminates At Air Force Station, Jodhpur
The seventh edition of the bilateral air exercise between the Indian Air Force (IAF) and the French Air and Space Force (FASF), 'Exercise Garuda-VII' concluded at Air Force Station, Jodhpur on 12 November 2022.The FASF participated in the exercise with Rafale fighter aircraft and A-330 Multi Role Tanker Transport (MRTT) aircraft, while the IAF contingent comprised Su-30 MKI, Rafale, LCA 'Tejas' and Jaguar fighter aircraft. This fighter element was complemented by the IAF's Flight Refuelling Aircraft, AWACS and AEW&C, as well as Mi-17 helicopters and the newly inducted LCH 'Prachanda'.

Western Air Command Commanders' brainstorm
The Western Air Command Commanders' Conference was held on 10 and 11 November 2022 at New Delhi. Air Chief Marshal VR Chaudhari, Chief of the Air Staff (CAS) was the chief guest during the conference. On his arrival at Command HQ, the CAS was received by Air Marshal Sreekumar Prabhakaran, Air Officer Commanding-in-Chief, Western Air Command and was accorded a ceremonial Guard of Honour.
Download November 2022 - Weekly Current Affairs PDF