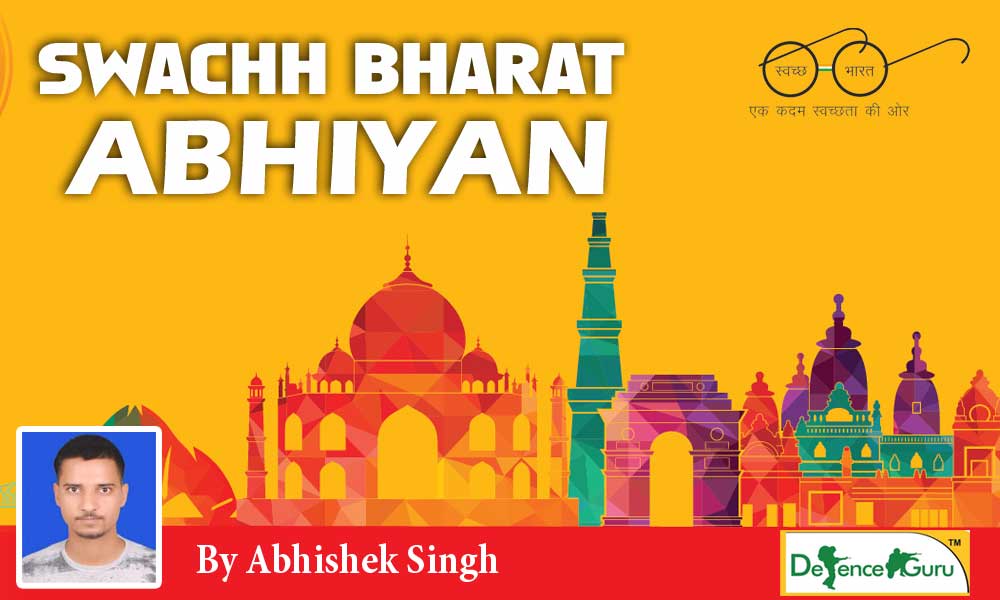 Swachh Bharat Abhiyan By Abhishek Singh
INTRODUCTION
Swachh Bharat Abhiyan is started by the Government to convert India into a Clean India. Clean India was a dream seen by Mahatma Gandhi regarding which he said that "Sanitation Is More Important Than Independence". During his time, he was well aware of the poor and dirty condition of the country that's why he made various efforts to make his dream come true,  however he could not succeed in doing so.  As he dreamt of clean India he said that "Both Cleanliness and Sanitation Are Integral Part Of Healthy, Peaceful Living".Unfortunately India is not able to maintain its cleanliness and sanitation even after 71 years of Independence. According to the statistics it has been seen that only few percentage of people of the total population have access to Toilets. So,Swachh Bharat Abhiyan, is a program run by the government to seriously work to fulfill the vision of the Father Of Nation "Bapu" by calling the people from all walks of life to make it successful.
NEED OF SWACHH BHARAT ABHIYAN
- It is really very essential to eliminate the open defecation in India as well as making toilets available to everyone.
- It is needed in India to convert the insanitary toilets into flushing toilets.
- It is necessary in order to eradicate the manual scavenging system.
- It is to bring behavioural changes among Indian people ,regarding maintenance of personal hygiene and practice of healthy sanitation method.
- It is to create Global awareness among in common public living in rural areas and link it to the public health.
-It is to support working bodies to design, execute and operate the waste disposal system.
- It is to make India Clean and Green India.
- It is necessary to improve the quality of life of people in rural areas.
-It is to bring the dream of Bapu to reality.
GRAMIN SWACHH BHARAT MISSION
Gramin Swachh Bharat Mission is a mission implementing cleanliness programs in the rural areas. Earlier the "Nirmal Bharat Abhiyan" was established by the government of India in 1999 to make rural areas clean, however now it has been restructed into Swachh Bharat Mission (Gramin).There is a plan of converting waste into biofertilizer and useful energy forms. This mission involves the participants of Gram Panchayat, Panchayat Samiti and Zilla Parishad.
->Following are the objectives of swachh Bharat mission (Gramin):-
- To improve quality of life of people living in rural areas
- Motivate people to maintain sanitation in rural areas to complete the vision of swachh Bharat
- Develop advanced environmental sanitation system manageable by the communities specially to focus on solid and liquid waste management in rural areas
- To promote ecologically safe and sustainable sanitation in rural areas.
ANOTHER CLEANLINESS INITIATIVE IN UTTAR PRADESH
Yogi Adityanath (Chief Minister of UP), in March 2017 has banned chewing of, Pan Masala, Gutka and other tobacco products specially in the duty hours,in the government offices to ensure cleanliness. He started this initiative after his first visit to the secretriate  Annexe building, when he saw beetle juice stained walls and corners in that building. A statement released by the Uttarr Pradesh unit of State Government  said that the parties constant endeavor  will be to ensure that Swachh Bharat Abhiyan is progressed in state and that "Swachhta Hi Seva" campaign  reaches  to each and every citizen. Apart from this , efforts will be made to make Cleanliness as an integral part of each and every citizens life.
CONCLUSION
We can say that Swachh Bharat Abhiyan is a nice welcome step to the Clean and Green India initiative. As we all have heard about the most famous proverb that "Cleanliness Is Next To Godliness" ,we can surely say that Clean India Campaign that is Swachh Bharat Abhiyan will really bring godliness all over the country in a few years,if it is followed by the people of India in an effective manner. So, on a positive note the cleanliness activities to warm welcome to godliness have been started but if we really want godliness in our lives forever,we should maintain these activities forever. A developing country like ours need a healthy and clean society. Cleanliness has become an important aspect in Every Walk of life whether it is Urban or rural areas.It will  help in creating user friendly environment for all private sectors interested for investment in India. And this cleanliness campaign will boost up the progress of the Other government schemes in India like the Make In India schemeof the government ,Startup India- Standup India,etc and will also increase the revenue from the tourists visiting in the country and will make India Stand proudly on Global levels to meet with the cleanliness levels of the major developed economies of the world.
Aao Ek Kadam Badhaye!
Bharat Ko Swachh Banaye!
By
Abhishek Singh
Centurion Defence Academy