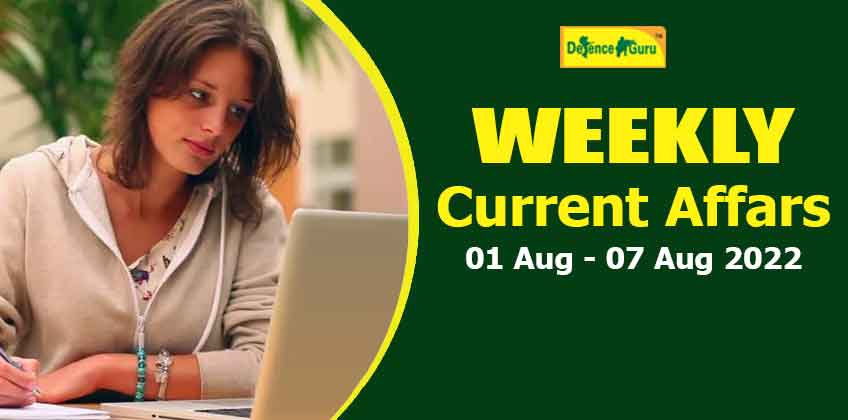 WEEKLY CURRENT AFFAIRS AND STATIC GK (1 Aug to 7 Aug 2022) FOR NDA ,CDS, MNS, SSB AND ALL COMPETITIVE EXAMS
This article has revision questionnaire on current affairs for you to practice for your exams. Current affairs play an important role in the student life. It will help the students at the crucial time when they want to study for the examinations. Current means recent, day to day life and affairs mean events and issues, etc. Therefore current affairs relate to the day to day incidents and events around us. The growing importance of Current Affairs poses the question on the utility of exerting energy on updating oneself with news. The significance of current affairs is undoubtedly different for different people who fall in different age brackets, pursue different objectives and have different interests. However, it can be stated that all social beings are bound to be affected by Current Affairs in more ways than one.
Now many competitive exams contain questions related to the latest current affairs updates. Apart from the academic knowledge students should know the importance and must be aware of daily current affairs. There are many difficult examinations like NDA, CDS, MNS and various others, in which the students must clear a section based on current affairs which took place in the world. After clearing the exam, even in the interview also they give a situation based ongoing latest current affairs and take your views based on it.
Therefore, reading current affairs and making it a daily habit will be much more useful for all the competitive exams. Make use of practicing quiz on current affairs which like the one published below.